Message from the President

Ongoing Business Portfolio Reorganization as an Environment and Energy Company group
The Nisshinbo Group corporate philosophy is "Change and Challenge! For the creation of the future of Earth and People."This philosophy is rooted in the idea of corporations as public entities that "exist for the purpose of contributing to human society, with ongoing contributions being the driving force behind corporate growth." At Nisshinbo, we are formulating growth strategies and continuing to reorganize our business portfolio to embody the business policy of Realize super smart societies as an Environment and Energy Company group guided by our corporate philosophy.
Looking back on the history of the Group, 114 years have passed since the founding of Nisshinbo Co., Ltd., in 1907, but on the 100th anniversary of Nisshinbo's founding, we embarked on a new direction. With the transition to a holding company structure in 2009, we launched a new Nisshinbo Group. Behind this major change in policy was a sense of crisis about slowing corporate growth. If our business does not serve the needs of the world, the Company itself must change.
Returning to our beginnings, we asked ourselves "what kind of business portfolio will facilitate continuous contributions to society?" The answer to this question seemed clear: Among myriad social issues, humanity must place the highest priority on resolving environmental issues. Based on the idea that promoting businesses that contribute to protecting the global environment will contribute to society and lead to the sustainable growth of the Nisshinbo Group, we formulated a business policy for Realize super smart societies as an Environment and Energy Company group, which is applied to all existing Group companies and promoted to accelerate innovation, while at the same time, by fostering new businesses in growth business areas and proactively engaging in M&A, we have transformed ourselves significantly and are still taking on the challenge of transforming our business portfolio.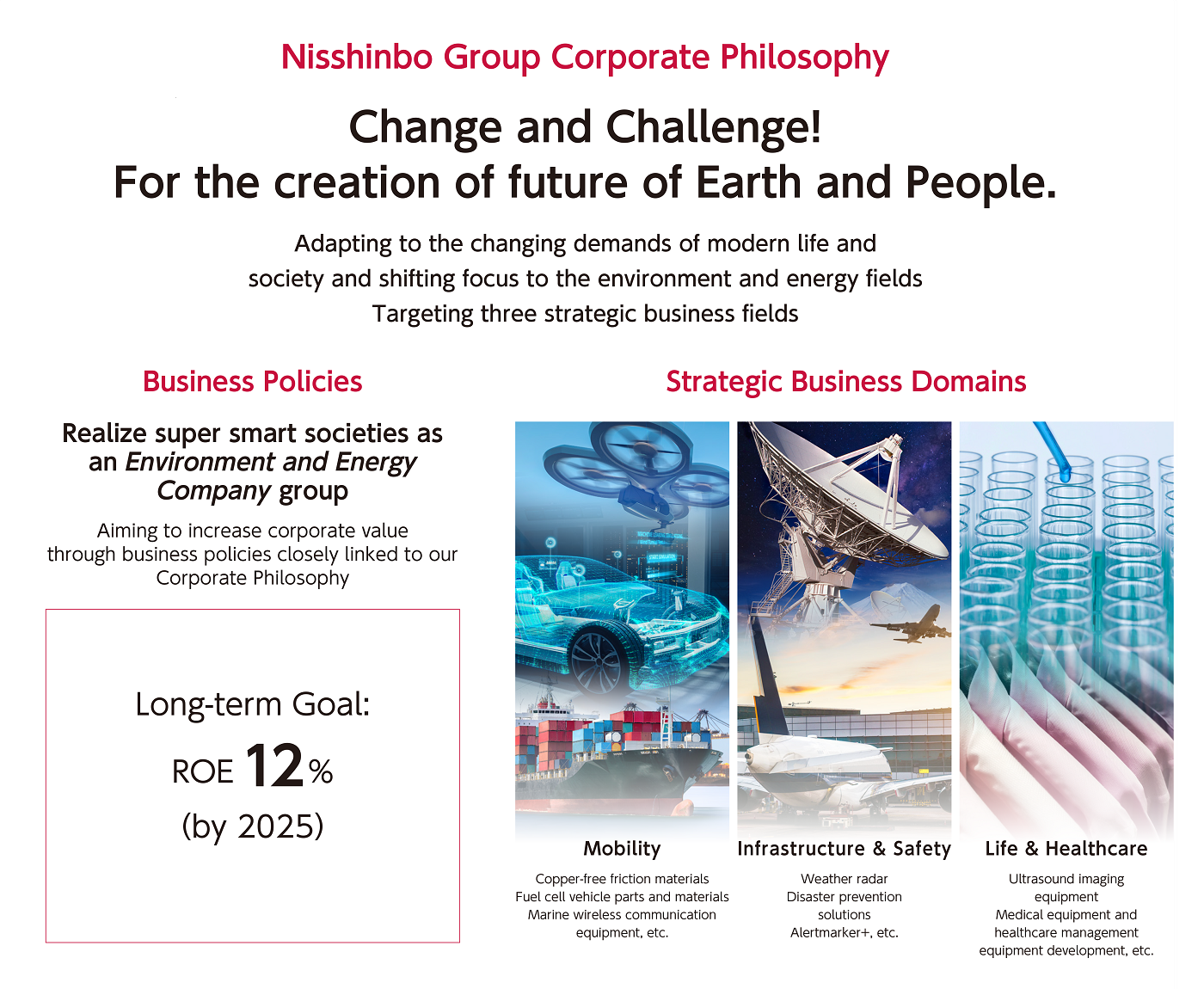 Dedicated to Amicable M&A Activities Aimed at Sustainable Growth
For the Nisshinbo Group, the primary objective of M&A activities is to expand growth business areas. In 2010, Japan Radio Co., Ltd. (JRC), which at the time was an equity-method affiliate, was converted into a consolidated subsidiary because electronics-related businesses did not have resources within the Group and because we wanted to actively grow this area as a core business.
At the same time, business portfolio transformation involves subtraction as well as addition. The Group is thoroughly committed to engaging in "amicable" M&A activities and business transfers. In some cases,businesses no longer in Group priority investment areas can still play a role in core businesses if they become affiliated with other companies. If a business becomes part of the core, funds will be proactively invested and employees will be happy. In fact, even though the paper products business was transferred in 2017, large-scale investment was made immediately after the transfer, demonstrating its strong presence.
This is also the case when we acquire new businesses. As these are acquisitions aimed at expanding the growth business area, we will retain all employees and focus resources on the acquired business. Engaging in amicable M&A is also important for new employees to feel happy about becoming part of the Nisshinbo Group.
Communication Efforts Are Indispensable for Employees to Work with Conviction
It is said that "business is people," but it is difficult for businesses to exercise more power than the sum of its human resources, as people are everything. Furthermore, companies cannot create anything unless people make the effort, and people do not make the effort unless they are convinced. Thus, I have always attempted to communicate in such a way that employees will grasp this message with genuine understanding and conviction ーthen take action.
Throughout its history, the Nisshinbo Group has been valued as a place where top management can interact directly with employees. Although I was unable to make regular visits to business sites last year because of COVID-19, I normally visit business sites in Japan and overseas throughout the year, taking time to communicate management policies and expectations for each business and listen to employee questions and opinions, which I feel teaches me quite a bit.
Taking good care of people means neither spoiling nor allowing complacency. The emphasis is on education, training and meritocracy, and while the number of mid-career employees is increasing, we hire human resources who achieve solid results regardless of the length of their career. However, I always emphasize that employees should not misunderstand job titles, which are merely one of the functions involved with managing an organization, rather than indicating that the people positioned above them are inherently superior. The responsibilities of management are more important than the people engaged in management.
Developing Human Resources That Continuously Examine Business Selection and Divestment
The Nisshinbo Group maintains a constant focus on business portfolio optimization by continuously examining the selection and divestment of businesses and products.
Trends and social needs change, thus to continue demonstrating the value of our long-term presence as a public company, relying on only one business pillar is dangerous and risky. Even with two pillars business can be unstable, so ideally, with three pillars of business, management stability is possible even if the center of gravity changes.
In terms of strategic business, Nisshinbo is engaged in the three areas of Mobility, Infrastructure &Safety, and Life &Healthcare. In selecting businesses, we comprehensively consider qualitative aspects including alignment between social needs and Nisshinbo's corporate philosophy, the future viability of the business and the outlook for the business environment, as well as quantitative aspects such as the required investment amount and expected return. Through this process, if we determine that it would be difficult for the Group to further promote a business, we will divest via a business transfer or withdrawal and management resources in that area will be allocated to areas where growth is expected.
Nisshinbo is always engaged in multiple M&A and carve-out projects, with senior management, the CFO, the Corporate Strategy and Legal Affairs divisions and related departments coming together in teams for each project rather than establishing dedicated departments. This avoids an emphasis on working toward results that might be a bit impossible to achieve in the first year or so of a project. While I am always considering these factors, I think it is also okay to have a year in which nothing much happens. In addition, many employees who work in these teams are the first to enter M&A negotiations, which is beneficial in terms of an increased number of employees with experience in M&A negotiations. As I was brought up within the Company, I think the role of the Company is to provide various learning opportunities.
Going on the Offensive in 2021, Accelerating the Group Growth Strategy
In fiscal 2020, COVID-19 impacted net sales, which amounted to ¥457 billion, a decrease compared with the previous fiscal year, and, despite efforts to stay in the black, income declined, resulting in operating income of ¥1.2 billion and ordinary income of ¥3.4 billion. Net income (loss) attributable to owners of the company increased to ¥13.5 billion related to a reduction in impairment losses from the previous fiscal year, but overall, these are harsh results that management takes seriously.
Given these conditions, 2021 will be a year in which we recover from COVID-19, adopt an offensive stance and accelerate the execution of our business strategies. The concept of "contactless" that has attracted attention during COVID-19 is also a specialty of the Nisshinbo Group. We will grow Mobility-related businesses, including the Wireless and Communications and Real Estate businesses, which develop solid disaster prevention and mitigation businesses, and the Micro Device and Automobile Brakes businesses, which are booming at present, as well as new businesses that respond to COVID-19. We will halt environmental degradation, offer disaster prevention solutions and mitigation to protect human life, and, while responding to dramatic changes in the mobility industry, we will strive to quickly develop businesses that protect the Earth and people's lifestyles.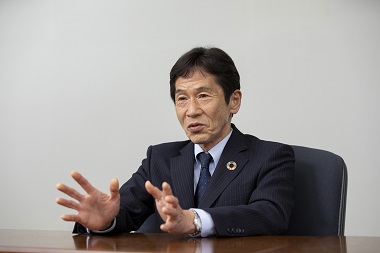 I used the word "mobility" just now, but this is no longer synonymous with "automotive" or limited to cars. Led by a new company JRC Mobility, we intend to proceed with developments targeting mobility on land, sea and air. Regarding Infrastructure &Safety, although JRC's core business is infrastructure development, we anticipate growing needs for disaster prevention and mitigation systems due to the increased frequency of natural disasters caused by climate change, thus we will dive deeply into this field and continue to strengthen our capabilities in line with our corporate philosophy. In terms of Life &Healthcare, as Group companies manufacture medical devices and Nisshinbo manufactures parts offering high technological advantages on a global scale, we will focus on fields where future growth can be expected. In particular, I think there is a large area in which we can contribute through collaborations between wireless technologies, which are one of the strengths of the Group, and healthcare. Although telemedicine advanced during COVID-19, many medical devices are still connected by wires in hospitals. For example, there are a wide range of fields in which wireless technologies can be utilized for non-critical operations such as image transmission, and Nisshinbo will strengthen efforts in these fields with expectations for future growth.
Under these management policies, we believe that the" two-Ds" of digital transformation and diversity and inclusion are the keys to corporate change and growth.
Strengthen Nisshinbo's Earnings Base by Expanding into Digital Service Businesses
While focusing on these three strategic business areas, we will maintain and accelerate expansion into service businesses utilizing our expertise in technologies and products in manufacturing with the aim of raising profitability across the entire Group. Although the Group engages in a diverse array of businesses, with profitability differing with each business, we created the slogan "Generation of Operating Cash Flow" applicable in all businesses and are engaged in efforts to improve profitability through cost control and strategic pricing, selective concentration on business and product portfolio, continuous cost reduction and inventory reduction. However, there is a limit to profitability improvements, particularly in B2B-led manufacturing, thus it is critical to promote a parallel shift toward service businesses. Digital technologies are the driving force behind this business model. As a familiar example of service business utilization of digital technologies, JM-Safety, developed by JRC, is an app for smartphones that supports safe navigation for small vessels. In 2020, we provided new services to customers while leveraging the competitive advantage of our technologies and products, such as the addition of new vessel collision functions and updated approach prediction functions. As output with a sense of speed is important for service businesses that are a step ahead in manufacturing, the Digital Business Department was established within Nisshinbo Holdings as a Group-wide standing committee. This office is an incubator, engaged in investments and other business developments.
Promoting Diversity and Inclusion Activities
The aims of diversity and inclusion activities are to cultivate an organizational culture that empowers employees to speak freely without hesitation and take action. For employees to work energetically, it is necessary to acknowledge and respect differences while making use of mutual strengths. Diversity is the infrastructure of innovation, requiring new combinations to sustain innovation, while homogeneity is the enemy.
As talented employees are the linchpin of business, to promote business diversification, we must respect the various backgrounds our personnel bring to the organization. Moreover, to manage organizations with diverse human resources, it is necessary to "unite in diversity." For corporations, it will be necessary to share and inculcate their philosophy and mission, and I will work tenaciously to achieve this end.
Perfect Alignment between Emphasis on ESG, Pursuit of SDGs and Nisshinbo Management Strategies
The objective of corporations is not the pursuit of profits but rather contributions to society through their business activities. However, without profits it would be impossible to continue engaging in business. And profits must be earned correctly.
Furthermore, without a healthy global environment, societies and economic activities would not be possible. Nisshinbo holds that the Environment (E) is merely business policy itself, whereas Society (S) is the idea of the corporate public institution, thus we will continue to maintain a philosophy that contributes to the world through business activities and to engage stakeholders in dialogue. Governance (G) is the basis for this value creation. In 2006, we appointed outside directors and launched governance reforms, and in 2015 we abolished takeover defense measures and subsequently formulated a corporate governance policy, abolished the consultation and advisory system and expanded diversity in the Board of Directors among other efforts to build a solid system ahead of any other company. For Nisshinbo, ESG management is seen as nothing less than the core of our management strategy, while our business activities are perfectly aligned with the Sustainable Development Goals (SDGs) targeted by the United Nations.
It is difficult to imagine the global environment being comprehensively improved over the next 5‒10 years, but until it does, Nisshinbo will continue to protect human life through the development of materials and equipment facilitating disaster preparedness and mitigation. We will expand business to make the Earth truly clean. The technologies and diverse human capital constituting the pride of the Nisshinbo Group will engage in the resolution of environmental problems and other social issues, continuing to demonstrate its contributions to human safety and lifestyle security.



Masahiro Murakami
President
Nisshinbo Holdings Inc.