Message from the President

Viewing the Challenging External Environment as an Opportunity for Growth
With the mission of contributing to society through business activities, the Nisshinbo Group aims to realize a super-smart society as an Environment and Energy Company group based on business policies guided by our Corporate Philosophy "Change and Challenge! For the creation of the future of Earth and People." We have formulated a growth strategy to realize these business policies and have implemented business portfolio transformations through the cultivation of new businesses and M&A activities. As a result, Group businesses having different roots were integrated,facilitating the transition from a multilateral stage to diversity.
To leverage the diversity of businesses, people and values as drivers of growth, we will pursue synergies between technologies and sales transcending the boundaries of each business.
Scanning the current social landscape, in addition to various restrictions on economic activities in response to the pandemic, as well as semiconductor shortages, soaring raw material costs and other business operation risks, from the beginning of 2022, global political tensions, the end of monetary easing and environmental destabilization driven by climate change have all exacerbated uncertainty about the future. I view this challenging external environment as a tremendous opportunity for the Group to realize further growth through efforts including the promotion of strategic investments and business revitalization.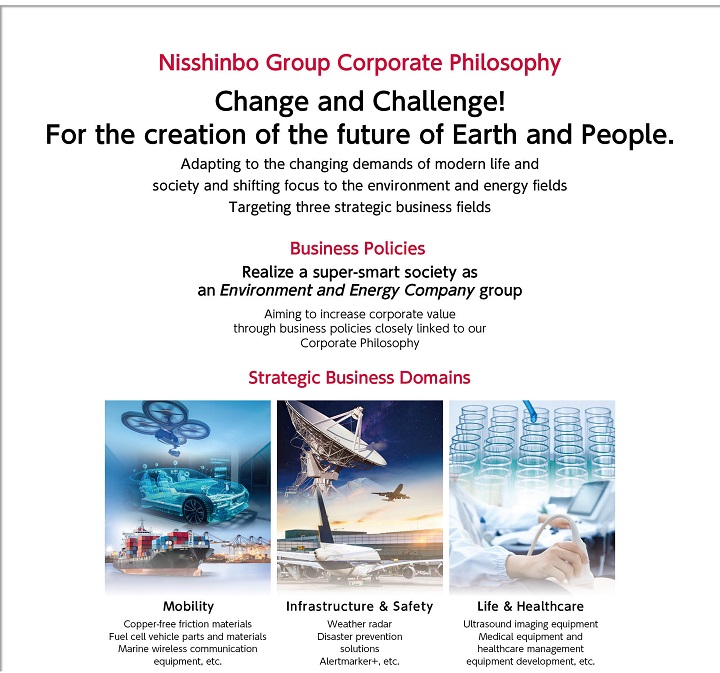 Realization of Efforts to Generate Operating Cash Flow in 2021
To achieve growth, Nisshinbo must improve business profits, enhance profitability and increase operating cash flows. To this end, since 2020, under the slogan "Generation of Operating Cash Flow," we have made efforts to improve profitability that include thorough cost controls and strategic pricing, selective concentration on the business and product portfolio,and continuous inventory reductions.
The success of these efforts is evident in the numbers, which indicate that we remain on track for business performance recovery. Net sales amounted to ¥510.6 billion, up 11.7% compared with the previous fiscal year. In terms of profit, operating income skyrocketed 1,645.8% to ¥21.7 billion, ordinary income soared 631.5% to ¥25.3 billion and net income attributable to owners of the company jumped 83.3% to ¥24.8 billion compared with the previous fiscal year. All indicators significantly exceeded results in the previous fiscal year, solidifying Nisshinbo's earnings base for executing growth strategies.
In Wireless and Communications, we steadfastly executed growth strategies such as disaster prevention and mitigation business enhancements and autonomous vessel navigation initiatives. In Micro Devices, we promoted a return to regular pricing levels following price rollbacks, while preparing for the integration of New Japan Radio and Ricoh Electronic Devices, which was completed with the launch of new company Nisshinbo Micro Devices in January 2022. In Automobile Brakes, Nisshinbo Brake attempted to strengthen bases in the United States and European subsidiary TMD consolidated bases in Germany and closed bases in France, while at the same time, business was strengthened in Romania and Brazil. Regarding Precision Instruments, in molding products, we closed unprofitable bases in Indonesia, consolidated and closed bases in China, and consolidated bases in Kyushu, while expanding the Fujieda Plant facility to facilitate medical business growth. In Chemicals, in response to strong demand for bipolar plates for fuel cells, Nisshinbo made the decision to expand facilities, including the construction of a new building. In Textiles, while enhancing high-speed spinning equipment performing favorably in Brazil and considering its horizontal deployment in Indonesia, we revised the TOKYO SHIRTS retail strategy, instituting a policy of targeting growth centered on Online Merges with Offline (OMO) businesses fusing e-commerce with online and offline business.
Again in 2022, Business Expansion Is Expected Mainly in Wireless and Communications, Micro Devices and Automobile Brakes
In 2022, Nisshinbo will again concentrate the allocation of management resources on its three mainstay businesses: Wireless and Communications, Micro Devices and Automobile Brakes. Under this year's slogan, "strengthening profitability through business transformations," we will further promote business transformations targeting growth.
In Wireless and Communications, public-sector solutions and specialized equipment are expected to remain firm, while in marine systems, we will leverage resources accumulated thus far as the leading company in marine radar equipment to expand this domain to include data businesses, including support for autonomous vessel navigation.
In Micro Devices, we aim to create synergies between technologies possessed by the two companies integrated as Nisshinbo Micro Devices and are targeting development in two domains: Energy Management, comprising power supply ICs and battery monitoring ICs, and Signal Processing, comprising operational amplifiers, comparators and other signal processing ICs. In addition to providing these analog semiconductor devices, Nisshinbo will contribute to the development of a "connected society" through growth as an analog solutions provider that analyzes information collected through these devices and converts it into high-value-added information. The February 2022 acquisition of D-CLUE Technologies is another step in the implementation of this growth strategy. The semiconductor market is expected to remain robust in the near term, thus we expect solid performance in 2022.
In Automobile Brakes, orders for copper-reduced and copper-free friction materials complying with environmental regulations are expected to remain firm. In addition, TMD group, which has been restructuring its business for several years and is now seeing the concrete results of these efforts, will leverage its strength and dominant position in the aftermarket business to recover profitability.
In Real Estate, we anticipate a decline in sales and profits due to the conclusion of large housing lot sales business projects.
Business is expected to expand in all segments except Real Estate, including the three mainstay businesses comprising Wireless and Communications, Micro Devices and Automobile Brakes.
Ongoing Business Portfolio Transformation, Concentrating Management Resources in Strategic Business Domains
It is important for companies to engage in continuous change. Ongoing changes and business transformation represent offense-oriented management focused on growth, and in 2022, we will continue to promote business portfolio transformation.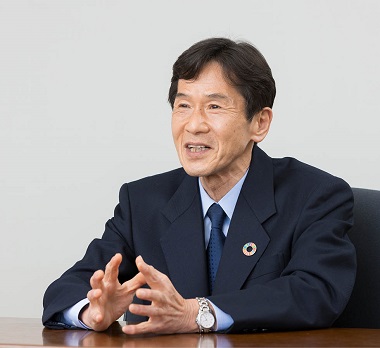 With a view to promoting business portfolio transformation, we defined Mobility, Infrastructure & Safety and Life & Healthcare as strategic business domains for the concentration of management resources. The Group's strengths lie in the expertise in wireless and communications technologies it has accumulated over more than a century, as well as strong technological capabilities in such areas as electronic devices and chemicals. We will integrate these technologies to expand business across the Group.
Mobility refers to all moving objects, including automobiles, vessels, aircraft and man-made satellites. The development of control and communication systems for large drones, the demand for which is rapidly expanding, will be sequentially installed going forward. Due to demand for the mass production of products used in the Mobility domain, including cutting-edge radar equipment, we will consider the utilization of mass-production technologies cultivated in Textiles and Automobile Brakes.
In Infrastructure & Safety, we will maintain social infrastructure while promoting initiatives aimed at protecting human life through disaster prevention and mitigation. For example, weather radar ascertaining weather information, water and river information systems, and Alertmarker+, which automatically disseminates disaster-related and other information by connecting to existing displays, contribute to solutions that protect human life from floods and other natural disasters. Japan Radio, which has a high market share in aerospace and meteorological systems, as well as water and river information systems, is enhancing the performance of weather radar that detects abnormal weather such as localized torrential rainstorms at an even earlier stage.
In Life & Healthcare, sales of the Group's handheld ultrasound diagnostic device manufactured by Ueda Japan Radio were launched by major medical device manufacturer Terumo Corporation. We will continue to promote collaborations between Group strengths in wireless and communications technologies and medical devices. In this domain, although there will be longer timelines in terms of development speed and management cycles compared to the other two domains, we aim to provide products and services that contribute to telemedicine, remote treatment and supervised nursing care.
Furthermore, we will promote business portfolio transformation and other offense-oriented management with the aim of sustainably improving ROIC and ROE.
Fostering a Corporate Culture That Encourages Personal Changes and Challenges
For a company to implement ongoing changes, employees who support the company must also bear in mind the views and opinions that precede changing times and incorporate them as individual behavioral changes. The phrase "business is people" emphasizes that it is the employees working at a company who determine the rise or fall of its business. Accordingly, I make sincere efforts to engage in direct and proactive communications with Nisshinbo employees to facilitate stronger consent and understanding. As overseas travel was restricted in 2021 due to the pandemic, I repeatedly visited business sites in Japan where I engaged groups of 10–15 employees in hour-long dialogues. As I also conducted online dialogues with overseas bases, I was able to directly communicate with more than 1,300 employees. During these dialogues, in addition to sharing my thoughts on the direction of the Nisshinbo Group and the importance of changes and challenges, we had an interactive discussion regarding what changes should be made and what challenges should be taken to build a better future for the Group and individual employees.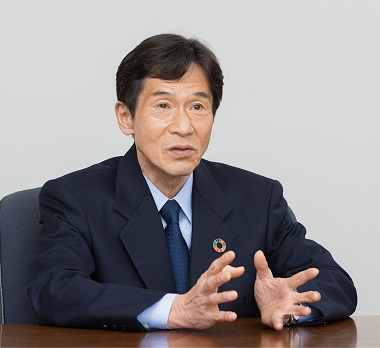 When taking on challenges, it is quite natural to encounter failure. I personally have experienced failure in attempting to launch a new business that resulted in withdrawal from that business altogether. I strongly believe that the key to success is for teams to use failure as a learning experience, which is why I said in the dialogues, "This is not the kind of company where one or two failures ends a career." I was speaking from actual experience. In terms of Human Resources systems, we are attempting to cultivate a culture free from the fear of failure by limiting evaluations to results from the two most recent fiscal years. It is my belief that a corporate culture intolerant to failure gives rise to dishonesty, while a corporate culture that tolerates failure and can make positive use of it creates innovation.
Creating Innovation with DX and D&I
In a corporate culture that tolerates and makes use of failure, digital transformation (DX) and diversity and inclusion (D&I) are key to promoting actual changes and growth.
The Nisshinbo Group makes ongoing digital investments to link DX with the expansion of new business. In addition to transforming processes such as work styles incorporating digital technologies and data, the purpose of DX is to modify existing business and create new business models. With digital technologies as the catalyst for accelerating innovations, we are making full use of bolder ideas and creating new value for customers using the data collected by Nisshinbo devices to target business growth envisioning a transition from manufacturing to the service industry.
D&I initiatives are also important, as it is said that "diversity is the source of innovation, while homogeneity is the enemy of innovation." We must cultivate an organizational culture in which all employees can speak and act freely without excessive restraint from their surroundings. However, it is wrong to think in terms of "accepting minorities different from oneself." Each person has unique individuality, with differences that are valuable. D&I initiatives begin by recognizing that individuals are diverse. To lay the foundations for this understanding, we need to respect people from various backgrounds.
As the Nisshinbo Group comprises a diverse array of businesses and human resources, we must "unite in diversity" when promoting management at the Group and global levels. For a company, the key to this lies in the sharing and inculcation of its corporate philosophy. Under a business policy aimed at realizing a super-smart society as an Environment and Energy Company group, we will proactively engage in the provision of products and systems that contribute to protecting the global environment and promoting alternative energy. We will leverage strengths accumulated in the manufacturing of tangible products to heighten our focus on intangible products and services, transitioning to a business structure that uses DX to resolve new social issues and contribute to the realization of a sustainable society.
Without a Sustainable Global Environment, the Economy Will Not Survive
The Environment and Energy Company group business policy was formulated in 2006. This was driven by a sense of crisis about the global environment, with the catchphrase "global warming" as the rallying cry. Fifteen years later, rather than improving, the global environment has deteriorated even further, and while global warming was replaced with the new catchphrase "climate change," this crisis is still the top priority requiring a global response.
The COVID-19 pandemic made humanity keenly aware that economic activity will be meaningless if not predicated on a sustainable society. In the background of this unexpected pandemic, the global environmental crisis continues to slowly deepen. Despite the frequent occurrence of abnormal weather events, day-to-day weather does not seem abnormal. However, it would be wrong to assume this means the top priority should be placed on immediate economic concerns, relegating the SDGs and ESG to secondary concerns to be addressed only if there is sufficient leeway to do so. We must never forget that our world, where most things can be bought with money, requires a sustainable global environment, stable societies and world peace. Promoting business that contributes to global environmental improvements will enable Nisshinbo to enhance its reputation in society and generate profits.
Since its founding, the Nisshinbo Group has upheld the importance of contributing to society through business activities as a public entity. In other words, before the advent of concepts such as the SDGs and ESG, Nisshinbo Group management strategies had already been focused on pursuing the SDGs and emphasizing the importance of ESG. With businesses, products and services that contribute to reducing CO2 and protecting the environment, by achieving growth the Group can expand its social contributions.

To this end, we must identify risks and opportunities facing each business due to climate change. We launched scenario analyses in 2021, focusing initially on three business segments (Wireless and Communications solutions businesses, Automobile Brakes and Chemicals) where we anticipate opportunities. In support of these analyses, in June 2021, we formulated and announced qualitative and quantitative environmental targets to be achieved by 2030. In 2022, the scope of analysis was widened to include all remaining businesses, enabling us to cover more than 90% of consolidated net sales, and in June 2022, Nisshinbo announced the goal of carbon neutrality by 2050 and declared its support for the Task Force on Climate-related Financial Disclosures (TCFD) recommendations.
Targeting Further Enhancement of Stakeholder Value
The Company is entrusted to us by its shareholders; thus, we have a responsibility to handle it carefully and make it better. We must improve value for shareholders, as well as customers, employees, business partners, local communities, national and local governments, and all other stakeholders.
Within the Group, which is a fusion of diverse businesses, the greatest mission of Nisshinbo Holdings as a holding company is formulating management policies and strategies that lead to greater stakeholder value while allocating management resources accordingly. From a long-term perspective, it is also critical that the Group facilitates the incubation of development themes that individual Group companies are unable to handle and accelerates the creation of Group synergies that I mentioned earlier. Even if an individual company cannot handle something on its own, seeking collaboration with the Group offers many benefits, including accelerated problem solving, improved cost performance and the avoidance of intellectual property outflows. For example, having a Chemicals business in the Group enables us to offer materials that meet the demand for improved electrical and electronic system performance, which in turn leads to the realization of Group synergies when that higher performance leads to the creation of new devices.
To continue improving stakeholder value, including these synergies, we will accelerate growth investments in research and development, facilities expansion and M&A, which will lead to improved ROIC and ROE.
With an unwavering focus on realizing a super-smart society as an Environment and Energy Company group, Nisshinbo will contribute to society through its business activities with the aim of becoming a Company that is ever more valued and trusted by its stakeholders.


Masahiro Murakami
President
Nisshinbo Holdings Inc.