Message from the President

Corporate Philosophy and Portfolio Management
Any role in an organization is part of a wider story. Every employee, not just the president, has a duty to fulfill the functions of their role. When the time comes, they have to hand over their roles to the next person in line. As president, it's my duty to realize Nisshinbo's Corporate Philosophy and lead the Group into the next phase of growth. The role comes with heavy responsibility, but I will do my best to make my tenure a success.
The Nisshinbo Group is aiming to generate growth as a diverse, cohesive corporate group by realizing its Corporate Philosophy – "Change and Challenge! For the creation of the future of Earth and People." Our philosophy is anchored by the concept of the company as a Public Entity. Contributing to society is our raison d'être and sustained contributions are the driving force behind the Group's growth. Our business strategy of helping to create safe and secure living environments as an Environment and Energy Company group also stems from that philosophy.
As such, the basic premise of the Group's businesses is to play a meaningful role in society. That's why we have to constantly adjust our business portfolio to ensure it remains relevant to the times and the changing needs of society. Since moving to the holding company structure, we have transformed our business portfolio by acquiring and selling businesses to create the optimum configuration. Going forward, we will continue to ask ourselves what kind of businesses society needs, aiming to accelerate growth as an Environment and Energy Company group by continuing to dynamically adjust our portfolio.
Many people know that Nisshinbo's first business when it was established in 1907 was textiles. But our oldest business is in fact brake friction materials, with TMD tracing its roots back to 1878. Japan Radio Co., Ltd. was established in 1915. Drawing on the diverse history of those three businesses, we aim to create innovative products and services that help solve some of the issues faced by society today.
Shifting Our Focus to Services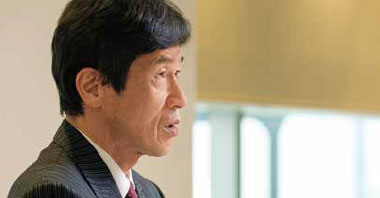 Refining our manufacturing capabilities is an important mission for the Nisshinbo Group, which has typically focused on making products. However, as the boundaries between different businesses dissolve, we need to switch our focus away from only manufacturing and move deeper into the service sector by providing value that leverages our manufacturing technology and products.
One example of how we are doing that is our J-Marine Navigational electronic Conning Station Table (NeCST). Supplied by Japan Radio, which manufactures marine radar and other systems, J-Marine NeCST provides an integrated package of information services via the internet, such as digital map, weather and shipping data, significantly improving the efficiency and safety of ship navigation.
To make the shift to service businesses, we have to drive innovation by coordinating the Group's diverse business domains, people and values, complemented by external partnerships and M&A deals in areas where the Group lacks resources.
Nisshinbo is currently focusing on Group R&D activities, which draw on expertise from across the Group to develop new businesses. We also run workshops, primarily for younger employees, to explore the kind of company we should be in the future. This is all part of our broader efforts to harness diversity and drive innovation. Group R&D activities are leading to many new initiatives, but most are business models that combine products and services. We are starting to see a new business approach taking root across the Group.
Strategic Business Fields
We redefined the Group's strategic business fields in 2019. We are now focusing on Mobility, Infrastructure & Safety, and Life & Healthcare. We have added Mobility because we are seeing an accelerating shift in society's mobility needs and in the Group's operations. Unlike our previous strategic business field of Automotive Parts and Devices, Mobility covers all types of modes of transport, from cars to industrial machinery, ships, aircraft and drones, because technological barriers between different transport fields are disappearing. From that perspective, more than 60% of the Group's net sales are already related to mobility. The mobility field has a faster business cycle than the wireless and communications field, so decision-making processes at existing Japan Radio businesses will not be able to keep up. That's why we established a mobility-focused company called JRC Mobility Inc. in the fiscal period ended December 2018.
The automotive business of Japan Radio is steadily increasing shipments of products for automated vehicle toll charging systems. We plan to transfer the business to JRC Mobility in 2020. Meanwhile, JRC Mobility has been contracted to further develop its automotive radar for ADAS*.
In the Infrastructure & Safety strategic business field, hydrogen-related businesses are a key focus. We are starting to get a clearer picture of how fuel cells will be used in the future. Fuel cells can be refueled with hydrogen more quickly than lithium-ion batteries (LiBs) can be recharged, and they also have a better energy density than LiBs. That means we are likely to see different global applications for LiBs and fuel cells, with LiBs used in passenger cars and fuel cells used in transport and work vehicles, for example. Drones could be powered by fuel cells and trains might have a hybrid setup of LiBs and fuel cells. Our bipolar plates and platinum catalysts for fuel cells, which both incorporate the Group's carbon technologies, have the potential to drive the development of the hydrogen-powered society by lowering costs. We are currently working with Canadian fuel cell company Ballard Power Systems Inc. to develop and grow sales of fuel cells for forklifts and fuel cell vehicles.
In addition to the above areas, we plan to continue focusing on business projects aimed at preventing and mitigating the impact of disasters – an area the Nisshinbo Group has been involved in for many years – and leverage the Group's technologies in sensors, ultrasound and wireless communications to launch new businesses in the healthcare field.
* Advanced driver assistance systems
Financial Results for the Fiscal Period Ended December 2018
The fiscal period ended December 2018 is a transitional period due to a change in the Group's fiscal year-end from March 31 to December 31. Results for this fiscal period do not include earnings for the January-March quarter at Group companies that previously had March fiscal year-ends. Results appear much weaker compared with the previous fiscal year ended March 2018, mainly because earnings at Japan Radio tend to be weighted to the January-March quarter, which is not included in the fiscal period under review.
To facilitate a more accurate year-on-year comparison, we have adjusted results for the previous fiscal year to strip out those factors.
On an adjusted basis, net sales in the fiscal period ended December 2018 increased 0.7% year on year to ¥416.2 billion. Sales in the micro devices business increased sharply following the consolidation of Ricoh Electronic Devices Co., Ltd., but sales in the automobile brakes business declined due to the sale of the foundation brake business. Precision instruments and chemicals reported solid growth, but sales fell in textiles and real estate.
On an adjusted basis, Nisshinbo Holdings reported an operating loss of ¥2.5 billion, compared with operating income of ¥7.8 billion last year. The sale of the foundation brake business pushed down profits, but the deterioration in profitability largely reflected problems with TMD's aftermarket product shipment system after moving to a new warehouse. While the issues have now been resolved, the impact on the bottom line was substantial. Profits in the micro devices business also fell short of expectations due to weaker sales to makers of smartphones and industrial equipment amid a slowdown in the Chinese economy.

Near-term Challenges – Business Restructuring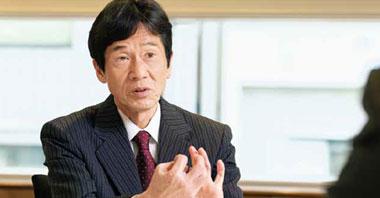 As illustrated by the bottom-line loss in the fiscal period ended December 2018, the Group still faces issues with earnings stability. In the near-term, we need to restructure the brake business at TMD and the wireless and communications business at Japan Radio.
After acquiring TMD in 2011, we completed the amortization of substantial goodwill in five years, but TMD reported an operating loss of ¥4.0 billion in the fiscal period ended December 2018. That was partly caused by one-off factors, but the loss is still disappointing. Underlying profit trends are still below our expectations at the time the company was acquired. TMD has a manufacturing and sales network across 13 countries worldwide, but we need to tackle the major issue of turning around unprofitable locations.
Although we restructured TMD's operations after the acquisition, the pace of reform has not been fast enough. We started sending senior managers from Nisshinbo Brake Inc. to TMD in 2018. They are now accelerating the reform program based on a new list of priorities. TMD is currently consolidating production sites in Germany, which is likely to support a significant improvement in margins. The company is also looking at integrating or closing other sites worldwide to lift profitability. In addition, we are planning to pass on the Japanese manufacturing expertise of Nisshinbo Brake Inc. to TMD to improve product quality, safety and cost.
The wireless and communications business and the automobile brakes business are the Group's two largest businesses. As explained earlier, the loss in the wireless and communications business mainly reflected the exclusion of the key January-March quarter from this period's results due to the change in fiscal year-end. However, underlying profit levels were still unsatisfactory, and Japan Radio, the core company in the business, has reported operating losses on several occasions since becoming a consolidated subsidiary in 2010. Japan Radio has focused on public-sector demand in Japan for many years, but it has been working to reposition its business to target overseas customers and private-sector demand. The company has made some progress with business restructuring. For example, it has established offices in Indonesia, launched video streaming services to provide public service messages about natural disasters and daily life, and above all, has developed a range of new products for mobility applications. However, we anticipate a further negative impact on profits if the contraction in the company's existing markets outpaces business restructuring. Japan Radio became a wholly owned subsidiary of Nisshinbo Holdings in October 2017. Using our full control of the subsidiary, we now plan to accelerate the pace of reform.
The Path to Growth
Friction materials that are compatible with new regulations on copper content are currently our most promising product. In NAO* materials, Nisshinbo Brake Inc. has taken the lead over competitors. The company has already started volume production of copper-reduced and copper-free materials, and it is now becoming clearer that automakers intend to steadily increase adoption of the new materials to complete the shift to copper-free friction materials by 2025. To meet that demand, the Nisshinbo Group plans to invest around ¥20 billion from 2018 onwards to increase capacity at production sites in Japan and the US. After that, the next step will be to increase production capacity at our sites in Thailand, China and South Korea.
Growth has recently picked up in the micro devices business. Despite continued uncertainty about the outlook for the Chinese economy, we plan to increase investment in production capacity to tap into projected growth in demand in the automotive sector and other fields. While the business is exposed to conditions in the market for communications equipment, we are confident that trends in mobility and IoT will spur strong demand for micro devices in the automotive and industrial equipment fields. We see potential synergies across all sales, manufacturing and product development functions between New Japan Radio Co., Ltd., which has a strong position in signal processing-related products, and Ricoh Electronic Devices, which is focused more on power management devices. The main challenge for the micro devices business is to build even greater trust with large enterprise customers. To do that, we need to expand the business further through partnerships and M&A to increase sales to the ¥100 billion level.
The precision instruments business continues to increase output, supported by its close links to customers. However, we are targeting a further improvement in profitability by reorganizing operations at Nanbu Plastics Co., Ltd. Over the years, Nanbu Plastics has built an extensive network of production sites in Japan and overseas. We plan to rebuild that network to create a more efficient, high-quality manufacturing and sales framework.
The chemicals business is seeing strong demand for Carbodilite, with sales on track to exceed ¥3.0 billion. We want to grow Carbodilite into a ¥10.0 billion business. To increase sales globally, we will need to develop a new sales strategy that includes business partnerships and other initiatives. In bio-carriers for wastewater treatment, we are making preparations to expand the business in partnership with a local manufacturer in China.
* Non-Asbestos Organic
Our Vision for the Nisshinbo Group
The Nisshinbo Group has many promising businesses with good near-term prospects. In the ten years since adopting the holding company structure, we have focused on restructuring the Group's business portfolio. However, we have not been able to reliably grow profits during that period. Solving that issue is my personal mission. Business leaders need to have bold ideas, but also an attention to detail. Even with the right approach in theory, they must have empathy with employees and partners outside the Group to gain their support and make the approach work.
At Nisshinbo, we believe people are crucial to the future of our business – encapsulated by the phrase, "people are real, businesses are abstract." In essence, true corporate value is created when growth is driven by the personal development of employees. I want our diverse human resources worldwide to constantly look for ways to contribute to society, unified by a single corporate philosophy. That is my vision for the Nisshinbo Group.
March 2019



Masahiro Murakami
President
Nisshinbo Holdings Inc.