The Nisshinbo Group's Financial Strategy
The role of senior management is to develop and execute growth strategies, but as part of that process, they also have to be prepared to put the brake on some plans in a constructive way. Investing aggressively while taking a disciplined approach to spending will support healthy growth.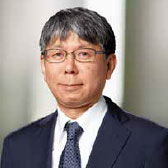 Issues to Be Addressed
Improving business profitability is a pressing issue for Nisshinbo.
That is especially true in core businesses – wireless and communications, micro devices and automobile brakes. All our businesses have product lines that are exposed to changes in market conditions, but we have to raise the marginal profit ratio to ensure a certain level of profitability even if sales decline. Cost reduction is a perennial issue for manufacturers and we have no plans to step back in that respect.
Corporate departments can help to improve profitability by adjusting key performance indicators (KPIs). We have been using a Groupwide ROE target to measure earnings performance for some time, but capital markets now want more benchmarks than just sales, operating margin and return on assets (ROA). Investors want to see KPIs that give a more accurate picture of frontline business performance, so we are looking at introducing return on invested capital (ROIC) as a new benchmark, which is directly related to improvements in capital efficiency.
Adding ROIC to our list of KPIs would give a clearer picture of how our investments contribute to profits. But using a shared benchmark for investment to assess performance across our diverse business segments would mark a major change for Nisshinbo. However, we expect the change to have various benefits, such as improving the investment PDCA cycle, increasing the accuracy of business plans and helping management to rapidly develop measures to tackle poor investment efficiency.
I believe the subsequent improvement in profitability can help us achieve our ¥25 billion operating income
target as early as possible. Assuming after-tax profit for ¥17.5 billion, based on an effective tax rate of 30%, and dividends of just over ¥5 billion (dividend payout ratio of 30%), operating income of ¥25 billion would allow us to achieve ROE of around 6%. We aim to reach that initial level in the next two-to-three years, giving us a springboard to achieve our 2025 ROE target of 12%.
Growth Strategy
We keep a close eye on Nisshinbo's weighted average cost of capital (WACC) when reviewing growth strategy. At the moment, we assume WACC of around 6%, so we therefore need to achieve ROIC of at least 6%.
But we need to be aware that each Nisshinbo business is at a different point in the growth cycle. We use the all-encompassing term "growth strategy," but required rates of return on investments are different depending on where businesses are in that cycle. Mature businesses still have potential for organic growth, while recently acquired or merged companies and new businesses are expected to generate high rates of non-organic growth. Obviously, with underperforming businesses, we need to look closely at their future viability.
M&A activity has an important role to play in business portfolio reorganization, but when considering targets, we need to stay true to Public Entity, the fundamental spirit of our Corporate Philosophy, and our strategy of becoming an Environment and Energy Company group. To avoid implementing M&A deals simply as means to an end, Nisshinbo does not have a specialist M&A team. When needed, we form temporary project teams made up of personnel from various departments. If we need to find pieces to complete our growth strategy picture, we reach out to contacts in the business community to ensure opportunities are not missed.
Streamlining Assets
Streamlining assets is crucial to improving ROE. We need to liquidate poor-performing assets to secure funds for reinvestment. One example is our real estate business, which is using idle land resulting from business portfolio restructuring and the globalization of our operations to generate funds for the Group. We are also cutting back cross-shareholdings as part of our commitment to Japan's Corporate Governance Code. We have entered the final stretch of asset streamlining, but the process should still continue to generate funds for the Group for two or three more years. We need to use that opportunity to continue reforming our business portfolio.
Conservative use of debt is key to ensuring a healthy financial position. We know there are clear cases when
using leverage is the best approach, but we have to keep profit levels in mind when taking on debt. Nisshinbo's liabilities currently stand at around ¥170 billion, while EBITDA is roughly ¥33 billion, giving a debt-to-EBITDA ratio of around 5x, which does not look too high or low. However, our program of continued heavy investment has led to a large increase in depreciation and amortization. Excluding those items, the debt-to-EBIT ratio is much higher at roughly 20x. That reflects the fact that investments are yet to feed through to profits, and we are well aware that the next two to three years will be a crucial period for generating returns. In the meantime, we will continue to streamline assets and carefully balance investments and debt.
Cross-shareholdings