Nisshinbo Group Financial Strategy
While maintaining a strong financial position, we will strive to improve profitability through thorough cost management and cost reduction activities and ongoing kaizen activities.
We will also advance preparations for revisions to the business feasibility assessment and investment assessment systems with ROIC as KPIs, and invest primarily in strategic business domains.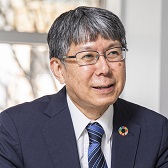 Basic Financial Capital Strategy
The Nisshinbo Group promotes management emphasizing capital productivity while maintaining financial soundness in preparation for medium- to long-term investment and risks. To realize the return on equity (ROE) target of 12% in 2025, we are aiming for autonomous corporate growth while introducing return on invested capital (ROIC) as an important internal management indicator.
Group working capital and capital necessary for growth investments are mainly provided by operating cash flows, and we are working to improve capital efficiency by effectively utilizing interest-bearing debt as necessary. We are also making efforts to ensure liquidity within the Group and reduce the weighted average cost of capital (WACC) by raising and managing capital Group-wide with the aim of strengthening governance and improving the efficient use of capital. Regarding ROIC, WACC is set at 6% and the medium- to long-term ROE target is 12%, thus the optimum ROIC level is estimated to be approximately 8%. We believe that a single target is inappropriate for the Group, which has a variety of businesses, and we aim to achieve a consolidated average of 8% after finding the level suitable for each business. In the fiscal year ended December 31, 2020, ROE was 5.8%, which is below WACC, a situation we take seriously as it is damaging to corporate growth.
Considering the impact of the long-term risks posed by COVID-19, we must think conservatively about capital policy, and to reduce WACC, it is essential to utilize more leverage than ever before to improve business profitability. Although we have already undertaken attempts to improve operational profitability by reducing investment securities and liquidating real estate with low profitability, there is an urgent need to improve the profitability of the business itself, which is the remit of management. Nisshinbo is shifting from a conventional business selling products to developing service businesses integrating DX and IoT utilizing technologies and products honed through manufacturing. And we are now able to see the fruits of our labor via improved investment efficiency.
Financial Results Over the Past 10 Years
The scale of Nisshinbo Group business has undergone major changes due to business portfolio reforms based on organic growth and numerous M&A activities. Regarding profitability, although we are implementing structural reforms in post-merger integrations (PMI) after M&A, in terms of consolidated figures, profit indicator volatility is particularly high, making it difficult to ascertain growth trends.
At the same time, regarding safety indicators, we have been vigilant about maintaining the capital adequacy ratio in the 30% range for the past 10 years, and while we have a reasonable amount of debt, we have also been paying close attention to the EBITDA to interest-bearing debt ratio. While we have ensured safety by refraining from exerting excessive pressure so that each business can focus on improving profitability, if the EBITDA level stabilizes, in terms of funding, we believe we can procure about five times EBITDA, and if we can improve the quality of EBITDA in terms of stability and growth potential, we will be able to further raise the interest-bearing debt ratio. In an era of low interest rates, consideration of leverage is a measure that also contributes to a stable and low WACC.
Financial Strategy Going Forward
The Nisshinbo Group has clearly defined priority business fields and will invest capital mainly in the Wireless and Communications and Micro Devices businesses in line with priority investment fields. Furthermore, regardless of the business, investment in DX and IoT will become even more proactive going forward. Based on current depreciation costs and net operating profit after tax (NOPAT), we will proactively allocate resources of approximately ¥40 billion annually to capex and R&D investment, mainly in priority investment areas.
Each of Nisshinbo's businesses has reached the final stage of infrastructure developments targeting growth. In the Wireless and Communications business, restructuring centered on the transfer of business to JRC Mobility has been completed, with preparations under way for medical equipment and xEV. In the Micro Devices business, the integration of New Japan Radio and Ricoh Electronic Devices is scheduled for January 2022. In the Automobile Brakes business, 2021 is the final year of the TMD Group revitalization plan and we expect to move EBIT into the black from 2022. In the Precision Instruments business, while we strengthened Nisshinbo-Continental Precision Machining (Yangzhou) Co., Ltd., the domestic business contracted. The reorganization of Nanbu Plastics subsidiaries in China and Indonesia will be completed, while at the same time, we will develop growth prospects in the medical field. In the Chemicals business, we are promoting the development of applications for functional chemicals, a driver of growth.
Regarding business assessment and investment appraisal, Nisshinbo is currently preparing for systemic revisions to amend business system evaluations and investment appraisals as better KPIs for ROIC, but as already mentioned, it is difficult to assess the absolute level of ROIC as we are engaged in a variety of businesses, thus by first evaluating the rate of improvement relative to ROIC, we will proceed with the assessment and disposal of businesses.
If it proves difficult to achieve ROIC growth with thorough cost control and reduction efforts and continuous improvements, we must drastically assess the business itself and make a determination regarding disposal.
Regarding capital investment, M&A investment and other long-term capital, having thoroughly considered financial market trends, and maintaining a balance between the long and short term, Nisshinbo arranges long-term bank loans as appropriate. Over the medium to long term, we will also revise our fund procurement structure, maintain the shareholders' equity ratio at around 40% and strive to maintain a strong financial position.
Basic Policy Regarding Shareholder Returns
The Nisshinbo Group promotes management focused on ROE with the aim of realizing sustained increases in shareholder value through the distribution of profits. Regarding dividends, in principle, there are two distributions per fiscal year: the interim dividend and the year-end dividend. In the fiscal year under review, the full-year dividend amounted to ¥30 per share. Going forward, Nisshinbo will continue to target a consolidated payout ratio around 30% and hopes to realize perpetual dividend increases through the stable and continuous distribution of dividends.
In addition, if sufficient internal reserves are required to execute future growth strategies, with comprehensive consideration of factors including earnings outlook, stock price movement and the EBITDA to interest-bearing debt ratio, and being mindful of stability, we will examine the purchase of our own shares among other proactive efforts to enhance shareholder returns. Regarding treasury stock, in the event an M&A project will contribute substantially to increased shareholder value, although we cannot deny the shares are used for stock swaps, in principle, we will basically cancel the shares. At present, we have not completed the cancellation of treasury stock, but once Group restructuring has been completed, we will move forward focused on shareholder returns.