Jun. 21, 2022
Notice of Declaration of Carbon Neutrality and Support for Recommendations of the Task Force on Climate-Related Financial Disclosures
In June 2022, the Nisshinbo Group declared the achievement of carbon neutrality by 2050. In addition, Nisshinbo Holdings Inc. is pleased to announce its support for the recommendations of the Task Force on Climate-Related Financial Disclosures (TCFD) as established by the Financial Stability Board (FSB).
The Nisshinbo Group's corporate philosophy is "Change and Challenge! For the creation of the future of Earth and People." Based on this philosophy, the Nisshinbo Group set forth "Realizing a Super Smart Society as an Environment and Energy Company group" as its business policy guided by this philosophy. In response to social demands, such as pursuing the SDGs and emphasizing ESG, the Group is making use of wireless communications, electronic devices, and environmental materials technologies in response to the dramatic changes in mobility, such as vehicle electrification, autonomous driving, and autonomous ship operation, and to protect people from extreme climate events, thus contributing to the realization of an super-smart society through the realization of remote medical care and monitoring services.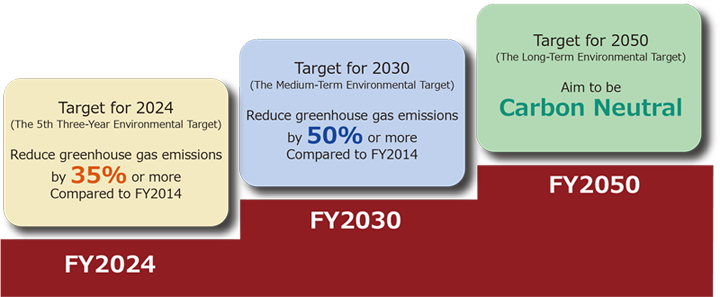 No society or economy can function without a sound global environment. The achievement of carbon neutrality is at the heart of corporate management by the Nisshinbo Group, which has been promoting business strategies that embody the concept of a public corporation that contributes to society through business activities. The Group's medium-term environmental targets, which were formulated as a roadmap for carbon neutrality by 2050, call for a reduction of at least 50% in greenhouse gas emissions by 2030 compared to fiscal year 2014. The Nisshinbo Group will continue to promote group-wide activities to achieve carbon neutrality by 2050.