President and Outside Director Dialogue
Nisshinbo Is Entering a New Era
Shinobu Fujino has served as outside director for three years since her appointment in 2015.
She is the Nisshinbo Group's first female director. In this section, she talks about the Group's recent achievements and how Nisshinbo should adapt to the changing needs of society.

Shinobu Fujino
Outside Director
Career Counselor*
Masaya Kawata
President
(Titles are as of the time of the discussions.)
* Career counselors provide advice to people in companies, public agencies and educational institutions by accurately identifying their abilities and values to help them choose their best career path and develop as individuals.
Looking Back on the Last Three Years
Fujino : The Nisshinbo Group has a presence in a wide range of business fields and proposals discussed by the Board of Directors can be very detailed. When I first joined the board, I took plenty of time to ensure I was well-briefed before meetings. In the last three years, I have also made a point of visiting many operating companies and facilities to gain a detailed understanding of the Group and its businesses. I now have a much better grasp of Nisshinbo, but I continue to keep up to speed with developments, as the Group is constantly changing due to frequent business mergers and acquisitions.
I think discussions at board meetings have become more effective.
Three years ago, meetings sometimes lasted until late in the evening. Now, meetings begin earlier and are not open-ended, helping to make discussions more productive.
Kawata : As a company that has traditionally appointed men to senior management positions, Ms Fujino's appointment to the board is a highly significant step from the perspectives of promoting diversity in leadership and creating a more rounded corporate governance framework. Ms Fujino is Nisshinbo's only female director at the moment, but we plan to appoint more women to the board. However, as our first female director, Ms Fujino's impact has been considerable. It's vital that we draw on the unique perspectives of women, as men-only discussions about workstyle reforms and empowering women in the workplace are not useful. I personally have benefited from Ms Fujino's input, one example being when she checked with me to ensure there was sufficient female representation at workshops for young Nisshinbo employees. We plan to increase and offer better opportunities for women to advance their careers. As well as her role on the Board of Directors, Ms Fujino is active in many other areas of the Company, so I look forward to working with her on that issue.
Diversity in the Nisshinbo Group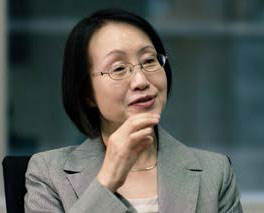 Fujino : The Nisshinbo Group is also steadily stepping up its support for women's careers, such as encouraging female employees to take part in Management Policy Meetings.
The next step is to promote women to management roles and higher positions. Many women already have frontline leadership roles in Nisshinbo's businesses. We now need to help them advance their careers by improving personnel systems and workplace culture to create an even better working environment.
That will take time, but we have to stay firmly committed to our objective over the medium and long term.
The Nisshinbo Group mainly runs manufacturing businesses that supply products to other companies, but all our products ultimately end up with consumers. It's important to remember that our employees are also consumers too. To satisfy society's diverse needs, we have to draw on their diverse opinions in
decision-making processes. That's why we should promote diversity from the perspective of increasing corporate value, not because of wider public pressure.

Kawata : Society is split equally between men and women, but men often outnumber women at Japanese companies, particularly in management positions, which tend to be dominated by men.
That's an issue that needs to be addressed. Some of the products developed by the Nisshinbo Group are specifically targeted at female consumers, such as textile products. It's especially important to ensure our female employees are involved in the development of those products.
We publicly disclose targets such as the ratio of women we are aiming for in management positions, but leaders in all our departments and divisions, not just staff in personnel departments, need to fully understand the importance of having a diverse workforce. My aim is to raise the presence of women across the company, such as increasing representation at meetings and encouraging more women to lead presentations.
That will depend on increasing the number of women in leadership positions, which will take time. In scientific and engineering fields, we face the issue of low numbers of female graduates in the job market. We are actively hiring mid-career female engineers to compensate for that shortage.
To improve the working environment for women in the Nisshinbo Group, we have increased networking opportunities for female managers at key companies and added more flexibility to personnel systems.
We also have to create a corporate culture that values honest opinions between employees, regardless of age or gender, by making workplaces more diverse. Along with the Group's common zero-tolerance policy on power harassment and sexual harassment, we aim to create a corporate culture anchored by open-minded communication.
Concrete Steps to Realize Our Vision for Nisshinbo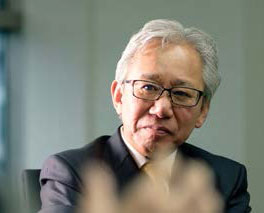 Fujino : When I joined Nisshinbo, one of my first impressions was that the Group had a strong vertical structure. But in the last year or so, the close links across the Group have become clearer, such as communication between Group companies and the focus on harnessing synergies between businesses.
Kawata :Our aggressive M&A strategy over the last few years has led to growth in the number of internal organizations and personnel. That means lateral communication within the Group is more important than ever. In particular, the composition of the Group's workforce seems to change every year. The goal of our M&A deals has been to create synergies to drive forward individual businesses and the Group as a whole, rather than simply add on more people and profits. In many cases, businesses that seem to have little in common have uncovered areas of collaboration in surprising places. Identifying that potential depends on innovative thinking and communication.
Fujino :In discussions at board meetings, it was clear to me that M&A deals are now an indispensable part of business, but also that they are difficult to achieve. Speed and timing are key to successful deals, and although we can assess risk beforehand, there is no way of knowing for sure how well a company is doing until the deal has been finalized. We naturally conduct rigorous due diligence, but the post-merger integration (PMI) process has
a large impact on the extent of synergies generated after the deal closes. The Nisshinbo Group draws on its track record from past deals, but it also needs to keep building up experience in business mergers.
Kawata :I agree. The PMI process is particularly important. The Group has to review the outcomes of past M&A deals and learn from experience. We will continue to accumulate know-how, learning as we go along.
Fujino :The Group needs to have a clear strategic direction to ensure M&A strategy is effective. Nisshinbo is aiming to be an Environment and Energy Company group. As well as implementing
an M&A strategy in line with that goal, Nisshinbo should define its vision and narrative more clearly for internal and external stakeholders to ensure accountability.
Kawata :Amid rising interest in ESG, the consensus worldwide is that companies have to tackle environmental themes if they want to remain viable.
In the automotive field – one of the Group's key business areas – a concept called CASE* is gaining ground. As the concept becomes more widespread, we will see growing interest in environmental and energy issues driven by growth in car sharing services, vehicle electrification and other trends.
The Nisshinbo Group will also step up the supply of environmental and energy-related products by developing copper-free friction materials, devices for fuel cell vehicles and other automotive products.
We have to avoid making decisions that are focused on short-term gains and that are out of step with those trends.
In that context, M&A deals that serve only to increase business volume are meaningless.
Japanese companies are seen as lagging behind their overseas counterparts in ESG, but I think that reflects a lack of accountability and communication on our part. As the saying goes, "a word to the wise is enough." Many countries overseas do not have Japan's so-called high-context culture, so Japanese companies operating in the global market need to be more explicit about communicating their strengths and goals.
That is part of what it means to be accountable to stakeholders. Given those trends, I'm pleased to say that our 2017 Integrated Report was rated as excellent by the GPIF's domestic external asset managers, showing that our efforts to communicate with investors is paying off. We plan to continue enhancing our IR and PR capabilities going forward.
* Connected, Autonomous, Shared, Electric
Promoting Employees to Support Nisshinbo's New Era
Fujino :Business leaders in their 30s are no longer rare in Japan, particularly at Internet firms and in other emerging industries. In contrast, people looking at Nisshinbo from the outside will probably see a traditional Japanese manufacturer with a clear hierarchical structure. To support the Nisshinbo Group's new era, we need a much more flexible personnel strategy, including measures to promote diversity. I have high hopes for younger employees, who have the unique insights we need to address society's emerging needs and uncover hidden business opportunities. We also have to rate our employees based on their unique skills and value, not only on their work experience. To harness the Group's potential, we should consider early promotions for promising leadership candidates who can fill key management positions, in order to accelerate personnel development.
Kawata :The key to rapidly enhancing the capabilities of our staff is to give them a kind of "intellectual trial by fire." But that has to come from hands-on experience, not from training alone.
We see significant improvements in the capabilities of younger employees who have been posted overseas, where they often have to manage teams of local employees. The connections they make with local people and culture and their new-found global perspective become important strengths in their careers later on. We now have to work out how to cultivate that type of employee in Japan. We also plan to actively send promising female employees to overseas positions, provided conditions are safe, as part of our earlier-mentioned efforts to train and support female staff. It will take time to break down barriers in organizations at core Group companies, but as we move into new business fields, we will create new companies and consider appointing young, capable employees to lead them.
Today's dialogue was very useful. Normal meetings of the Board of Directors are efficiently run, but we usually have to work through a large number of agenda points. I hope we can create more opportunities like this for detailed and wide-ranging conversations with outside directors.
Fujino :I couldn't agree more. As an outside director, I look forward to offering more advice to the board.