Japan Radio: Product Development Focusing on Customer Safety
On April 27, 2018, the Defense Systems Division of Japan Radio Co., Ltd. (JRC) received third-party certification under Quality Management Systems - Requirements for Aviation, Space and Defense Organizations (JIS Q 9100:2016).
This is a sector standard that adds original requirements on aviation, space and defense to JIS Q9001:2015. The additional requirements to JIS Q 9001:2015 stipulate that "products must fulfill their designed or intended purpose, without bringing about intolerable risks that may cause injury or damage to persons or properties."
We follow these guidelines to define problems and risks related to product safety from the initial stages of our product implementation plan, and we take appropriate prevention measures. By doing so, we provide customers with products that guarantee product safety throughout the entire product lifecycle.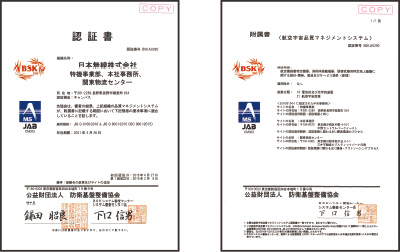 JIS Q 9100:2016 Certification
New Japan Radio: Development with Consideration for Product Safety, Compliance with Safety Standards and Regulations
New Japan Radio Co., Ltd. (NJR) implements design review (DR) in its product development to take consideration of product safety in the development stage, by checking that the product design will not injure or pose dangers to customers.
For example, NJR requires that its radio wave-emitting equipment comply with Japan's Radio Act, as well as regulations related to radio waves in other countries, in addition to US safety standards, to ensure the effective and safe use of radio waves. By reviewing compliance with numerous regulations and standards in the DR stage, it conducts a verification test of our products.
Nagano Japan Radio: CS Survey (Voice of the Customers)
Nagano Japan Radio Co., Ltd. (NJRC) has built a Voice of the Customers (VOC) management system, which is a system aimed at improving customer satisfaction (implemented companywide since 2016). The system enables quick and accurate response to customer inquiries, complaints and other issues received through sales and other departments. Moreover, the company stores all data in a database to help prevent the recurrence of defects.
The company also upholds the motto of "making small changes to our approach, which can be applied to many products at low cost, starting with matters close at hand" to promote the active use of an improvement proposal system aimed at enhancing product quality. In addition to individual proposals, NJRC also focuses on raising the quality of proposals for improvement, such as by newly establishing a team proposal system and encouraging proposals related to safety. Additionally, the president conducts regular on-site visits to check on the implementation of proposals, and this has led to raising employee awareness of improvement activities.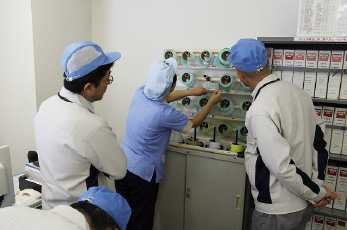 Nanbu Philippines: Received Best Supplier Award and Quality Performance Award
Nanbu Philippines Incorporated (NPI), a subsidiary of Nanbu Plastics Co., Ltd., received the Best Supplier Award (2018) and Quality Performance Award (2018) from customer Toyota Boshoku Philippines Corporation in recognition of its quality activities resulting in zero complaints and zero delivery delays in 2017. (Award date: June 8, 2018)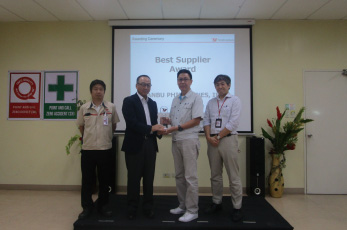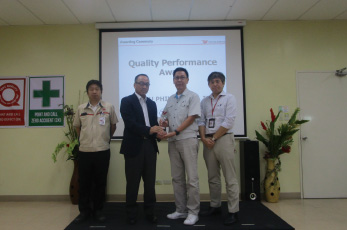 About "Recognition of Efforts to Support Persons with Disabilities at the Fujieda Business Site"
Nisshinbo Holdings Inc.'s Business Development Division succeeded in the year-round cultivation of strawberries at its fully-controlled plant factory. The Division works to develop cultivation technology, while selling the strawberries under the name Apollo Berry. The Fujieda business site (one of the plant factories) has actively hired persons with disabilities since the start of its plant factory, and has continued to make original improvements. Especially for people with mental or developmental disabilities, it incorporated a self-survey in worker diaries to visualize their mind. Depending on their conditions, the Fujieda business site adjusted their workload or talked to them in person, to realize greater job retention. In fiscal 2018, the Fujieda business site received the Shizuoka Prefecture Governor's Prize in the Disabled Person Hiring Promotion Event, and Fujieda City's Fujieda Energetic Award, in recognition of its efforts to cooperate with neighboring companies and local governments (that are considering to hire disabled persons) by allowing them to visit its workplace and by offering practical workplace training to disabled persons.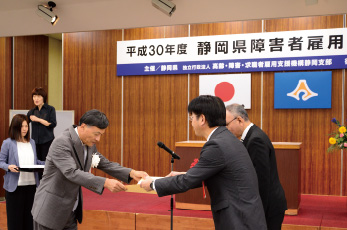 Primary Awards for Fiscal 2018
Electronics
Japan Radio Co., Ltd.
Received award for superior construction work from Toyogawa Yosui General Business Department of Japan Water Agency's Chubu Regional Office
Received the Project Contribution Award in the Fiscal 2017 Supplier Awards from Aisin AW Co., Ltd. (jointly with Chugai Co., Ltd.) at the Procurement Policy Explanation Meeting
New Japan Radio Co., Ltd.
Received the Gold Award from Panasonic Corporation's Global Procurement Company at the ECO-VC Activity Proposal Meeting
THAI NJR CO., LTD.
Received the National Occupational Safety and Health Award from the Thai Ministry of Labour
Precision Instruments
| | |
| --- | --- |
| Nisshinbo Mechatronics Inc. | Received an Award of Excellence from Mitsubishi Heavy Industries Thermal Systems, Ltd. in recognition of supplier quality |
| Nisshinbo Mechatronics (Thailand) Ltd. | Received the Runner-Up Award from USUI International Corporation (Thailand) Ltd. at the Supplier Improvement Activity 2018 The 1st |