The Nisshinbo Group's Contributions to the SDGs
The Nisshinbo Group will contribute to the achievement of the Sustainable Development Goals (SDGs) through activities to improve quality and customer satisfaction. Key performance indicators (KPIs) are managed and systematically implemented to achieve the Group's Mid-Term CSR Targets related to continuous promotion of measures to improve customer satisfaction.
Core SDGs Goals and Targets and the activities of the Nisshinbo Group
The Nisshinbo Group regards SDG 12.5 as a core target. The Group is promoting activities to improve quality and customer satisfaction.
12. Responsible consumption, production

Ensure sustainable consumption and production patterns.

Targets: 12.5

By 2030, substantially reduce waste generation through prevention, reduction, recycling and reuse.
Initiatives under the revised RoHS Directive
Japan Radio Co., Ltd.'s Telecommunications Equipment Division, in collaboration with the Quality Assurance Division and Ueda Japan Radio Co., Ltd., a subsidiary that serves as a production site, began sales of products compliant with the revised RoHS Directive ahead of other divisions for PHS modules, in-house PHS terminals, AEDs monitoring terminals, and commercial radio devices for overseas markets.
This revised RoHS directive is an EU law that restricts the use of substances that have an adverse effect on the environment and the human body. Four phthalate ester substances have been newly added to the six target substances so far, making a total of 10 substances regulated. This law was established to protect the safety and security of our customers.
In line with the enforcement of this revised RoHS Directive, we will give priority to products sold in the EU after July 22, 2019.
In the Communication Equipment Division, we will proceed with proactive product development to respond to customer requests and deliver safety and security. In addition, while strengthening cooperation with related departments, we are moving ahead with expansion, so that we can extend the range of compatible products and set targets for other departments.
New international VHF radiotelephone device
Japan Radio Co., Ltd. Marine Systems Division provides a wide range of equipment that supports the safety and security of ships around the world.
Ships are at heightened risk of accidents, such as collision and running aground, when entering and leaving port, so caution is required at these times. International VHF radiotelephone equipment supports safe navigation by enabling telephone communication with the Port Management Bureau and other vessels within this port. Our new model, the JHS-800S, was developed from the user's point of view, with emphasis on operability, functionality and improved operation support. In addition to the handset attached to the main unit for telephone calls, a wireless speaker microphone with Bluetooth connection is provided. Using the Company's, network-connected ECDIS * or radar, partner stations can be called by remote operation. These innovations reduce movement within the bridge while providing a communication environment with full freedom of movement. We will continue to provide solutions that contribute to safe navigation.
*ECDIS: Electronic Chart Display and Information System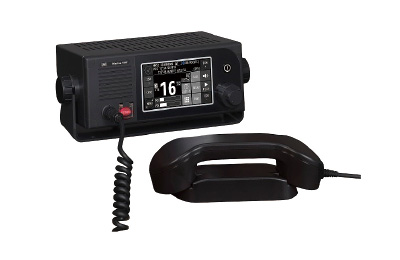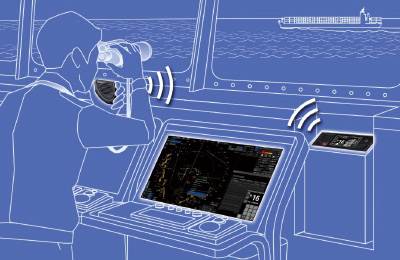 Quality Initiatives
As a quality and safety initiative, NJR FUKUOKA CO., LTD. has implemented the following three measures to provide customers with products with consistently excellent quality.
①Strengthened process management by applying the real-time SPC method to QC data
②Continuous measures against particulates in process equipment and the work environment
③Reduction of human error by measures such as systematization using bar codes
We are also pursuing workplace initiatives. For customers, we are taking steps to enhance understanding of product applications. With respect to workers at customer locations, we are training workers on standard work and pointing and calling, so that each worker can perform conscientious and reliable work.
In 2018, we transitioned from ISO/TS16949 to IATF16949. We are continually improving our quality management system through steady, daily efforts.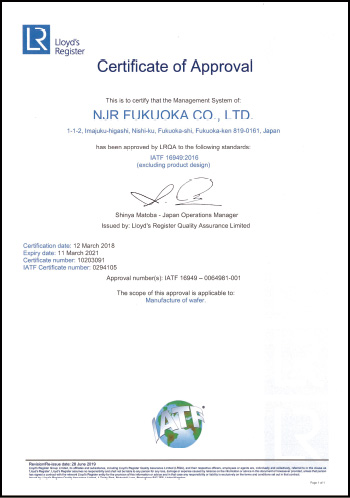 Customer first
Nisshinbo Brake Inc. puts "customer first" at the forefront of its quality objectives and strives to provide safe products that earn the satisfaction and confidence of customers. We strive for close and open, two-way communication with our customers, so that we can understand the problems they face and provide effective solutions.
In this industry's business environment, simply providing a product does not turn a company into the customer's partner. At Nisshinbo Brake, we proactively apply our wealth of knowledge and technical capabilities to propose solutions to a wide variety of market issues. Many of our customers conduct evaluations of their suppliers in terms of quality, cost, delivery, communication and other criteria. Thanks to its solution-driven approach, Nisshinbo Brake enjoys the highest level of evaluation from these customers.
Quality improvement activities
In fiscal 2019, Saeron Automotive Corporation in South Korea planned priority quality control promotion work and moved forward with improvement activities.
In the quality improvement "Action Plan" for FY2019, we introduce two case studies of fulfillment of customer requests and improvement of process defects.
The first is a case study of a defect improvement that was requested by a customer. In 2018 we began introducing a new bar-code marking system at the request of customers to prevent admixture of the wrong types of products. We also added a product alignment device and installed fail-safe measures such as a 100% inspection device, to prevent outflow defects and improve customer reliability. Customer defects declined from 42 cases in 2017 to 19 cases in 2018, marking a 54% improvement.
In the second case study, we made improvements to defective processes. The dryer of a liquid coating (spray coating) line was modified to a completely dry type, reducing adhesion of foreign matter and coating defects. Adhesion of foreign matter declined from 1,742PPM in 2017 to 1,453PPM in 2018, for a 16% improvement.
As a result of this series of activities, improvement results are steadily appearing every year.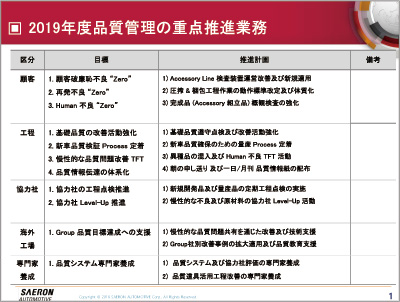 Products focused on customer safety
Nisshinbo Mechatronics Inc. delivers machinery and equipment and automotive parts to customers around the world. Failures in machinery and equipment could lead to disasters at the point of delivery, as well as product-liability problems. To prevent such outcomes, Nisshinbo Mechatronics places top priority on ensuring the safety of our customers. We conduct design reviews at each stage of our products, from development through design completion and before shipment, in order to comply with strict facility safety standards demanded by customers. We also apply our accumulated expertise and technologies to implement rigorous safety measures, to ensure that customers can use our products with confidence.
In the automotive parts business, our products are brakes and engine parts, which are directly linked to the safety of automobiles. Our mission, therefore, is to provide consistently superior quality. Through stringent design reviews, we create production processes that satisfy the requirements of the mechanism specified in the IATF16949* Management System. We are also building a quality assurance system that stabilizes quality through continuous improvement activities and strictly maintains quality from the customer's perspective.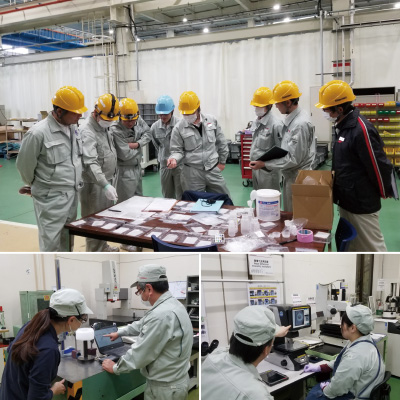 *IATF16949: International Quality Management System Standard for the Automotive Industry
Improvement of quality awareness through acquisition of quality control certification
Nanbu Plastics Co., Ltd. strives to raise the quality of its products while raising employee awareness of quality. In one initiative, we encourage employees to take the Quality Control Examination as a means of learning about quality management and methods for resolving issues.
In 2019, two employees passed the 2nd level and 10 employees passed the 3rd level. We are fostering a culture of "learning and acting on one's own," so that when we face difficult challenges, we focus on the goal, making use of it in our work to plan and implement what we need to do to attain it. Employees who have passed the certification are given awards at morning meetings and other events, and the names of those who have obtained the certification are posted on business site bulletin boards to stimulate employee motivation.
Environmentally Conscious Products: CARBODILITE
Nisshinbo Chemical Inc. manufactures and sells CARBODILITE, an environmentally friendly product. This reactive polymer based on polycarbodiimide resin can be added to biodegradable resins, paints, inks, adhesives and coating materials to improve water resistance, chemical resistance and durability.
Nisshinbo Chemical is committed to offering products and services that customers around the world can use safely and confidently, with performance tailored to customer needs and designs that meet the chemical substance management regulations of each country.

CARBODILITE
MEXT'S Corporate Awards for Youth Experience Activities
A radio workshop held by Japan Radio Co., Ltd. in FY2018 was awarded the Jury Encouragement Award in the Ministry of Education, Culture, Sports, Science and Technology (MEXT)'s 2019 Youth Experience Activity Promotion Company Awards.
Since 2010, Japan Radio Co., Ltd. has been holding "Radio Work Classes" for elementary and junior high school students as part of its social contribution activities. Conceived amid concerns that children were drifting away from science, the festival is held nationwide to give children the chance to experience the joy and pleasure of "manufacturing" through AM radio craftsmanship. In the "Radio Craft Class", children begin by learning through experiments and quizzes about the mechanisms of radio waves that can be heard on the radio. Later, children wind an enamel wire of about 15 m to make an antenna and solder the parts and assemble the radio. When they hear sounds from the radios they've just assembled themselves, the hard work of the children's handicrafts turn into fun memories. By teaching the children who are our next generation how to make radios, we aim to convey to them through the five senses the wonder of the physical phenomenon of radio and the joy of making things. Our hope is that they will discover their own possibilities and the thrill of tackling challenges.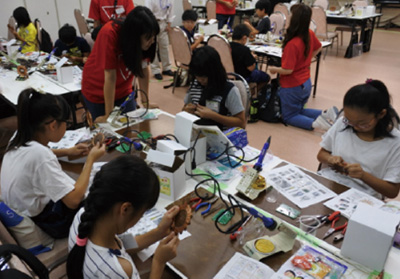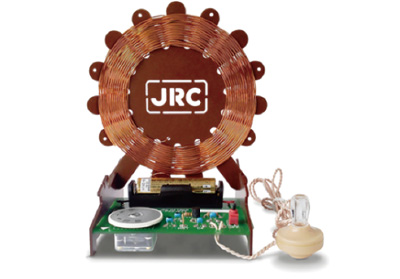 Fujieda Genki Award Received
Since its foundation in 2010, Nisshinbo Holdings Inc. has been actively promoting the employment of people with disabilities, particularly those with mental disabilities. The Company pursues this effort in collaboration with local employment and livelihood support centers, special support schools, and Hello Work.
The Company's operations won kudos from Shizuoka Prefecture, which presented it with the Governor's Award at the 2018 Shizuoka Disabled Employment Promotion Conference. From the City of Fujieda, Nisshinbo Holdings received the 2018 Fujieda Genki Award, as an individual or organization that imparted vitality to residents of Fujieda and contributed to the city's image. Shohei Kitamura, Mayor of Fujieda, presented the award to the Company on January 30, 2019.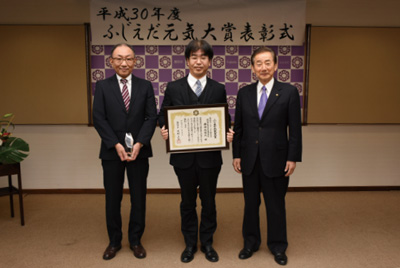 Primary Awards for Fiscal 2019
Wireless and Communications
Japan Radio Co., Ltd.
Received the Hydrographic Technology Encouragement Award from Japan Hydrographic Association
Received a special award from Japan Institute of Navigation
Received Awards for Companies Promoting Experiencebased Learning Activities for Youth organized from Ministry of Education, Culture, Sports, Science and Technology
Microdevices
| | |
| --- | --- |
| Ricoh Electronic Devices Co., Ltd. | Received the Electrical and Electronic Components Award at the Super Manufacturing Components Awards from Monozukuri Japan Conference and the Nikkan Kogyo Shimbun |
Automobile Brakes
| | |
| --- | --- |
| Nisshinbo Brake Inc. | Received the Environmental Award (Environmental Beautification Category) from Tatebayashi City |
Chemicals
| | |
| --- | --- |
| Nisshin Environmental Planning Inc. | Received the Excellent Quality Control Award from Japan Association for Working Environment Measurement |
Textiles
| | |
| --- | --- |
| Nisshinbo Textile Inc. | Received the Technology Award from the Society of Fiber Science and Technology Japan |
Others
| | |
| --- | --- |
| Nisshinbo Holdings Inc. | Received the Fujieda Energetic Award from Fujieda City |
| NISSHINTOA IWAO INC. | Received the Osaka City environmental Management Bureau Director's Award from Osaka City |