The Nisshinbo Group's Contributions to the SDGs
The Nisshinbo Group will contribute to the achievement of the Sustainable Development Goals (SDGs) through activities to improve quality and customer satisfaction. Key performance indicators (KPIs) are managed and systematically implemented to achieve the Group's sustainability targets related to continuous promotion of measures to improve customer satisfaction.
Core SDGs Goals and Targets and the activities of the Nisshinbo Group
The Nisshinbo Group regards SDG 12.5 as a core target. The Group is promoting activities to improve quality and customer satisfaction.
12. Responsivle consumption, production

Ensure sustainable consumption and production patterns.

Targets: 12.5

By 2030, substantially reduce waste generation through prevention, reduction, recycling and reuse.
Examples of the Nisshinbo Group Activities
High-performance River Radar Supporting Safe Operation of River Logistics
As European river-only radars, Japan Radio Co., Ltd., provides JMR-611 river radars to clients as a safety and reassurance support device during vessel navigation (Fig. 1). European streams are a water source, and many vessels navigate the important traffic channels. For some vessels, the length of the vessel may be hundreds of meters by connecting multiple vessels despite the narrow channel. Therefore, it is essential to navigate the vessel with more careful monitoring of the positions of other vessels.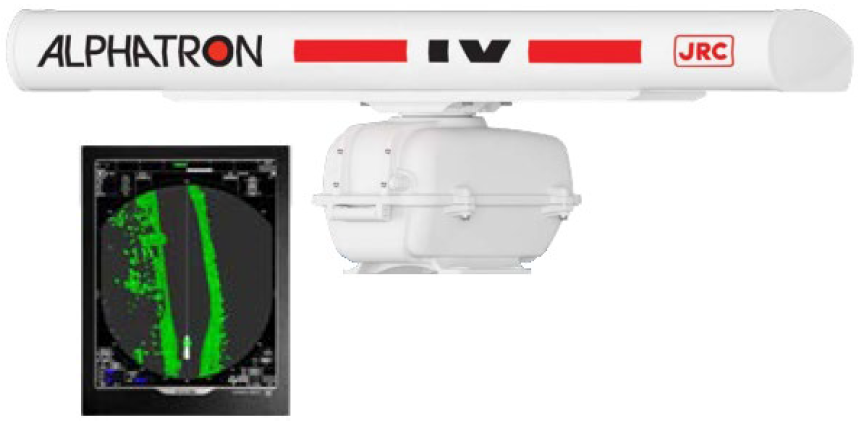 With river radar, Japan Radio realized the following excellent functions and performances:
① The predictive line is displayed as to where the ship will proceed from the current position changes with two or more GPS mounted on the ship (Fig. 2).
② In addition to the radar images, the conning information*1 required to navigate the ship can also be centrally displayed (Fig. 3).
③ Radar images and Inland AIS *2 information and conning information are stored on CF cards and reproduced on a computer.
④ Visual images of the other vessels are displayed with excellent signal processing on an easy-to-see display.
⑤ Signal processing using azimuth information reduces unwanted wave images on the open sea and significantly improves the ease of identifying the necessary targets.
The company will continue to provide solutions that contribute to safe navigation.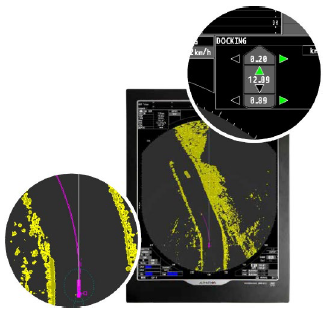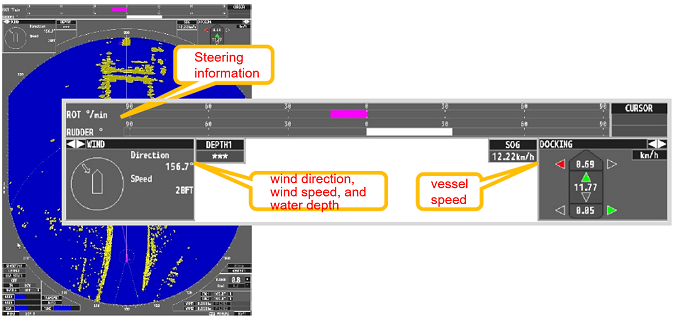 *1 Conning information: Connected ship information, ship-to-ground speed, water depth, rudder angle, hull turn rate, steering information, and wind speed information
*2 Inland AIS: Other Vessel Information Display Devices including River Traffic Information
Initiatives to Improve Customer Satisfaction
Nisshinbo Micro Devices Inc., Kawagoe Plant conducts an annual customer satisfaction survey to verify how goods and services are evaluated by customers.
In 2021, Nisshinbo Micro Devices received responses from 56 companies, and through the operation of the quality management system, the company is working to improve customer satisfaction. The results of the questionnaire were reported as part of the December 2021 quality report (management review). In response to reviews and outputs from top management, the sales division will take the lead in implementing corrections and improvements to increase customer satisfaction. As a specific example, in 2021, amid the trend toward recovery from the coronavirus crisis, the company was unable to respond to robust orders, and product delivery schedules became an issue. However, we are promoting the creation of a system that can adjust to orders in line with production capacity and respond to long-term delivery schedules.
Efforts to improve client quality satisfaction
The Korean Saeron Automotive Corporation (SAC) shares monthly indicators by monitoring the CS and RS indices, which are quality indicators of finished cars, to improve client quality satisfaction. In addition, by visiting the field being developed, the company can listen to the voices of clients, and from the questionnaire responses of clients, grasp field claims and phenomena, and then summarize the results of the analyses in a report to address claims improvement.
The company not only improves and prevents claims but also performs dynamo and physical property assessments to ensure safety and quality for clients. Reliability management documents are submitted to system manufacturers for a variety of test items that include the degree of wear, friction coefficient, and shear strength of brake pads by vehicle type. Products that have passed all relevant tests are provided to customers to ensure safety and quality. The company also conducts daily inspections of items for shear strength, hardness, specific gravity, and compressive deformation to ensure quality control.
Increased customer satisfaction
According to ISO9001 and IATF16949, Nisshinbo Mechatronics Inc. conducts annual client satisfaction surveys on five items: quality, cost, delivery time, technical capabilities, and environmental contributions for plastic products, motor vehicle parts, and machinery.
Based on the survey results, analyses were conducted with different types of clients, such as household electronics, and the results were reported to top management to identify the direction of improvement, problems, and issues that have been addressed to date. The survey form also includes a section for customers to describe their requests and comments to the company. Nisshinbo Mechatronics then uses supplier evaluations presented by customers as a reference to further improve business processes in an effort to improve customer satisfaction.
The Quality Assurance Department in Japan gathers information that could lead to customer satisfaction issues, including from Nanbu Plastics Co., Ltd., and overseas subsidiaries, and reports it to the top management. All companies of Nisshinbo Mechatronics group are united in their efforts to respond swiftly and resolve this issue.
Products that emphasize the safety of clients
Nisshinbo Mechatronics Inc. delivers machinery and motor vehicle components to clients worldwide.
Machinery facilities have the potential to cause occupational injuries at the time of delivery. With the highest priority on ensuring the safety of clients, design reviews are conducted at each stage of development, design completion, and prerelease with personnel and other employees who also add internal expertise to maximize and make the best use of in-house expertise. The design review confirms compliance with legislation and the equipment safety requirements of clients. In addition, the review includes discussions of these issues with consideration given to non-steady conditions, such as when equipment is abnormal or during maintenance, and strives to achieve safe products.
In the motor vehicle parts business, Nisshinbo Mechatronics believes that its mission is to provide high-quality and stable brakes and engines directly linked to safety.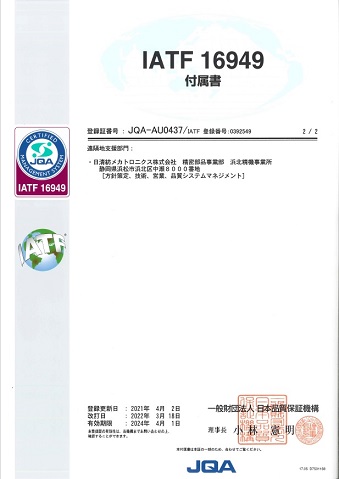 Initiatives to the Restore Project for Old Vehicle Parts
As an ongoing initiative since 2020, in October 2021, Nisshinbo Precision Instrument & Machinery Hiroshima Corp., exhibited brake master cylinder, clutch master cylinder, hole cylinder, and repair kits at the 16th Japanese Classic Car Show: JCCS of the Exhibition of Old Vehicle Components (Anaheim, CA, USA).
In November 2021, at the Showa Retro Car Exposition 2021 (Osaka), and in February 2022, at the Nostalgic 2days (Japan's largest classical motor show) held in Yokohama, the company exhibited repair parts for the Mazda Cosmo Sport and parts for brake cylinders and rotary engines that have been mass-produced.
Many people visited the exhibitions and the company was able to create opportunities for public relations and new businesses at Nisshinbo Seiki Hiroshima, including interviews and consultations other than Mazda vehicles. Exhibitions are a good opportunity to inform people around the country of the inheritance of technology and Nisshinbo Precision Instrument & Machinery Hiroshima, and the company will continue to actively participate if there is a chance in the future.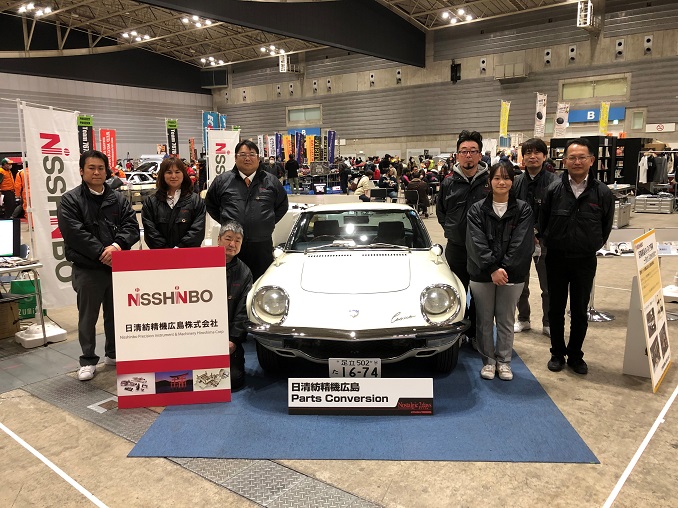 Participation in exhibitions
Ensure "quality and safety" for clients in compliance with national and international legislation
Nisshinbo Chemical Inc. sells chemicals through a worldwide sales network.
In recent years, in view of the emphasis on safety and environmental protection and as the legislation on chemical substances has been strengthened, a movement has taken place to harmonize category standards for hazards, labels and safety data sheets, and to provide unified rules (GHS) worldwide.
On the other hand, the company considers it crucial to properly understand and comply with the very complex legislation governing the export of chemicals through the inclusion of the country's unique import regulations and regulations, as well as the comprehensive system of chemicals operated in the EU (REACH regulations).
In order to determine products and services are compliant with the latest legislation and regulations in a timely manner, the company started using external databases to check the latest revision information and regulatory values for legislation and regulations of the various countries around the world. The company will strive to ensure quality and safety for customers by appropriately implementing sales activities in accordance with the laws and regulations of each country.
Improve client confidence by obtaining quality management system IATF 16949 certification
In the fuel cell field, which attracts attention as one of the technologies for achieving carbon neutrality, FCVs (fuel cell vehicles) are being developed worldwide, and it is considered particularly compatible with vehicles operating long distances, such as buses and trucks. The marketing of fuel cell buses has started in Japan, and the operation of those buses on the road has begun.
Nisshinbo Chemical Inc. has been working jointly with several leading manufacturers, and inquiries for carbon separators have been brisk globally. In response to inquiries for a large number of vehicles and in preparation for commercialization, the company obtained IATF 16949 certification in November 2021 for the Standards for Motor Vehicle Industries Quality Management Systems. Nisshinbo Chemical will further improve quality through the quality management system, leading to increased user confidence and further acquisition of carbon separators for FCVs.