The Center undertakes development from a variety of perspectives of products and technologies that will contribute to the creation of a sustainable society.
By integrating our wide-ranging proprietary technologies, the Nisshinbo Group is tackling the development of various technologies and products in our three strategic business domains to contribute toward the building of a sustainable society. The Business Development Division is addressing various themes in line with the four axes of hydrogen solutions, mobility solutions, medical and health solutions, and social infrastructure solutions.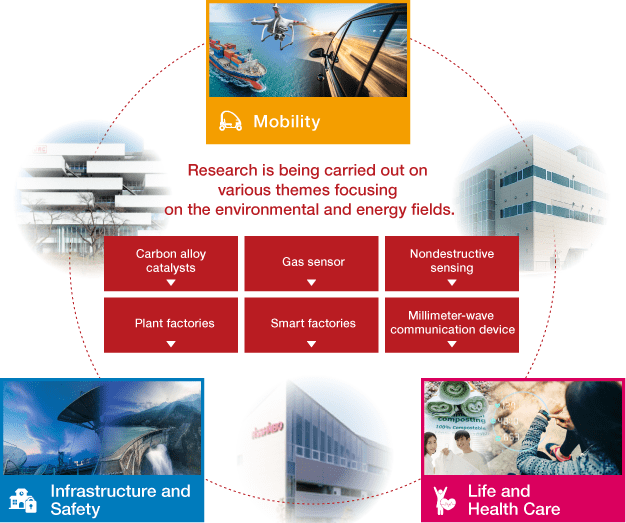 Carbon Alloy Catalysts
Stable Supply of Inexpensive Catalysts
The biggest issue in the full-fledged diffusion of fuel cells is the reduction of manufacturing cost. The key to cutting costs lies in the development of new catalysts.
A fuel cell is a device that generates electricity from a chemical reaction with hydrogen. Electrodes with catalytic functions are used to stimulate the reaction. One of the reasons why fuel cells are so expensive is that the raw material for the electrodes is platinum, which is a costly precious metal.
The carbon alloy catalyst that we are developing in collaboration with Professor Junichi Ozaki of Gunma University is made from carbon, which is suitable for stable industrial production. The replacement of expensive platinum catalysts with carbon alloy catalysts would significantly reduce the cost of fuel cells.
This carbon alloy catalyst has been used by Ballard Power Systems Inc.* for a portable fuel cell since 2017. This was the first time in the world for a non-platinum electrode to be commercially used in a polymer electrolyte fuel cell. We will continue to accumulate achievements in the field of portable fuel cells and challenge even larger markets. Through the diffusion of cheaper catalysts, we are contributing to the realization of the future hydrogen-powered society.
*Ballard, which is listed on the NASDAQ stock market, is headquartered in British Columbia, Canada.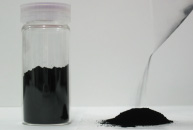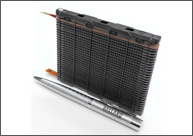 Gas Sensors
Safer and More Reliable Fuel-Cell Vehicles with New-Style Gas Sensors
Hydrogen gas sensors that can quickly detect any emergency gas leaks are indispensable for supporting the safety and reliability of a hydrogen-powered society. At present sensors that detect hydrogen by chemical reaction are the mainstream, but poor durability due to catalyst deterioration is a problem.
Nisshinbo is developing a new style of gas sensor for installing in fuel-cell vehicles that does not use a catalyst.
Moreover, this new type of sensor can be used to detect not only hydrogen gas but also helium gas. Recently we have begun trial sales of MoLeTELL® for use in leak tests using helium gas. This detector enables the easy identification of leakage spots in automobile parts and electric equipment using helium gas, as well as piping in factories and laboratories.
In the future we are scheduled to increase the range of targeted gases to include, for example, vaporized gasoline and sulfur hexafluoride (SF6) and expand our product lineup.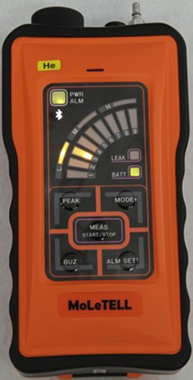 Plant Factories
Year-Round Supply of Delicious Strawberries
As a consequence of global climate change and increasing populations, the securing of food supplies has become a major issue for humankind. To ensure stable supplies of safe and secure food, Nisshinbo is developing technologies to cultivate plants in fully sealed factories. As a result, we have succeeded in growing delicious strawberries, which normally come to fruition only in the spring, throughout the year in a completely artificially lit plant factory uninfluenced by the outside temperature or weather. This was a first in Japan. Production facilities were subsequently installed at our Tokushima Plant in FY 2011 and Fujieda Plant in FY 2013, and strawberries are being cultivated and sold under the Apollo Berry brand name.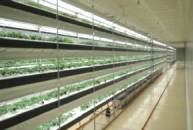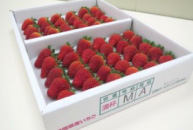 Smart Factories
Promotion of Demonstration Trials Integrating the Nisshinbo Group's Environmental and Energy Technologies
From the perspective of the effective use of energy resources, the utilization of renewable energy and introduction of smart technologies for the integrated management of energy are urgent tasks.
In response to this social need, the Nisshinbo Group is conducting demonstration trials of smart factories that have power-generation systems using solar energy, fuel cells, and other forms of clean energy; storage systems using rechargeable batteries; and energy management systems (EMS) that efficiently monitor and control this equipment and electric power consumption.
Among these devices, the EMS is a core technology for smart systems for which demand is expected to further grow in the future.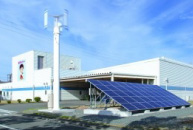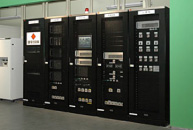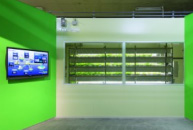 Nondestructive Sensing
Maintenance and Management of Concrete Structures
The deterioration of many concrete structures, such as bridges, built in the period of Japan's high economic growth in the 1960s has become a social problem. For example, the life span of bridges normally is said to be about 50 years, yet by 2030 it is expected that more than half of Japan's bridges will be over 50 years old. From now on, therefore, the efficient testing and diagnosis of such aged structures and their appropriate maintenance will be necessary.
Utilizing ultrasonic technology, the Nisshinbo Group has developed a device that enables the highly precise and three-dimensional measurement of concrete interiors. The use of this device will contribute to the maintenance and management of structures.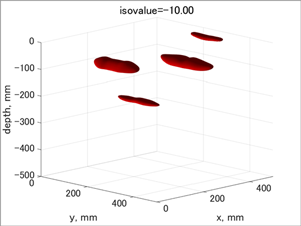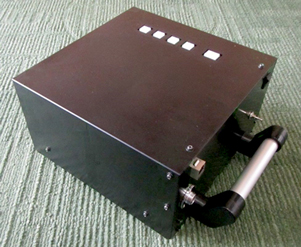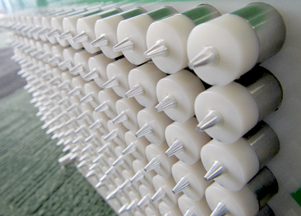 Millimeter-Wave Communications Devices
For Instant Downloading
As a result of the much improved screen sharpness of mobile terminals, such as smartphones and tablets, and the higher resolution of digital cameras and video cameras, the volume of data being handled by consumers just goes on increasing.
The millimeter-wave communications devices that we are developing are one means of high-speed wireless communication that can be used with smartphones, tablets, and other consumer electronic devices. They will make it possible to send and receive large volumes of digital content without stress, thereby contributing to the realization of pleasant lifestyles.