Strategic Business Domains
Three Business Domains Driving the Nisshinbo Group Going Forward
Having defined our three strategic business domains as Mobility, Infrastructure & Safety and Life & Healthcare, Nisshinbo will aim for further growth as an Environment and Energy Company group driven by continuous innovations.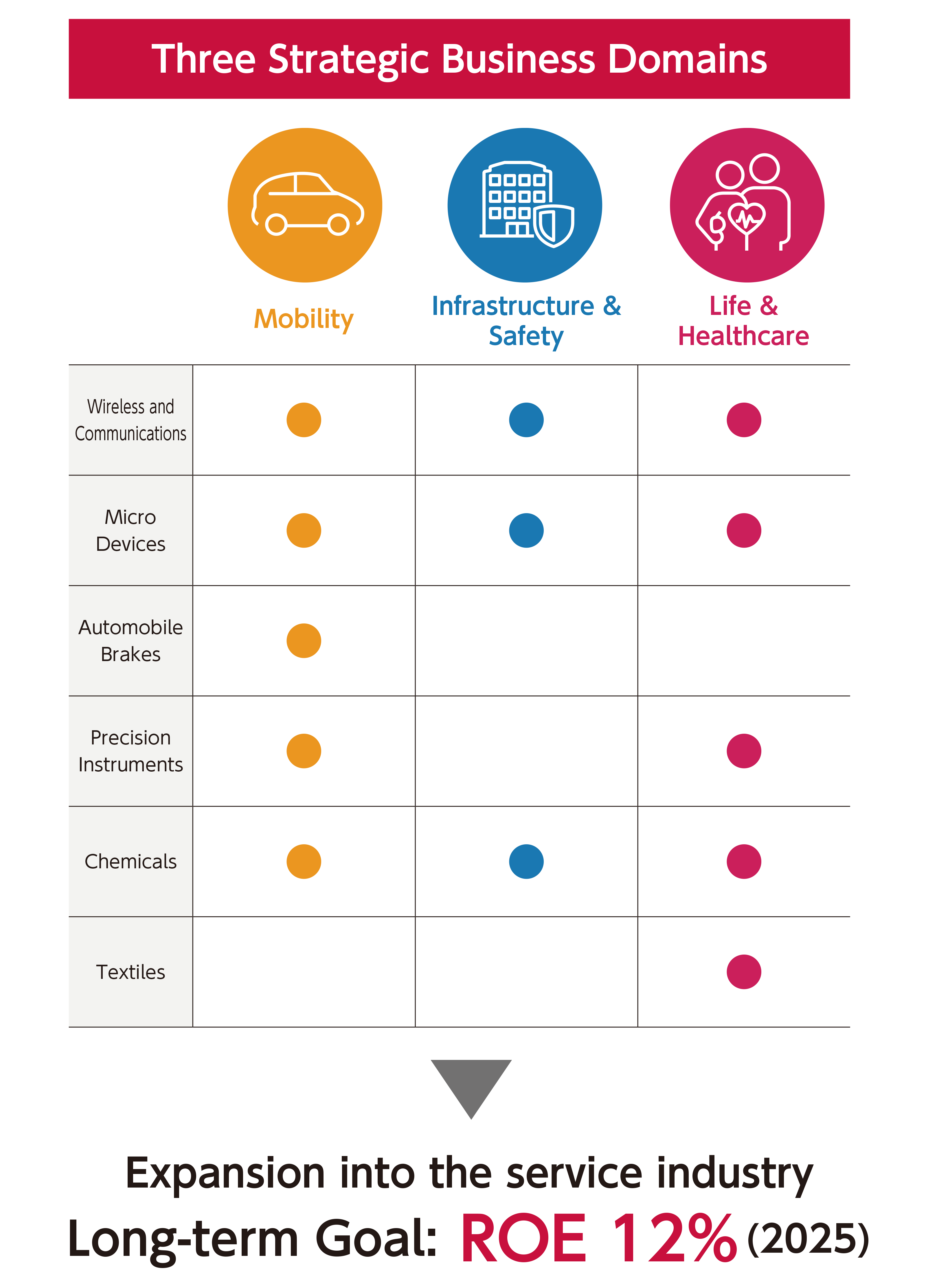 Mobility
Amid the advance of CASE and other technological innovations in new areas of the automobile industry, autonomous driving initiatives are under way throughout the world, starting with the lifting of a ban on "Level 3" conditional autonomous driving and the practical application of "Level 4" services enabling unmanned driving. This trend is not limited to automobiles, as ocean vessels are also moving toward automatic navigation. Within this environment, Nisshinbo Group business segments comprising wireless and communications, micro devices, automobile brakes, precision instruments and chemicals will collaborate on the integration of proprietary technologies including the LTE next-generation highspeed mobile communications standard and millimeterwave communications while contributing to safety and the environment by refining technologies such as advanced driver assistance systems (ADAS: "Level 2" autonomous driving) related to the autonomous operation of all moving objects whether on land, sea, air or in space. In addition to mounting sensing technologies and other mechanisms on individual moving objects, Nisshinbo will expand practical applications by including traffic lights, highways and other infrastructure, as well as wireless communications on land and in the air for marine operations.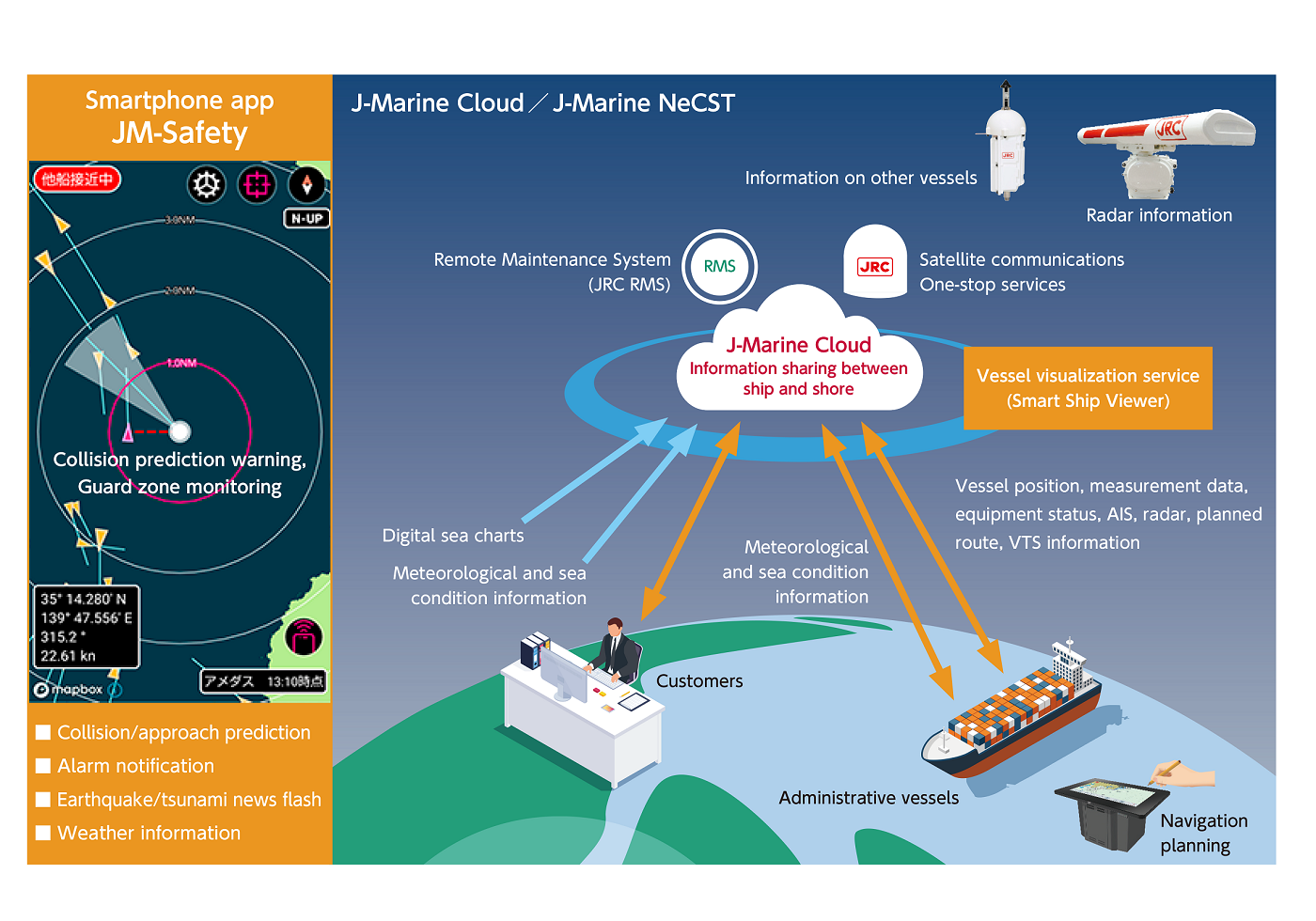 Infrastructure & Safety
In recent years, many natural disasters are said to have been influenced by climate change, and the intensification of disasters such as torrential rainstorms and landslides have become serious social issues. The Nisshinbo Group contributes to the advanced detection and avoidance of natural disasters through disaster prevention systems including weather radar and river water level monitoring systems in collaboration with the Wireless and Communications, Micro Devices and Chemicals business segments. Furthermore, we are promoting safety management in buildings, plants, factories and even larg e dams among other structures by establishing reliable fourthgeneration mobile communication systems (4G) overseas and fifth-generation mobile communication systems (5G) in Japan. Utilizing the technologies and knowledge possessed by each Group company to detect anomalies such as aging highways, Nisshinbo provides solutions to realize human safety and security in a super smart society. Supported by stable public-sector demand, we will expand from equipment sales to providing service solutions that utilize data obtained from equipment, centered on the newly established Digital Business Promotion Office.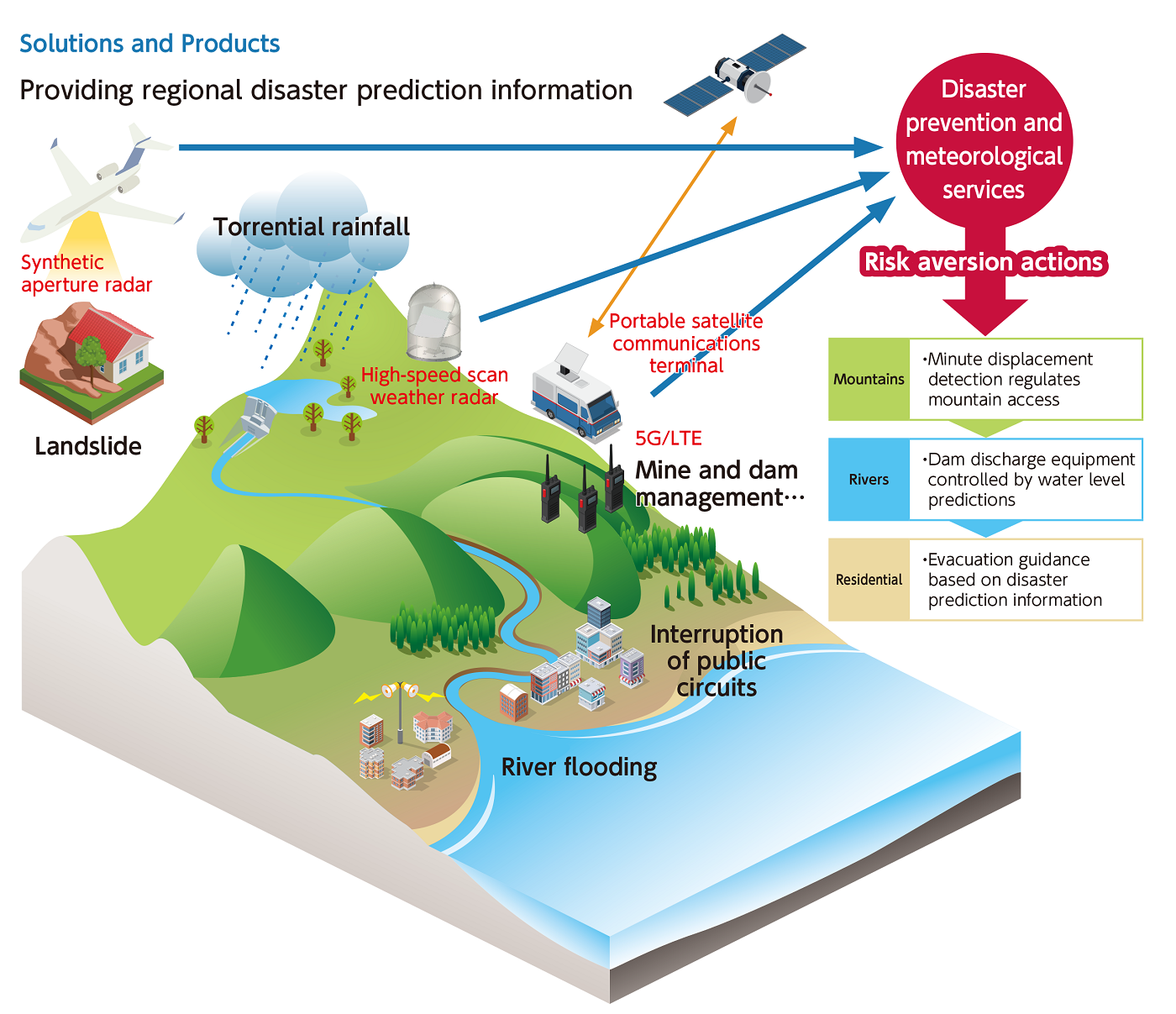 Life & Healthcare
At the Nisshinbo Group, the wireless and communications, micro devices, precision instruments, chemicals, textiles and real estate businesses collaborate by applying the distinct technologies and expertise of each business to promote the development of environmental- and medical-related products. Recently, amid the spread of COVID-19, "remote" and "contactless" needs have been rising in various fields. The Nisshinbo Group contributes to people's everyday lives by developing products in the fields of medical equipment and long-term care that leverage its strength in wireless communication technologies.
The handheld ultrasound diagnostic device launched in December 2020 by leading medical device manufacturer Terumo Corporation is a good example of fusing Group wireless communication technologies and medical equipment. With a focus on health care and nursing care, we will expand business by transforming Nisshinbo technologies into solutions.