Interview with Takeshi Koarai, President of Japan Radio Co., Ltd.
Focusing on Solutions Utilizing Wireless Technologies to Capture Expanding Market and Business Opportunities in the 5G Era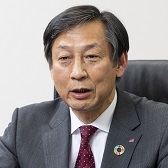 What are your thoughts looking back on the fiscal year ended in December 2020?

We cannot talk about 2020 without mentioning the impact of COVID-19. However, the degree of impact differed in each industry; although marine systems were affected by lockdowns in each country throughout the fiscal year, automobiles recovered quickly, and despite gaps between construction schedules and order timing in disaster prevention systems, projects remained on track, driven by firm public-sector demand.

During an unprecedented crisis, having a wellbalanced portfolio of different types of business significantly contributes to management stability. At present, we have business diversity but in limited areas, thus by further diversifying our portfolio going forward, we want to transition to a more solid structure that will remain unaffected by the external environment. Furthermore, in terms of how to approach business promotion and work styles, we will continue to take on new challenges, promoting remote work, online sales activities and other innovations conceived during COVID-19.

What are the strengths of the JRC wireless technologies at the core of the Nisshinbo Group?

I think many people can feel the convenience of being able to wirelessly transmit voice, images and other data without the need for cables, especially when traveling. Now that the era of 5th generation mobile communications (5G) has arrived, communication systems previously available only to large telecommunications carriers are now open to a wide range of industries, dramatically expanding possibilities in the wireless communications business as the linchpin supporting IoT. Despite the presence of many new entrants and other competitors, we will leverage our competitive advantage as an axis of growth considering the tremendous business opportunities expanding before our eyes.

With 5G, in addition to nationwide public networks, it is possible to build local, small-scale private 5G networks. Private 4G is already being used in 4G systems overseas, and we have accumulated a variety of expertise through the provision of private 4G networks overseas. A fairly high level of expertise and design technologies are required to install base stations for wireless communications for which the reach is invisible to the naked eye—this area is our specialty. We will differentiate our business in terms of experience, expertise and achievements to provide solutions that satisfy customers. As various software is required to build wireless communication systems, we believe we will be able to demonstrate our advantage in shortening construction schedules and competitiveness by employing open innovation strategies demonstrating integration skills combining various overseas functions and technologies to build large-scale systems.

As business opportunities expand, what risks and issues are you aware of?

As a development-oriented corporate group, we have contributed to the resolution of customer issues by leveraging our technological strengths. However, going forward, we must enhance business value and profitability through the provision of solutions leveraging technology. To this end, we must transform our way of thinking and perspectives from the conventional focus on "tangible" to the "intangible." Nisshinbo Holdings Inc. established an in-house Digital Business Department that has already given rise to several trial incubation projects attracting personnel from each Group company. Our challenge going forward is to strengthen capabilities for promoting open innovation incorporating perspectives and technologies that JRC does not possess.

How will you engage in future developments in mobility within your three strategic business domains?

In mobility, we will promote business from the perspective of providing solutions that contribute to resolving customer issues, from tangibles such as automobiles, ships, airplanes, railways and other modes of transportation, to intangibles within entire systems that include transportation. The automobile industry is undergoing a major transformation said to occur once in a hundred years, and seeing this as an opportunity, we will contribute to practical applications and advances in radar and ultrasound sensors in the CASE* area realizing the "connected" communications and sensing required for "autonomous" driving. We will also attempt to provide highly useful solutions through "sensor fusion," which combines raw data collected from the different sensors on cameras and radar that make up transportation infrastructure. There is no doubt that ships will move in the direction of autonomous operations. Compared to land-based operations, it is challenging to promote automation under severe ocean weather conditions such as waves and wind, as well as within the constraints of ship navigation characteristics (ships can turn only slowly). We will continue to expand practical applications through the accumulation of technologies utilizing sensing while participating in outside projects. Furthermore, the oceans themselves are markets with great potential for developing solutions businesses other than ship navigation, such as meteorological data, marine resources and offshore wind power generation. We will also focus on creating solutions that lead to visualization of the ocean.

Note:CASE is an acronym that stands for" connected,"" autonomous/ automated,"" shared" and" electric," representing new trends in nextgeneration automotive technologies and services enabling a major transformation in the automotive industry said to occur once in a hundred years.

What kind of developments are you working on in infrastructure & safety?

In terms of infrastructure, we will continue to provide highly useful solutions with data collected by traffic infrastructure sensing technologies, such as traffic volume measurement and wrong-way driver detection and prevention on expressways. In the area of safety, as natural disasters intensify, we will improve the performance of disaster prevention systems and pursue accuracy ensuring localized responses. For example, predicting river flooding caused by recent typhoons and linear precipitation zones is difficult when only weather radar covering a large area is used to predict disasters, making it necessary to consider hydraulic control via the installation of much radar at low cost in small river basins. We strive to realize solid business growth by consistently capturing strong public-sector demand for these disaster prevention systems.

What kind of developments are you working on in life & healthcare?

Ultrasound diagnostic equipment has already grown into a business with a defined scale, and the Handy Echo recently developed for portable applications is being used for house calls and in-home medical care. Wireless technologies in this field have potential as services such as, for example, measuring health by visualizing muscles and fat, and in the future, we will go beyond the medical field to expand these services to a broad range of areas.