Message from the President of JRC Mobility
JRC Mobility Inc. was established in 2018 to enable rapid decision-making and create a dynamic business structure in the mobility field. Over the last two years, our efforts to develop new products, enhance relationships with customers and build business structures have progressed according to plan.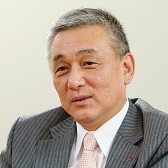 JRC Mobility Sets Sail
JRC Mobility is tasked with creating and developing communication devices and solutions for all areas of the mobility field. In 2020, Japan Radio will transfer onboard ETC devices and mobile locators from its communication equipment business and its entire ITS business, which includes GNSS* receivers, to JRC Mobility. Remaining operations, including commercial wireless devices in Japan Radio's communications equipment business, are scheduled for transfer in 2021. JRC Mobility is finally ready to set sail on its voyage as a specialist mobility company.
Expanding the Automotive Business
JRC Mobility has a high share of the onboard ETC device market for imported vehicles in Japan. The market for the devices is also growing worldwide as other countries adopt road toll payment systems similar to ETC. Against that backdrop, we have signed a contract with a distributor to supply ETC devices for the US, China and South Korea markets. The deal will lead to a dramatic increase in our ETC device production and shipments over the next decade, so we are working rapidly to establish an automated production system. We also acquired two German companies with development engineering, assembly and logistics capabilities in April 2020. Both companies have pre-existing business relationships with the Nisshinbo Group. These new development locations in Germany will allow us to dramatically expand our onboard device business with automakers in Europe and drive the strategic development of our business worldwide.
In mobile locators, which use accelerometers and gyro-sensors to estimate position, we have incorporated high-precision GNSS receiver chips into the devices. Combined with communication capabilities, the locators will enable users to gather highly accurate big data on positioning. Mobile locators are set to be a vital component in autonomous vehicles. We are targeting applications in agricultural machinery, construction machinery and drones, as well as passenger cars.
Launching Our Sensor Business
JRC Mobility is developing a high-performance ultrasound sensor. The new sensor has a much wider field of view than existing products, allowing it to detect objects in close proximity and far away. We see potential applications in next-generation self-parking and parallel parking assist systems. New Japan Radio Co., Ltd. is responsible for developing the ASIC chip for the sensor. The sensor covers all the blind spots of a vehicle and warns users of objects, helping to significantly improve safety around construction machinery and forklifts.
JRC Mobility is also harnessing Nisshinbo's strengths in millimeter wave radar technology to develop speedometers. Wireless technology means the device does not require a hard connection to the vehicle, so it can be installed as an aftermarket add-on for detecting speed. The sensor provides accurate speed readings that are not affected by environmental conditions, helping to make vehicles safer.
The automotive sector is developing innovative technologies based on the theme of CASE (connected, autonomous, shared, electrified). As a company with a long pedigree in the field of advanced ICT, JRC Mobility aims to tap into that trend and drive further growth in the Nisshinbo Group's mobility businesses.
* Global Navigation Satellite System: High-precision satellite positioning system using quasi-zenith satellites.