Interview with Chief of Corporate Strategy Center
Pursuing powerful management capabilities to realize our Corporate Philosophy by focusing on cash flow generation and strengthening risk management in health and safety and other areas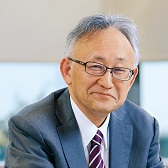 The Nisshinbo Group is focusing on six key measures in 2020. What themes did you choose and why?

The six measures cover themes selected by the Corporate Strategy Center that we believe the Group fundamentally needs to address, based on our understanding of Nisshinbo's intrinsic role as a company. We intend to continue working on these key measures beyond 2020. Nisshinbo needs to flexibly respond to changes in the operating environment at all times, but we will retain our long-term perspective while raising awareness about achieving earnings targets and implementing related measures.

We will also use M&A, business disposals and other approaches to continue building a business portfolio that more closely aligns with our Corporate Philosophy, based on our business strategy of helping to create safe and secure living environments as an Environment and Energy Company group, which is linked to our philosophy. We aim to increase corporate value by accelerating this strategy.

Another theme we have been tackling in recent years is the need to create an even stronger Group to bring together the growing number of new subsidiaries and new manufacturing sites worldwide.

You are focusing on risks and opportunities in each business to ensure earnings targets are achieved. How are risks and opportunities incorporated into business plans?

I previously worked as the president of Nisshinbo Textile Inc. Even though we carefully developed business plans and followed the PDCA cycle, we sometimes fell short of our targets. The lesson I learnt was that targets were hard to achieve if the wrong targets were set in the first place.

Now, when I review business plans submitted by each of the Group's businesses, I focus on whether they accurately reflect conditions in the operating environment. As the Chief of the Corporate Strategy Center, I have no direct say in the development or implementation of business plans, but I evaluate all plans and offer advice.

To give an example, the micro devices business is expected to benefit from the rollout of 5G technology, but my job is to ask questions, such as what are the needs of customers and what are Nisshinbo's competitive advantages? I also check if assumptions for costs and sales prices are accurately factored into business plans.

PDCA reviews during the fiscal year are based on KPIs and are conducted on a monthly basis for some benchmarks and on a one-off basis for others when needs arise. For example, in the wireless and communications business, we carefully classify all the businesses in the segment and identify which ones are growing, rather than simply measuring overall earnings performance, which can be heavily skewed by a few large orders.

However, the main role of the Corporate Strategy Center is to evaluate the possibilities and future prospects of businesses, provide information and extend other support to reinforce corporate governance. Our role is to strengthen management accountability, which ultimately means working to narrow any perception gap between shareholders and the policies and strategies of our businesses.

What are your views on reducing indirect costs?

In April 2020 we combined the Corporate Strategy Center and the Business Support Center in a single organization. The integration itself will not lead to a large reduction in indirect costs, but we aim to review all expenses and rigorously target cost savings. In addition to saving money in backoffice divisions, we hope the process will spur a greater appetite for cost reduction across the Group's frontline businesses.

In a typical cost reduction program, the aim is to cut out all wasteful expenses across the entire value chain, from orders through to shipments. In the Corporate Strategy Center, nothing is off-limits. In all frontline and backoffice divisions, we need to thoroughly assess the necessity for and the impact of all spending.

What areas are you focusing on to improve cash flow generation in frontline businesses?

There is still plenty of scope to increase efficiency at subsidiaries that have joined the Group. For example, we anticipate a significant improvement in profits in the automobile brake business as margins improve in TMD's OEPC business (original equipment for new passenger cars) and as conditions in the aftermarket recover. Also, in the precision instruments business, Group company Nanbu Plastics Co., Ltd., which makes plastic molded automotive parts, operates production sites in China and Indonesia, while Nisshinbo Mechatronics Inc. has plants in China and other countries in Asia. We think cost competitiveness can be improved by realigning those sites and strengthening cooperation. In addition to targeting lower production costs, we want to create a more efficient network of manufacturing sites in Japan and overseas from the perspective of access to markets and customers.

How do you plan to accelerate business portfolio restructuring?

The Nisshinbo Group includes a wide range of businesses, which makes it harder for investors to understand what Nisshinbo does and gives the impression of inefficiency. Companies with a diversified business structure tend to attract a conglomerate discount. To address those issues, Nisshinbo has reclassified its operations into three strategic business fields and is channeling management resources into those areas. Nisshinbo is also combining its strengths in manufacturing with communication technologies to develop new services businesses.

The first strategic busines field is Mobility. We are allocating a high weighting of resources to this field, underscored by the establishment of JRC Mobility Inc. in 2018. In the second field, Infrastructure & Safety, we are leveraging the strengths of Japan Radio Co., Ltd. in disaster prevention solutions and related systems. In the third field, Life & Healthcare, we aim to develop new products based on three themes – monitoring, remote operation, and contactless – that go beyond the traditional boundaries of the medical field by combining our strengths in plastic parts molding and electronic devices with the medical equipment business of Ueda Japan Radio Co., Ltd.

Our mission in the Corporate Strategy Center is to ensure those efforts to expand our business are tightly focused, backed by a leaner, more efficient business structure to help us achieve our 15% ROE target by 2025.

Why are you currently focusing on occupational health and safety?

As the Nisshinbo Group expands globally, we are seeing differences in health and safety standards at manufacturing sites worldwide. For example, the definition of "major accident" differs from site to site due to the unique customs of each country and region and variations in labor law and insurance systems. Recognizing those differences, we aim to lift health and safety levels in 2020 to meet the ideal standards defined by the Nisshinbo Group. It goes without saying, but our targets for health and safety are more rigorous than those typically used by Japanese companies. That's because we have to meet the stringent quality standards of automakers and other customers. Our mantra is "no quality without safety, no customers without quality." Every year we evaluate health and safety performance. Any plant that sees a drop in performance has to implement intensive remedial measures.

What approach are your taking with risk management?

We clearly identify, analyze and evaluate risks in each business in accordance with the Nisshinbo Group Risk Management Rules. Managing directors in each business prioritize risks and develop scenarios that assume a significant impact on operations from those risks. That information is collated and mapped by the Corporate Strategy Center and then discussed by the Board of Management and the Board of Directors.

The Nisshinbo Group classifies risks into four categories – avoid, control, transfer and accept – and develops economically rational responses.