Nisshinbo has growth potential as a corporate group made up of businesses with high shares in niche markets.
Mikiya Yamada is an equities research analyst at Mizuho Securities Co., Ltd., where he has covered Nisshinbo Holdings, Inc. for many years, publishing numerous research reports about the Group. In this section, we talk to him about how capital markets view Nisshinbo's management capabilities and corporate value.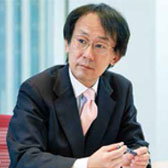 How visible is Nisshinbo in capital markets?
Nisshinbo is a well-known name and is also seen as a company with considerable potential. However, Nisshinbo is not attracting a high P/B valuation. I see three reasons for that: (1) an uncertain earnings outlook in the electronics business, (2) losses in the automobile brakes business, which investors had hoped would become a stable source of earnings, and (3) a lack of strong growth drivers, despite a large number of small but promising growth businesses.
Nisshinbo's goal of becoming an Environment and Energy Company group is convincing, but so far we have not seen that vision feed through to profits. One area Nisshinbo is focusing on is the super smart society, which could become a super efficient society with effective use of IT. Nisshinbo's size means it has no intention of handling the main elements of IT infrastructure, but it has proprietary technologies that can be used for applications such as digital-analog conversion to visualize information in electronic components and at communication interfaces. In the automobile brakes business, brakes are likely to be used more frequently in the early uptake phase for autonomous vehicles. That should spur growth in demand for environmentally friendly copper-free brakes and friction materials. However, poor prospects for profits in other parts of the Group are holding back Nisshinbo's market valuation.
Nisshinbo is prioritizing management resources in areas where it has realistic prospects of being competitive. While I think that is the right management approach, it is not translating into profits. That suggests there is a gap between business strategy and business execution.
Targeting resources on core businesses
I'm positive about Nisshinbo's strategy of channeling management resources into core businesses. Also, Nisshinbo is not afraid to sell non-core businesses even though they are generating profits, which is something other Japanese companies could learn from. In 2017, Nisshinbo made Japan Radio Co., Ltd. a wholly owned subsidiary. My take on that move is positive, as it has created a framework that will allow Nisshinbo to more rapidly implement structural reforms at Japan Radio. The same goes for New Japan Radio Co., Ltd., which also became a wholly owned subsidiary. I'm also upbeat about the textiles and electronics businesses, where Nisshinbo is using M&A, albeit small-scale deals, to reinforce its position. One of the key things to avoid in M&A is paying too high a premium for businesses, but Nisshinbo's M&A deals are always conducted on friendly terms, making issues unlikely.
The fiscal period ended December 31, 2018 was TMD's seventh year as a wholly owned Nisshinbo subsidiary, but earnings deteriorated significantly, raising concerns about post-merger integration. Nisshinbo has rapidly increased its proficiency in M&A in recent years, but investors will now be looking for concrete figures showing improvements at acquired businesses.
Management's vision for the Nisshinbo Group
Nisshinbo is targeting ROE of 12% by 2025. It aims to do that by emphasizing capital efficiency over sales. Capital efficiency should always be a priority, but I think Nisshinbo also has growth potential as a corporate group made up of businesses with high shares in niche markets. The Group currently faces a tough earnings environment for radar systems used in large ships, but radar systems are one of Nisshinbo's core competences and the business fits with the Group's vision due to prospects for long-term growth driven by rising global trade. At the least, I think Nisshinbo needs to achieve an operating margin of 6–7%.
As I said earlier, Nisshinbo's corporate vision of becoming an Environment and Energy Company group is the right strategy. Nisshinbo tends to use a "backcasting" approach to business planning, as opposed to "forecasting." Backcasting is an effective way of bringing all an organization's stakeholders together to work towards future goals. However, problems start to arise when the future initially envisaged by planners changes constantly. The best business managers can deliver results in line with their vision while constantly adapting to changes, based on dispassionate understanding of current conditions and outstanding strategy execution. If managers are unable to do that, the backcasting approach becomes nothing more than delusional.
Even at Nisshinbo, some management themes have failed to deliver results. Examples include unsuccessful efforts in the wireless and communications field to win business in the small and mid-size vessel market, as well as the integration of TMD's business sites. Going forward, I'd like to see management execute strategy more effectively based on clear milestones and quantitative targets for each theme.
Nisshinbo's ESG activities
As a company with a long history in chemicals and textiles, Nisshinbo has always carefully controlled industrial waste. Like other Japanese companies, Nisshinbo is fully committed to tackling environmental issues. The Group is focused mainly on B-to-B businesses, which do not provide much information about their social activities, but I don't see any major problem in this area. Nisshinbo has made a clear commitment to contributing to the environment and society with its products and services, but I think it needs to take a more proactive stance through its business operations.
There is no definitive approach to corporate governance. For me, the important thing is that managers fully exercise leadership on all matters and tackle any sign of corruption. Nisshinbo is poised to move up into the next rank of companies, centered on its electronics and automobile brakes businesses. That means managers will need to demonstrate strong leadership and outstanding business execution. Nisshinbo's managers understand clearly what issues they have to tackle and are highly motivated about increasing the Group's corporate value. I hope to see senior management show leadership in outstanding execution and corporate governance, which will support sustained improvement in earnings over the long term.