Interview with the President of Nisshinbo Brake
The Nisshinbo Group's automobile brakes business is cementing its position as one of the leading suppliers of eco-friendly products, supported by rising orders of pioneering copper-reduced and copper-free friction materials, which were developed in-house. With a combined global market share of roughly 20%, Nisshinbo Brake Inc. and TMD Friction Group S.A. are also contributing to safety in the global automotive industry as manufacturers of world-class brake friction materials.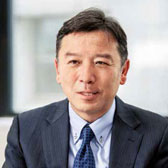 Earnings were weak in the fiscal period ended December 2018. What were the reasons for the decline in sales and profits at Nisshinbo Brake?

The main reason for the year-on-year drop in sales and profits (adjusted basis) was the sale of the foundation brake business in April 2018. In our remaining friction materials business, earnings are steady in Japan and overseas.

To recap, we decided to sell our foundation brake business to focus management resources on the friction materials business, which has a competitive position in the market. Amid increasing competition spurred by the shift to electronic brake systems (EBS), we realized that we would have needed to invest heavily in facilities and product development to maintain our position.

Why did TMD report weaker sales and a loss in the fiscal period ended December 2018?

Most of the products supplied by Nisshinbo Brake are for original equipment for new vehicles, but TMD also has an aftermarket (replacement) product business, which is roughly the same size or larger than its original equipment business. However, the aftermarket business is TMD's main source of profits.

The aftermarket business was the direct reason for the loss. In Germany, TMD started consolidating its warehouse sites in 2017 and relocated to a larger single site as part of efforts to build a distribution system better suited to our global operations. However, disruption to systems at the new warehouse meant TMD was unable to ship products for new orders. That situation continued from early 2018 until around June, which led to higher costs to fix the problem, as well as lower sales, and the loss of some customers.

We are confident those customers will ultimately return to TMD because of its powerful brands, but we needed to run a major promotional campaign at retailers to drive a recovery in sales. Costs associated with that campaign will persist into 2019.

In original equipment products, TMD has expanded over the years through numerous M&A deals. Some of the brands and business structures inherited from those deals have been retained in certain markets. To address those inefficiencies, TMD is consolidating its Leverkusen and Essen sites in Germany – the company's largest market – at a single location in Essen. The project, launched several years ago, was expected to significantly improve profit margins, but targets have not been achieved due to poor local execution.

To resolve the issues, we overhauled TMD's management structure in mid-2018 and began providing full support to the company, including even sending personnel from Nisshinbo Brake to support operations. While implementing our response, we have gained a clearer picture of the issues faced by TMD in safety, quality, production processes and other areas. By carefully tackling each issue, we expect to see a positive economic impact emerge from 2020.

What is the current situation with Nisshinbo Brake's copper-reduced and copper-free friction materials?

As of April 2019, roughly one-fifth of disc pads manufactured at our Tatebayashi Plant were copper-reduced or copper-free products. In the automotive parts sector, shipment volumes for orders are decided several years in advance, so we already have a good idea of Nisshinbo Brake's shipments of copper-reduced and copper-free products through to around 2025.

At the Tatebayashi Plant, we plan to increase production capacity by roughly 20% by 2025, compared with April 2019 levels. We forecast more than 60% of output will be allocated to products compatible with stricter rules on copper content. At our US plant, about 10% of output is currently copper-reduced and copper-free products, but we intend to increase the plant's total capacity by around 40% by 2025. More than 50% of output will be allocated to those products. Volume production of copper-reduced and copper-free products has already started at our plants in China. Including investments already made, we plan to invest roughly ¥20 billion in increasing production capacity for those products at our sites in Japan, the US and China.

The type of brake products we need to develop for 2025 and beyond will depend on technological trends, but there is already a clear shift towards smaller, more lightweight and more environmentally friendly products that also ensure a high level of safety. We believe that capturing market share in copper-compatible products will also help give us a strong position in the development of next-generation products.

What does the automobile brakes business bring to the Nisshinbo Group, and what ESG themes are you focusing on at the management level?

In the mobility field, a key area for the Nisshinbo Group, Nisshinbo Brake's credibility with automakers and Tier 1 automotive parts suppliers is translating into new business opportunities for the Group. Nisshinbo is also implementing a project to reinforce the Group's production technologies by adopting steps taken by the Tatebayashi Plant to make production processes more efficient using IoT and AI technologies.

In ESG, we continue to work on reducing industrial waste and other emissions to the bare minimum at our
manufacturing sites. We are also implementing reforms to work practices. We believe that empowering women and younger employees holds the key to future growth in the automobile brakes business. We are making constant improvements to the way we do business, such as giving younger employees more responsibility, aiming to create an organization that attracts and retains the best people.