Interview with the Chairman of New Japan Radio
One of the objectives of the Nisshinbo Group's medium- to long-term management strategy is to contribute to the creation of a sustainable society as an Environment and Energy Company group by providing solutions that help solve some of the issues faced by society today. The role of the micro devices business is to design and manufacture electronic devices and grow its business in fields ranging from mobility, industrial equipment and communication devices to healthcare and satellite communication.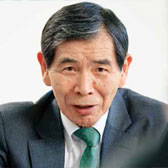 In the fiscal period ended December 2018, micro device shipments for smartphones, automotive applications and industrial equipment started declining from around October 2018. What is the current situation in those markets?

In the smartphone market, shipments have been weak due to a slowdown in the Chinese economy. Also, migration to new communication technology tends to spur growth in demand, but the shift from 3G to 4G has already faded. However, we expect demand to pick up again once the move to 5G technology gathers pace. The timing of 5G uptake has the potential to trigger a major shift in market share at smartphone manufacturers, which will also have a knock-on effect for device shipments, depending on the type and volume of orders and which manufacturers place orders.

In the automotive market, shipments have been slow recently, but based on industry practice, we think it is unlikely that customers will cut planned procurement volumes. Micro devices being shipped now were developed and certified by customers three to four years ago. In fact, we see good prospects for business expansion, as we are talking to domestic Tier 1 parts suppliers about products with a Start of Production (SOP) date of 2021 or later, and we have already secured a major order for our new products. That positive outlook for orders means we are confident of recovering our investment in those products.

In devices for industrial equipment, China's economic expansion and other factors have supported sustained growth in demand, uncoupled from the silicon cycle, but shipments have been sluggish recently. However, given the global shift to IoT, we forecast continued growth in the market over the long term, so we have no plans to slow the pace of product development.

What are the Nisshinbo Group's strengths in the micro devices business?

Nisshinbo handles a broad range of sensors, operational amplifiers and ADCs*, primarily for signal processing applications. We can also supply packaged modules customized to meet customer needs. In addition to raising quality and lowering costs, module products significantly reduce time and effort for customers in design processes and parts procurement, allowing them to focus resources on areas that are more important to them. We are proud of our ability to supply packaged modules, as it is something that larger competitors cannot typically handle.

Cooperation with Ricoh Electronic Devices Co., Ltd. Has also gained traction in recent months, allowing us to supply modules that incorporate power management integrated circuits (PMICs) and other devices.

Unique technologies are another one of the Nisshinbo Group's strengths. In sensors, New Japan Radio's MEMS technologies help Nisshinbo stand out in the market. New Japan Radio has also used its microwave technologies to capture a high share of the market for receivers and transmitters for satellite communication systems. Microwave technologies are also being adopted for human detection sensors used in vending machines and hygiene applications. In addition, the Nisshinbo Group has a technological lead in optical semiconductor devices for industrial equipment. Our devices are used in applications such as sensors for encoders that detect the angle of rotation of robot arms.

* Analog-to-Digital Converters: Electronic devices that convert analog signals to digital signals

How Analog Semiconductor Modules Work

What progress have New Japan Radio and Ricoh Electronic Devices made in business cooperation?

Both companies have started collaborative projects at their manufacturing sites. New Japan Radio has switched fabrication of some wafers from outside contractors to Ricoh Electronic Devices' Yashiro Plant, while some of Ricoh Electronic Devices' assembly processes previously handled by contractors have been transferred to a plant run by Saga Electronics Co., Ltd.

Cooperation is also having a major positive impact on personnel costs. Device manufacturing plants tend to experience labor surpluses and shortages during certain periods, but we are now sharing personnel between plants run by New Japan Radio and Ricoh Electronic Devices to eliminate fluctuations in manpower.

Design and development teams at both companies have set up joint working groups to start developing
next-generation products.

In automotive products, we have to meet stringent safety standards in production processes. Ricoh Electronic Devices will be able to rapidly expand its lineup of automotive devices by using New Japan Radio's production lines, which have been certified to Japan's IATF 16949 standard and Europe's VDA 6.3 standard.

What progress are you making in the European market?

Our devices are being adopted by a growing number of automotive parts suppliers in Europe. We are working more closely with leading Tier 1 suppliers, which has resulted in an order worth several billion yen. The order is for an automotive device developed jointly by New Japan Radio and Ricoh Electronic Devices.

What ESG themes is management focusing on?

Reducing the environmental impact of our production sites is a routine part of our approach. But we are also putting the highest priority on work practice reforms, as the electronic device manufacturing sector tends to have long working hours. In 2016, New Japan Radio declared its commitment to becoming a Healthy Company and started implementing employee health management. The company provides various incentives to employees who want to improve their health and has installed training gyms and yoga rooms at its plants. Those initiatives have been recognized by the Ministry of Economy, Trade and Industry (METI), which selected New Japan Radio as a White 500 company with outstanding health management in 2017 and 2018. Our goal is to help employees achieve the right balance between life and work commitments by making working hours more flexible, increasing support for employees with children and implementing other personnel initiatives.