Toward the Nisshinbo Group's growth: M&A strategy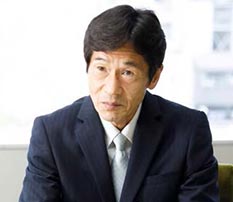 Guided by its Corporate Philosophy, the Nisshinbo Group is verhauling its business structure in line with its business strategy, aiming to contribute to the sustainable growth of society as an Environment and Energy Company group. Our goal is to build a diverse, innovative corporate culture organically and through the use of M&A.
Targeting Growth Fields in Line with Our Corporate Philosophy
Companies must continually adapt to society's ever-changing needs, but some companies are incapable of change because they are trapped by past successes. In the mid-2000s, we realized that the Nisshinbo Group's business structure was no longer in tune with trends and needs in society, prompting us to sharply shift strategic direction towards growth fields where we could respond to those needs. We decided that the environment and energy fields were the best areas to achieve our goals.
As an Environment and Energy Company group, we aim to provide solutions that address some of the biggest issues faced by humanity today, such as environmental destruction and global warming, to make life safer and more secure for people everywhere. Contributing to society through our business activities will also translate into growth that rewards stakeholders.
That process of growing by serving society is driving a shift in our business portfolio towards growth fields, resulting in a more diverse Group in terms of both businesses and management. At Nisshinbo, we believe diversity is vital to innovation, while homogeneity is its enemy. Innovation depends on constantly combining different elements in many ways. By creating a company with diverse businesses and people, we are fostering a multitude of different views and values that can become the seed of innovation. However, as we create a more diverse business, we have to remember that the Group also needs cohesion to ensure everybody is working towards the same goals. That's why we are embedding our Corporate Philosophy across the Group to ensure our employees stay true to Nisshinbo's healthy entrepreneurial spirit.
Our Stance on M&A Deals
Using M&A is an effective means of shifting our business portfolio to growth fields. Each M&A deal has its own rationale — to secure a head start for growth, acquire technologies, or to increase competitiveness, for example, but all of our deals will be in growth fields. Our focus will be on driving the development of the business, not on short-term growth or quick investment returns.
In identifying the best M&A targets, we will put priority on companies that can take on board and share the Nisshinbo Group Corporate Philosophy. PMI* in back-office areas is important, but front-line business integration is absolutely essential. Ensuring our business partner shares our philosophy and values is a vital part of working together towards clear goals that enhance our respective strengths and compensate our respective weaknesses.
M&A deals without a common business philosophy are unlikely to succeed, no matter how good the target company's business or technologies.
It is also important that we do not implement deals for the sake of them. Nisshinbo does not have a special M&A division. Instead, we set up project teams on a case-by-case basis. Staff in project teams have to work hard because they need to continue routine duties as well, but our concern is that creating a special division would make M&A an end in itself, undermining the whole idea in the first place — to establish Nisshinbo's presence in growth fields. Another important element of successful M&A is ensuring senior executives are personally involved in negotiations so that they can make decisions with all the information at hand, rather than entrusting everything to the managers in charge of the project. Sticking to our objectives is crucial to the success of M&A, but we need the courage to exit the business before the job is done — if we have to. The acquisition price of a business is not the be-all and end-all of a deal, but we have to be careful not to pay over the odds.
Selling Group businesses can also change our business structure, but there are other options to simply selling a business. The key question is, does that business have better prospects for growth outside the Nisshinbo Group? We have to consider whether any sale would improve customer and business partner satisfaction, and also whether it would be positive for employee stability and future prospects.
* Post-Merger Integration
Basic Stance on M&A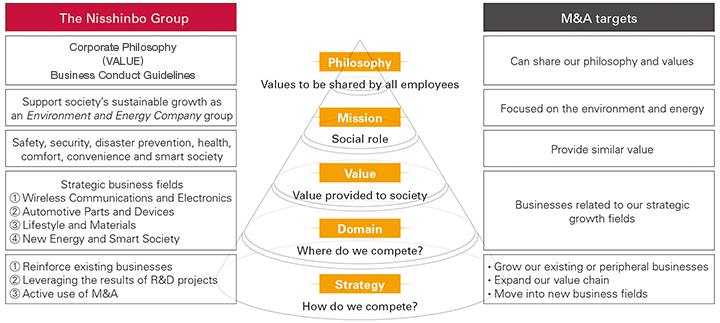 Converting Diversity to Innovation
The Nisshinbo Group is targeting ROE of 12% or higher in 2025. Looking even further ahead, we are developing new businesses that have good prospects for growth, such as automotive technologies for vehicles that are safer, more convenient and more energy-efficient, and hydrogen energy technologies that reduce CO2 emissions. To achieve our targets and make those businesses a success, we have to draw on diverse technologies and values to drive innovation, eschewing our previous approach to diversification of doing everything ourselves.
Amid far-reaching changes in societies and economies worldwide, we have to build a business model that dovetails with society's need for sustainable growth, allowing us to contribute to society through our business activities as an Environment and Energy Company group.