Management Strategy
After adopting a holding company structure in 2009, Nisshinbo Holdings Inc. embarked on a new era as an Environment and Energy Company group. We set out to transform the Group's earnings structure by combining technologies from across the Group to create new businesses and by actively acquiring companies through M&A deals. Focusing on the three strategic business domains of Mobility, Infrastructure and Safety, and Life and Healthcare, we will contribute to the realization of a sustainable society.
Net Sales of Nisshinbo Group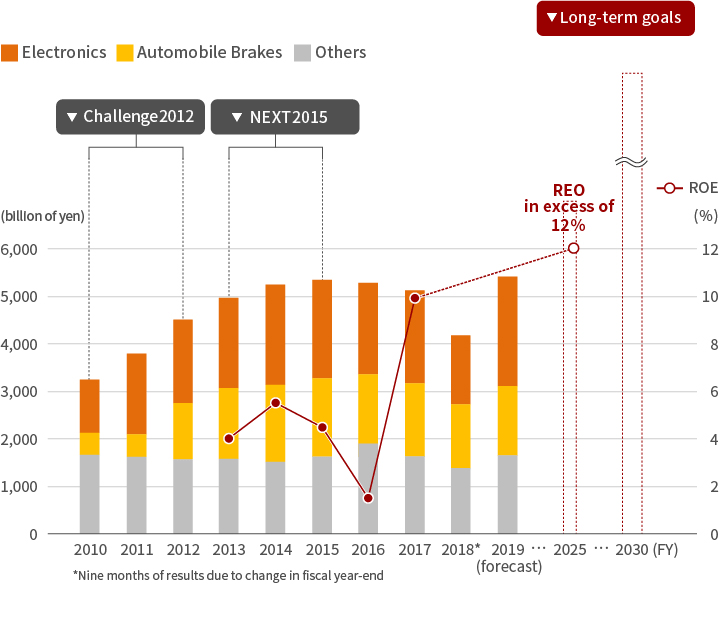 Plan objectives
Generate sustained growth in the environmental business
Establish unique technologies and new businesses in the environment and energy fields

Plan objectives
Regenerate and expand the electronics business
Strengthen the automobile brakes business
Improve profitability and enhance global competitiveness in each business
Expand the environmental business
Generate synergies

ROE: 12%(FY2025)
Plan objectives
Expand existing businesses
Create new businesses
Conduct M&A actively
Guided by our corporate slogan, Challenging towards a New Era of Technological Innovation & Super Smart Society, we will work to raise the presence of the Nisshinbo Group in innovation, technology, marketing and business systems.
The Nisshinbo Group's Business Model
The Nisshinbo Group, with its founding businesses of wireless and communications, brake friction
materials and textiles, has grown and developed by constantly mixing and matching technologies and
businesses. Today, the Group's business model is based on harnessing the power of diverse businesses,
people and values to drive innovation and address the ever-changing needs of society. Using that approach,
we are allocating management resources to growth fields and developing new businesses.
Innovation and Value Creation Powered by Diversity