Managing Risks and Opportunities
The Nisshinbo Group has established a risk management system, shown in the diagram below, to appropriately address business risks and minimize any losses associated with those risks. Additionally, in order to turn business risks into opportunities that support sustained growth, the Nisshinbo Group routinely works to identify and analyze any changes in the operating environment, aiming to create new growth opportunities by contributing to society as an Environment and Energy Company group – a business strategy that aligns with the Group's Corporate Philosophy.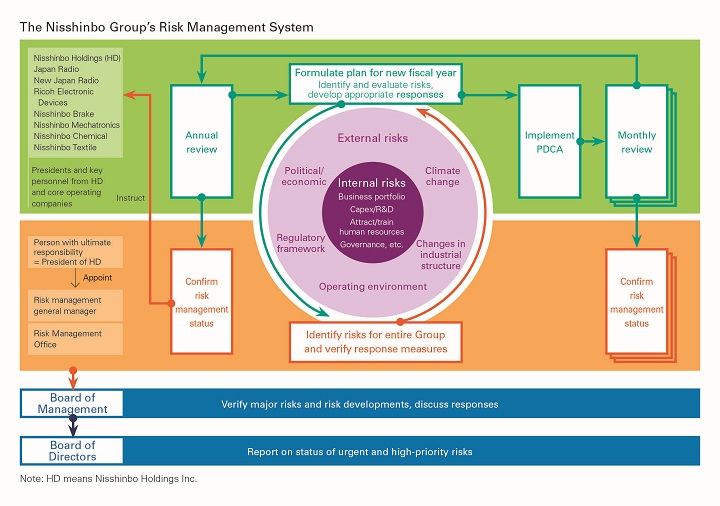 Climate Change
Risks
Impact on supply chains from major natural disasters caused by extreme weather
CO2 emission costs due to introduction of carbon tax
Costs to reduce CO2 emissions
Costs to respond to tighter rules on SOx/NOx emissions worldwide
Impact on business activities from tighter rules on greenhouse gas emissions
Response (Risks)
Develop business continuity plan (BCP) based on assumption of major natural disasters, conduct training to improve Group's response to risk of business disruption
Take steps to reduce CO2 emissions
Introduce SOx/NOx removal equipment
Increase sales ratio for "products that contribute to the creation of a sustainable society" to 70% by 2030
Opportunities
Greater demand for fuel cell vehicles as hydrogen society gains momentum
Growth in number of new ships built amid rising demand for biomass fuel transportation
Expansion in businesses providing disaster prevention/mitigation solutions to address rising wind and flood damage
Response (Oppotunities)
Improve technological capabilities for developing fuel cell parts and materials
Increase production capacity for marine wireless communication equipment to address rising demand for new biomass fuel transportation vessels
Sell water/river management systems, weather radars and other disaster prevention/mitigation solutions developed in Japan to customers overseas
Geopolitical Risk
Risks
Impact on operations from geopolitical developments
Response (Risks)
Consider country risks, etc., when determining appropriate investment levels for each country/region
Fluctuations in Product Markets, Exchange Rates and Raw Material Prices
Risks
Changes in supply-demand balance in product markets due to fluctuations in economy
Impact on earnings from significant volatility in raw material prices
Impact on earnings from fluctuations in exchange rates
Impact from changes in rules or regulatory frameworks governing products and services in each market
Response (Risks)
Use diversified business strategy to mitigate impact on earnings from sudden changes in operating environment
Build reliable relationships with multiple suppliers
Use forward exchange contracts, etc., to minimize exchange rate risk
Gather risk information from business sites in each country/region and feed back to management
Communicable Diseases
Risks
Impact on earnings from pandemics of previously unknown diseases such as COVID-19
Opportunities
Create new value by contributing to society through medical-related businesses
Response (Risks/Oppotunities)
Provide appropriate support to management by forming emergency response teams and aggregating and communicating information
Group Management
Risks
Management issues due to greater business diversity
Large number of duplicate functions among Group businesses
Opportunities
Harness Group's diverse strengths by integrating businesses/organizations to drive innovation and increase resilience to changes in operating environment
Response (Risks/Oppotunities)
Reform business portfolio to align with changes in issues faced by society, improve cash flow
Improve efficiency by overhauling Groupwide organizations and using outsourcing
Maintain Group integration by consolidating oversight of Group company management at HD and establishing financial discipline
M&A/Major Investments
Risks
Mistakes with M&A deals and major investment plans
Opportunities
Use new business resources to capture opportunities that support sustained growth
Response (Risks/Oppotunities)
Form project teams for each M&A deal to strengthen PMI activities; Board of Directors to verify investment effectiveness while building up internal expertise
Separate capex budget approval and implementation approval functions, hedge risks by adjusting capex in response to changes in operating environment
Human Resources
Risks
Difficulties hiring and retaining talented people
Opportunities
Overlap between Corporate Philosophy and growing interest in ESG among younger people, leading to more hiring opportunities
Response (Risks/Oppotunities)
Use RPA, IoT and other tools to increase automation and realize labor savings
Implement strategic PR activities to improve corporate visibility and image
Provide human resources and financial support to joint research projects with academia
Use targeted local recruitment activities
Rapid Technological Innovation
Risks
Dramatic changes in existing markets due to technological innovation
Decrease in competitiveness due to delays in technology development and product development plans
Response (Risks)
Management decides to continue/cancel R&D projects based on regular assessments
Opportunities
Opportunities to develop groundbreaking technologies and tap into growth by combining resources from diverse businesses
Response (Oppotunities)
Form teams by flexibly assigning personnel from various Group businesses
In April 2020, the Digital Business Department was established at HD to promote the development of advanced technologies.
Alliances with other companies and start-ups
Human Rights Issues
Risks
Widespread sexual and power harassment that undermines the working environment
Response (Risks)
Establish human rights team at HD to maintain and raise awareness across the Group
Business Management
Risks
Increasing complacency in governance
Opportunities
Take risks based on balance between proactive and defensive governance
Response (Risks/Oppotunities)
Building on pioneering steps such as introduction of outside director system in 2006, adoption of HD system in 2009 and termination of advisor/consultant system in 2017, establish advanced governance system that balances management transparency with bold risk-taking
Quality Issues
Risks
Loss of trust, claims for damages or product recalls due to quality issues or defects with products or services
Response (Risks)
Use risk management system to minimize risk probability and potential impact
Establish quality assurance team at HD to oversee quality assurance and product safety activities at Group companies
Information Security
Risks
Unauthorized disclosure of personal information, customer information or trade secrets
Information leaks or data corruption caused by computer viruses
Response (Risks)
Continuous training and annual internal audits to assess information security
Use risk management system to minimize risk probability and potential impact
Compliance
Risks
Loss of trust and damage to corporate value caused by legal violations such as corruption or anti-competitive practices, or by corporate behavior that diverges from social norms
Response (Risks)
Messaging from president of HD to underscore importance of fair business practices
Continuous implementation of compliance training
Severe penalties for misconduct
Appoint outside directors with legal background
Fraud/Illegal conduct
Risks
Financial window-dressing, accounting irregularities, etc.
Response (Risks)
Use internal control system and corporate ethics reporting system to prevent misconduct
Regular rotation to prevent misconduct
Workplace Accidents
Risks
Impact on business of failure to ensure employee health and safety worldwide
Response (Risks)
HD and Group companies work together to roll out high-level health and safety approaches from Japan to sites worldwide
Business Reputation
Risks
Impact on business from misreporting in media, spread of rumors or online rumors
Labelled as target for divestment by investors
Response (Risks)
Routinely monitor situation as part of risk management
Continuously share information with major ESG investors and ESG index research firms to identify trends
Cross-shareholdings/Idle Real Estate
Risks
Fluctuations in market value
Response (Risks)
Steadily reduce exposure to cross-shareholdings in line with Corporate Governance Policy
Increase value by redeveloping real estate