Contributing to Making People's Lives Environment-Friendly, Healthy, and Comfy
The Nisshinbo Group's textiles business possesses the world's top-class technologies from development to production in the fields of spinning, weaving, knitting, processing, and sewing.
As an Environment and Energy Company group aiming to contribute to the global environment and human society through business, we endeavor to develop new technologies and products that play a role in reducing the environmental load and realizing healthy and comfy lifestyles in accordance with the concepts of environment, health, and comfort.
In order to further strengthen our international competitiveness, we have shifted production sites overseas, especially to Indonesia, and are building a global-scale setup of production in the most suitable locations.
Utilizing our top-class technologies and global production setup, we will create new values to support the healthy and comfy lifestyles of people around the world.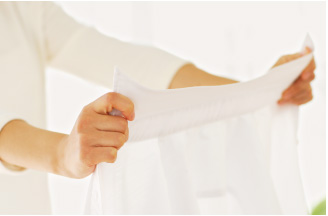 Main Product Areas
Shirts

Uniforms

Mobilon / Elastomer

Oikos
Related Links
Main Products
Non-Iron Shirts
Dress shirts are essential for business occasions, and Nisshinbo has led the world in the development and sale of non-iron shirt fabrics. Constantly aiming to achieve the best possible performance, we are continuing our relentless efforts to develop new products and consolidate our position as a top maker. Our Apollocot shirts, developed with the full capabilities of Nisshinbo Textile Inc., have been highly appraised by customers as next-generation non-iron shirts, and the technology is being extended to other items as well, such as handkerchiefs, business knit shirts, and cotton business pants. We will continue our efforts to further strengthen collaboration with shirt and apparel makers in the Nisshinbo Group and develop the latest non-iron shirt technology.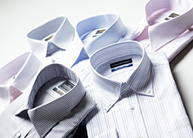 Oikos
Oikos non-woven fabrics employ the spunlace manufacturing method, which uses water jets to finish fibers in a sheet format. These hydro-processed non-woven fabrics made mainly of natural cotton are extremely safe and very hygienic. Moreover, they do not emit any harmful substances even when burned, and they decompose naturally if buried in the earth.
Oikos non-woven fabrics are used in a wide range of fields, from cosmetics and household sundry goods to industrial purposes. In particular, we have been developing products in collaboration with leading Japanese manufacturers for cosmetic/sundry goods and medical/hygiene goods that take full advantage of their characteristics. These products have been highly praised. Furthermore, our 100% cotton wet-wipes used in restaurants and first-class train carriages are popular thanks to their strength and gentleness in use.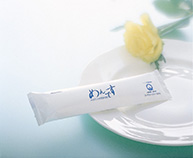 Mobilon / Elastomer
Mobilon is a type of spandex (polyurethane elastic fiber) developed by Nisshinbo Textile using our own proprietary technology. Mobilon is highly appraised for its soft touch when stretched, its ability to maintain shape, and its comfort when worn. Its ever-expanding range of applications includes pantyhose, innerwear, outerwear, sportswear, and other materials. Thermal Adhesive Mobilon, meanwhile, is an epoch-making spandex derived from cutting-edge polymer science and fiber spinning technology. It is characterized by the spandex being heat-sealed to each other by the heat generated when processing the fabric. This affords many useful functions, such as ladder prevention in pantyhose and resistance to curling, fraying, and shrinking. The application of Thermal Adhesive Mobilon is spreading around the world in such items as ladder-proof pantyhose and seamless garments.
Our elastomer is a thermoplastic polyurethane material developed with our own proprietary technology. Thanks to its excellent elasticity, flexibility, and durability, it is used widely in apparel, face masks, and other industrial materials.
This extremely stable product complies with Japan's Food Sanitation Act and the European Restriction of Hazardous Substances (RoHS) directive and has been certified under Japan's Ekotex Standard Class 1 (textile items for babies and toddlers).