In February 2015, the Nisshinbo Group identified material issues for the Group in order to clarify issues that required action to achieve sustainable growth for the Nisshinbo Group's business together with society.
Materiality for the Nisshinbo Group
Global compliance
Contribution to the environmental and energy field
Creation of a safe and secure society
Relationship between key issues and global guidelines

Key Risks and Opportunities Associated with the Materiality and Responses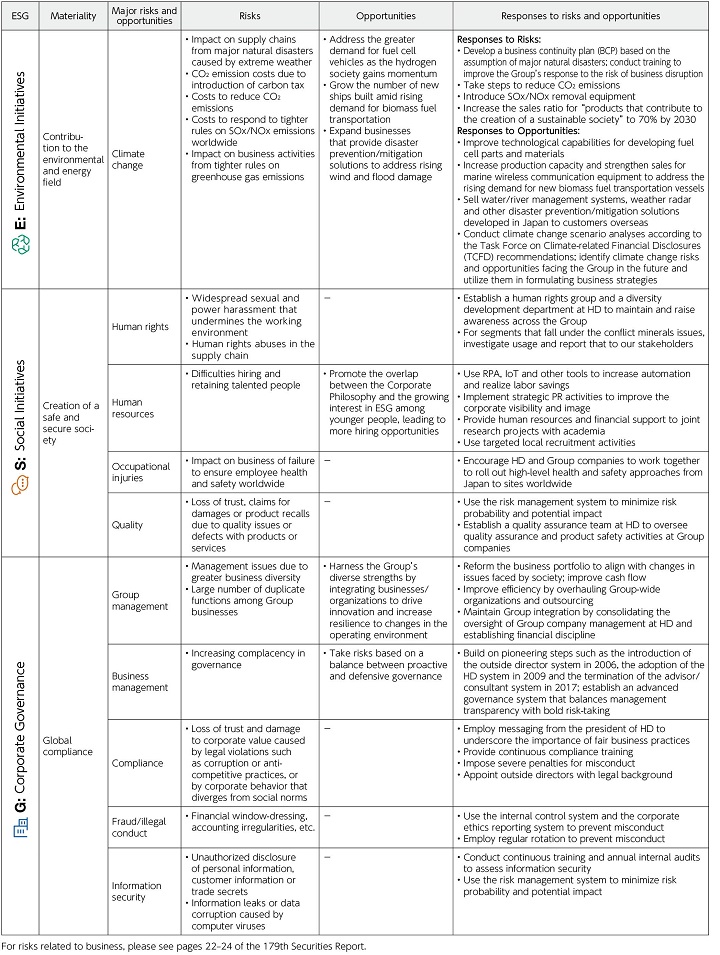 Process of Determining Materiality
1. Identify social issues for consideration

First we identified social issues, referring to ISO 26000, the fourth edition of the GRI Guidelines, the 10 principles of the UN Global Compact and other social norms. We then evaluated their relationship to the Group's businesses and identified 22 social issues for consideration.
2. Prioritize social issues

During the Nisshinbo Group's Sustainability Promotion Conference, the Group prioritized the social issues the Group had identified from the perspective of its importance to stakeholders and its importance to the Nisshinbo Group, coming up with a draft proposal.
3. Deliberate and approve at the Corporate Strategy Conference

The Corporate Strategy Conference, chaired by the president of Nisshinbo Holdings Inc. and comprising all managing officers, deliberated the issues' materiality. After considering the importance of these social issues and their relationship to the Group's businesses, we determined the three material issues indicated above.
Managing Risks and Opportunities
The Nisshinbo Group has established a risk management system, shown in the diagram below, to appropriately address business risks and minimize any losses associated with those risks. Additionally, in order to turn business risks into opportunities that support sustained growth, the Nisshinbo Group routinely works to identify and analyze any changes in the operating environment, aiming to create new growth opportunities by contributing to society as an Environment and Energy Company group – a business strategy that aligns with the Group's Corporate Philosophy.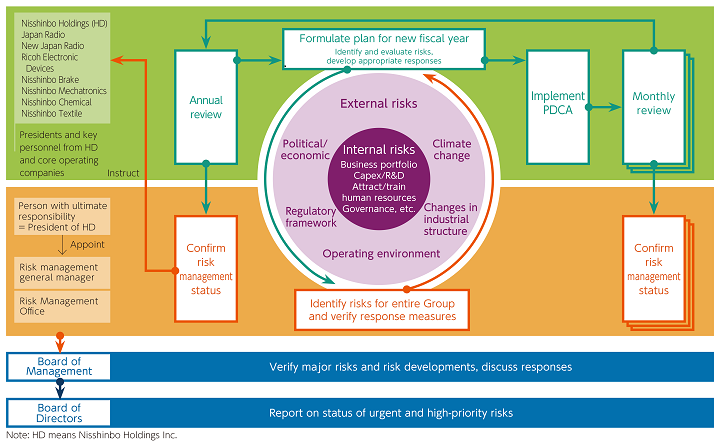 The Nisshinbo Group Risk Management
We clearly identify, analyze and evaluate risks in each business in accordance with the Nisshinbo Group Risk Management Rules. Managing directors in each business prioritize risks and develop scenarios that assume a significant impact on operations from those risks. That information is collated and mapped by the Corporate Strategy Center and then discussed by the Board of Management and the Board of Directors.
The Nisshinbo Group classifies risks into four categories – avoid, control, transfer and accept – and develops economically rational responses.
Nisshinbo's Risk Management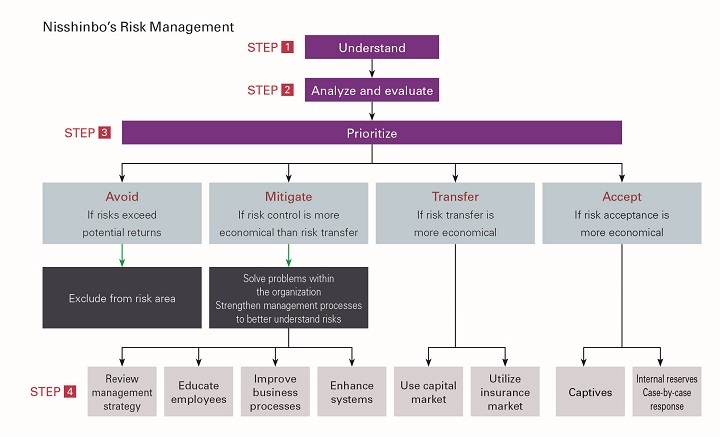 Key risks and opportunities are described in detail in the Integrated Report

.
For details of risks and opportunities and the Group's responses by item, please refer to the Investor Relations Webpage.