Fourth Mid-Term CSR Targets and Initiatives
We have been conducting unified, group-wide activities to achieve the 14 key performance indicators (KPIs), including compliance and CSR procurement, in our third mid-term CSR targets established in fiscal 2016.
As there are still many areas that can be improved, we will continue these activities for our fourth mid-term CSR targets taking effect from fiscal 2019.
We will set goals for each key action item in order to achieve our targets, and we will use KPIs for the items that can be quantified.
All employees will work to achieve the targets, and the achievement status of the targets will be checked with KPIs. We also aim to further improve the content of our activities.
Relationship among Corporate Philosophy, Materiality, and KPI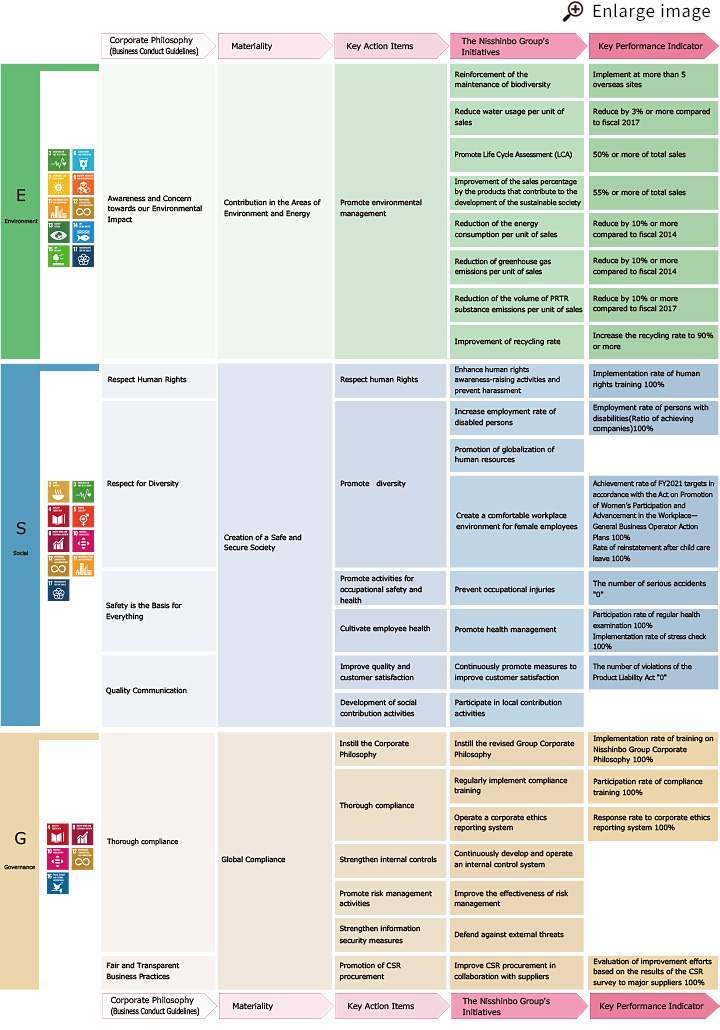 Fourth Medium-Term CSR Targets (FY2019-2021) and Results as of end-FY2019
| Key Action Items | Target for end-FY2021 | Result as of end-FY2019 |
| --- | --- | --- |
| Implementation rate of training on Nisshinbo Group Corporate Philosophy | 100% | 100% |
| Participation rate of compliance training | 100% | 91% |
| Response rate to corporate ethics reporting system | 100% | 100% |
| Implementation rate of human rights training | 100% | 89% |
| Employment rate of persons with disabilities (Ratio of achieving companies) | 100% | 93% |
| Achievement rate of FY2020 targets in accordance with the Act on Promotion of Women's Participation and Advancement in the Workplace—General Business Operator Action Plans (Ratio of achieving companies) | 100% | 15% |
| Rate of reinstatement after childcare leave | 100% | 95% |
| Participation rate of regular health examination | 100% | 97% |
| Implementation rate of stress check | 100% | 94% |
| Assessment of the status of improvement in accordance with the results of CSR questionnaires to major suppliers | 100% | Each business partner has been surveyed by questionnaire and is in the process of receiving guidance for improvement. |
| Number of violations of the Product Liability Act | 0 | 0 |