The Nisshinbo Group's Contributions to the SDGs
The Nisshinbo Group contributes to the achievement of the Sustainable Development Goals (SDGs) through human resource development activities. We are implementing systematic measures to achieve the Group's sustainability target of promoting the globalization of human resources.
Core SDGs Goals and Targets and the activities of the Nisshinbo Group
The Nisshinbo Group considers SDG 4.7 as a core target, and is promoting human resource development activities through the implementation of various training programs and support for self-development.
4. Quality Education

Ensure inclusive and equitable quaility education and promote lifelong learning opportunities for all.

Targets: 4.7

By2030,Ensure that all learners acquire the knowledge and skills needed to promote sustainable development, including, among others, through education for sustainable development and sustainable lifestyles, human rights, gender equality, promotion of a culture of peace and non-violence, global citizenship and appreciation of cultural diversity and of culture's contribution to sustainable development.
The Nisshinbo Group concentrates on personnel training based on the belief that "good people make for a good business."
■ Development of executive successors
Each year the Group prepares a list of successor candidates for the main positions of each Group company and conducts training of successor candidates in a planned manner.
1. Department- manager level or higher
Management mindset training: Trainees acquire a mindset appropriate for management.
Selective External Training: Trainees acquire global standards of management knowledge, mindset and role behavior.
Practical workshop: Trainees acquire the ability to create and surpass businesses.

2. Section-manager level
Business Strengthening Workshop: Trainees acquire the ability to generate profits and expand business.
Dispatch to the management of Technology (MOT) Graduate School of the Tokyo University of Science: Offered, this program develops management personnel who possess both technical knowledge and management skills.
3. Young to mid-level employees
Innovation Leader Development Training: Offered, this program develops personnel capable of improving operational efficiency and productivity in response to technological reforms.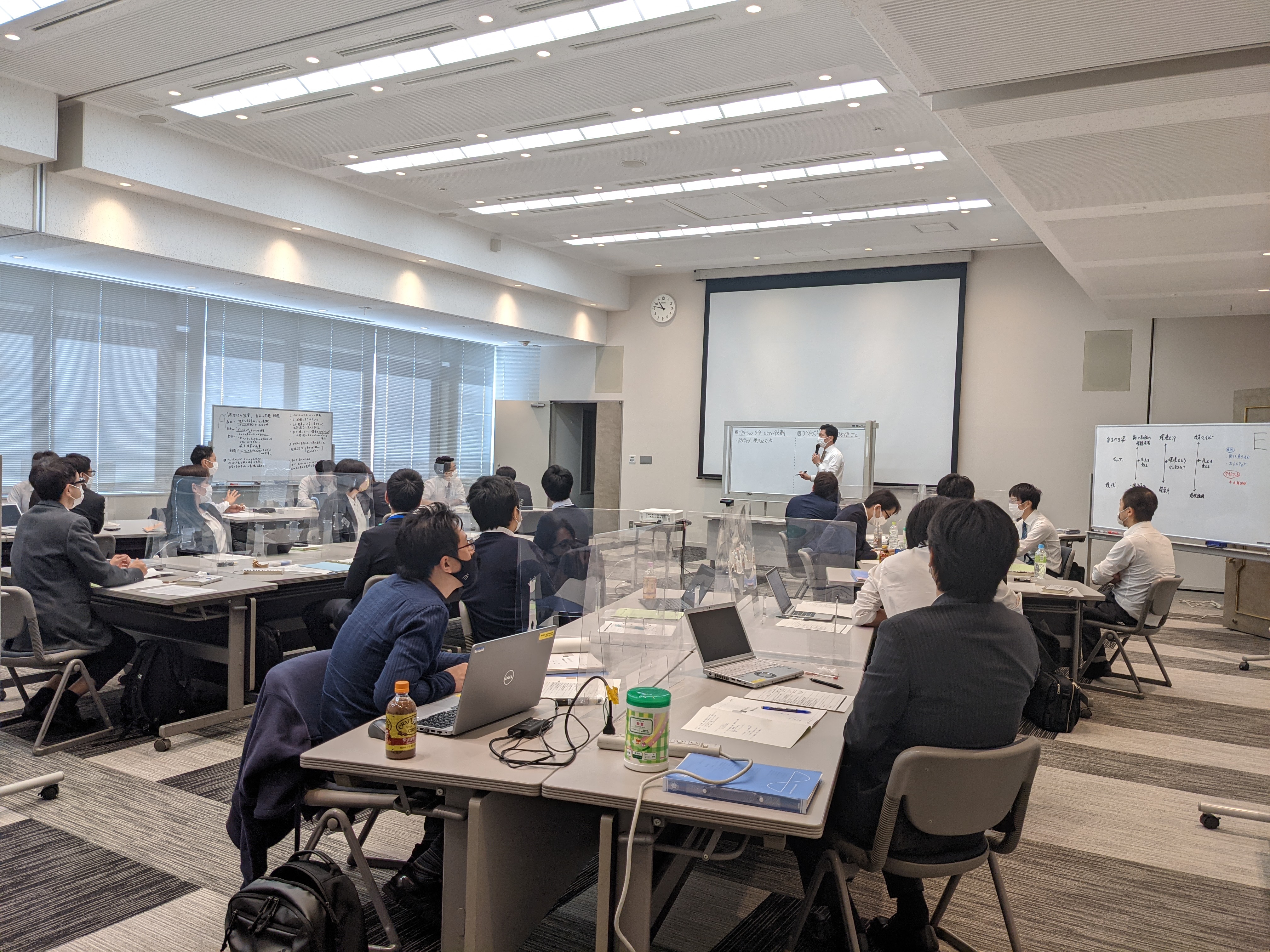 Innovation Leader Development Training
■Support for career autonomy
1. Younger age group
The Group has a mentoring system for newly graduated general employees in the first to third year of recruitment. The Group also provides follow-up training and career training in the second, third, and fifth year of employment by new graduate general employees. In addition, periodic supervisor interviews are also conducted with career sheets and follow-up on the desire to change are also conducted.
2. Senior group
As an active support measure for seniors, the Group provides training on the Money Plan and health for a life of vigor and to enhance the career.
3. Learning management system (Family name: L-Click)
Since 2021, the Group has begun to develop an environment where learning can take place anytime, anywhere, for anyone. After the introduction, the number of accesses has been rising, and the number of content has been increasing.
The program also educates interns. In addition to participating in e-learning programs, the Group uses the in-house SNS function to strengthen the connections between interns.
In the future, the Group will promote planned human resources development and career autonomy support by promoting the sharing of this system among all Group companies in the country and creating opportunities for education for more people.
■Training topics
1. Training for executives, new general managers of the Group companies and new section managers
In order to foster a sense of unity among companies, the Group provides joint training for executives, new department managers and new section managers for all Group companies.
2. Education for mid-career employees
Acceptance education aimed at ① understanding the company and ② building a connections between mid-career general employees was provided to mid-career hires. In the round-table discussion, an enthusiastic discussion was held on the theme of "A little Strange Here at Nisshinbo."
3. Digital education
New employees participate in training to acquire basic digital knowledge. The Group also prepared many menus for the learning management system and will continue to expand digital education.
4. Global response
The Nisshinbo Group also focuses on the development of human resources capable of responding to global business. The Group provides training in cross-cultural understanding and opportunities of round-table discussions with overseas experienced persons for new employees, training in cross-cultural understanding for employees posted overseas, training at language schools for overseas dispatchers, language training targeted for junior employees in the United States and China for 2 to 6 months, and training in English and business Japanese co-sponsored by group companies. In addition, employees younger than 35 years of age are provided with measures to promote foreign experience and support in the use of online English conversations and verbal judgment tools.
Voices of Students:
(Participants in Innovation Leader Development Training)
Students learn the theory of innovation, leadership, and personnel management and work with the same generation in a different industry and other business sectors, which provides a good opportunity to grow as a person, as well as to make use of the knowledge at work. I had a different experience from my regular work, and I learned a lot and became aware of it.
(Student of language training system/English)
The training wasn't just about language acquisition, but rather I was able to make many new discoveries such as expressions used in daily life, and choosing the right word depending on the situation. By using phrases and words that are also used by people in other countries, I was able to feel much closer to the people I spoke with, and this led to quality communication.
Primary Training and Systems
| | |
| --- | --- |
| Training for Leaders | Executive managers training program, workshop to strengthen business ability, innovation leader development training |
| Training for Managers | Group companies and Affiliates Executive managers training program, organizational studies training, human resource administration training, finance and cash flow basic training, management strategy training, management strategy basic training, marketing training, accounting training, basic management training, and finance training, effective management (EM) method training |
| Training for promoted personnel, etc. | Training for new employees, training for newly appointed supervisors, newly appointed managers and newly appointed senior managers |
| Subordinate Training | Coaching training, feedback training, and evaluator training |
| Career Support | career sheet (career building and transfer requests), New Challenge System (internal job openings), second life support system, young employee follow-up system, and mentoring system |
| Autonomous Learning Support | Learning management system, subsidies for correspondence courses and e-learning courses, and subsidies for outside commuter-type training courses |
| Global Training | Language training system in countries outside of Japan (English and Chinese), promotional programs providing experience abroad for young employees, global human resource training system, Company-funded CASEC testing for specified employees, top management training at subsidiaries in other countries, pre-departure programs for assignments abroad, language training before and after trips to countries outside of Japan (test fee aid system), TOEIC and CASEC certification testing (test and transportation fee aid system for voluntary test takers), 50% subsidized online English conversation courses, and 50% subsidized correspondence courses and e-learning courses for language acquisition |
| General Education and Training | Education and training in Corporate Philosophy, human rights, safety, occupational health, quality management, compliance, environment, diversity, specialized technical training, digital education, and intellectual property training |
Examples of the Nisshinbo Group Activities
Implementation of group training for the Nisshinbo Group in China
Nisshinbo Corporate Management (Shanghai) Co., Ltd., plans and conducts group training and e-learning every year to develop human resources at the Nisshinbo Group companies in China.
In the group training in fiscal year 2021, in addition to the conventional management training, the company provided financial simulation training and business management simulation training for employees in the nonfinancial departments for managers. For managers and below, the company implemented training in the areas of emphasis that included improving logic and competence, such as documentation, communication skills, and logical thinking. To foster a sense of unity among the Group, the company also introduces a description of our corporate philosophy and the history and products of the Group.
On the other hand, e-learning covers a variety of areas from rudimentary Excel and improved Word skills, such as manufacturing site control and management methods.
In fiscal year 2022 and beyond, the company will continue to work to introduce not only the benefits of training but also the issues and directions to be tackled by the Group.
Group training
Accepting students for practical work experience
Since 2014, Nisshinbo Automotive Manufacturing Inc. (NAMI) in the United States has implemented a vocational experience training program for high school and university students.
Through these practical training program, NAMI has been working to develop talented employees who can achieve higher performance leading to employment after graduation from college. As a result, the company has found excellent human resources through this program.
This program has been temporarily suspended because of the recent the COVID-19 pandemic, but the company plans to review the program in order to continue to implement this training. New training plans, policies, and evaluation methods will be developed, and surveys will be conducted.
KAIZEN Activities Initiatives
Nanbu Plastics Co., Ltd., participates in Group Kaizen Activities by Nisshinbo Mechatronics Inc..
With the goal of strengthening profitability through business transformation and aiming to accelerate KAIZEN activities with the participation of all employees, all 11 groups, including their companies, conducted thematic activities, and approximately 30 participants from 6 teams from Nanbu Plastics Co., Ltd., participated in the KAIZEN case presentation meeting on December 24, 2021.
Through KAIZEN activities, we have been able to raise the level of solidarity within the workplaces. At the same time, we learned more from the KAIZEN activities of other teams, and I feel that this became one of the key factors that will deepen the awareness of KAIZEN.
Efforts to Improve Employee Motivation
PT. Standard Indonesia Industry honors 2 elite employees each month. Eligible employees are selected on the basis of evaluations that include items on work attendance, 5S implementation, and cooperation with organizations. In addition, apart from this standard evaluation, special evaluation points are added when effective improvement is made.
In the most recent case, the company improved the tap processing process by switching the processing equipment from an old dedicated machine to a general-purpose machine purchased last year, and evaluated the effect of significantly reducing down-time. The person responsible for the tap processing won an award. In fiscal 2021, the company selected the highest elite workplaces and the highest elite employees per year and gave out awards in front of employees, which was very exciting.
Since this event, an atmosphere has been created where employees enjoy the improvements in their workplaces, which has helped to increase employee motivation.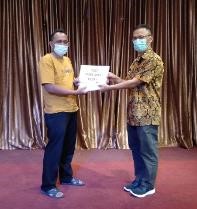 Training for junior high-level careers
In view of individual career development and organizational activation, and the need for self-directed, autonomous human resources in the midst of environmental changes, Nisshinbo Textile Inc. provided career training by external lecturers for employees in their first to 6th year of employment and offered individual career consulting interviews with these lecturers after the training.
In fiscal year 2021, the company first introduced a career role model of senior employees and the presentation of training at the Tokyo Shirt Stores by the participants themselves. Based on these findings, the participants worked in groups after the lecturers received explanations about career formation. As a result, it became a place for communication between younger employees who were unable to meet face to face due to the COVID-19.
Participants felt that this was a reference for how to work and what to do in the future and it made them reflect on themselves and think about their careers. In the future, the company will continue to provide career training and career interviews, including a follow-up on the establishment of junior employees.