The Nisshinbo Group's Contributions to the SDGs
The Nisshinbo Group contributes to the achievement of the Sustainable Development Goals (SDGs) through human resource development activities. We are implementing systematic measures to achieve the Group's Mid-Term CSR Target of promoting the globalization of human resources.
Core SDGs Goals and Targets and the activities of the Nisshinbo Group
The Nisshinbo Group considers SDG 4.7 as a core target, and is promoting human resource development activities through the implementation of various training programs and support for self-development.
4. Quality Education

Ensure inclusive and equitable quality education and promote lifelong learning opportunities for all.

Targets: 4.7

By 2030, ensure that all learners acquire the knowledge and skills needed to promote sustainable development, including, among others, through education for sustainable development and sustainable lifestyles, human rights, gender equality, promotion of a culture of peace and non- violence, global citizenship and appreciation of cultural diversity and of culture's contribution to sustainable development.
The Nisshinbo Group concentrates on personnel training based on the belief that "good people make for a good business."
■Training
We are systematically upgrading our training, including training by position level (for new employees, newly appointed supervisors, newly appointed managers and newly appointed senior managers) and skill set; career training; general education on safety, human rights and the environment; and specialized technical, accounting and intellectual property training by department and function. We also conduct a special training program for successors of executive managers to help them get an early start on acquiring the mindset, knowledge and role behaviors they will need as future executive managers. Additionally, we established a "workshop to strengthen business ability" for young executives and a "workshop for young employees to consider future Group business strategies" aimed at cultivating future managers.
We also focus on cultivating people capable of playing a role in global business. We hold seminars enabling new recruits to understand different cultures, hold discussions with employees experienced in doing business overseas, and impart knowledge about cross-cultural communication, compliance and risk management. To improve language skills, we provide language training for employees dispatched overseas, provide language training for young employees in the U.S. and China for two to six months, and also provide English and business Japanese training jointly with Group companies. In addition, we support young employees under the age of 35 with measures to encourage them to gain overseas experience, online English conversation and language evaluation tools that can be used on the Web.
Going forward, we will focus on the development of tech-savvy human resources. In 2020 we will introduce a new employee training program for this purpose.
■Self-Development Support System
We have established systems to support employees' self-development. These include subsidies for study at facilities outside the Group, for attending correspondence and e-learning courses, and for acquiring qualifications.
Voices of Students:
(Student of corporate strategy training)
I was tasked with judging and tabling proposals for new business creation and business withdrawal. It was training that met my needs.
(Student of language training system/English)
The training wasn't just about language acquisition, but rather I was able to make many new discoveries such as expressions used in daily life, and choosing the right word depending on the situation. By using phrases and words that are also used by people in other countries, I was able to feel much closer to the people I spoke with, and this led to quality communication.
Primary Training and Systems
| | |
| --- | --- |
| Education and Training by Position | Training for new employees, training for newly appointed supervisors, newly appointed managers and newly appointed senior managers |
| Training for Executive Managers and Supervisors | Executive managers training program, workshop to strengthen business ability, advanced organizational studies training, standard organizational studies training, human resource administration training, finance and cash flow basic training, management strategy training, management strategy basic training, marketing training, accounting training, basic management training, and finance training |
| Training for Leaders | External training support system, effective management (EM) method training, Logical thinking training, facilitation training, and presentation training |
| Subordinate Training | Coaching training, feedback training, and evaluator training |
| Global Training | Language training system in countries outside of Japan (English and Chinese), promotional programs providing experience abroad for young employees, global human resource training system, Company-funded CASEC testing for specified employees, top management training at subsidiaries in other countries, pre-departure programs for assignments abroad, language training before and after trips to countries outside of Japan (test fee aid system), TOEIC and CASEC certification testing (test and transportation fee aid system for voluntary test takers), 50% subsidized online English conversation courses, and 50% subsidized correspondence courses and e-learning courses for language acquisition |
| Career Support | Goal management system, N-OJT, career sheet (career building and transfer requests), New Challenge System (internal job openings), second life support system, young employee follow-up system, and mentoring system |
| Self-Development | Correspondence course and e-learning course subsidy system, qualification acquisition subsidy system |
| General Education and Training | Education and training in Corporate Philosophy, human rights, safety, occupational health, quality management, compliance, environment, and diversity |
| Specialized Training | Specialized technical training, manager and supervisor training, intellectual property training, job rotation system and language training, DX (Digital Transformation) basic training |
Passing on skills to younger craftspeople
Japan Radio Glass Co., Ltd. is one of the few producers of industrial glass products using the skills of craftsmen. Customers in Japan expect, and receive, excellence from these artisans Japan Radio Glass has provided glass valves for large photo-multiplier tubes at the Super-Kamiokande particle-physics research facility, contributing to two Nobel Awards, and the Hyper-Kamiokande Project, which began construction in fiscal 2020 and requires the supply of even higher-quality glass valves.
To continue to serve new demand from customers, Japan Radio Glass must pass on the skills it has accumulated at Super-Kamiokande to younger craftspeople. For this reason, 14 employees were hired in fiscal 2019 to prepare for the future. A new educational program has been created to ensure that skills are passed on.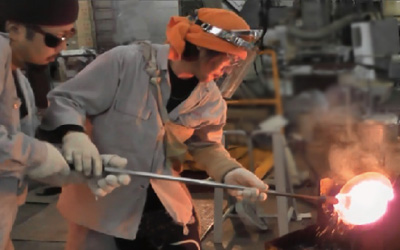 Quality Learning Room
In 2016, Ricoh Electronic Devices Co., Ltd. opened a Quality Learning Room at its Yashiro Plant. The facility is used as a venue for educating employees by displaying materials such as posters that summarize past quality issues, along with actual products. The objectives of education are the following two.
"Don't make the same mistake again." To prevent recurrence, we pass on what happens when a quality problem occurs.
"Nurture human resources and preserve assets for future generations." To achieve this, we pass on the lessons learned from quality issues.
We use the quality Learning Room to raise awareness among all employees, including new and mid-career employees as well as promoted employees and mid-career employees. Each opportunity is put to effective use as a teaching moment within various departments.
The following is a selection of comments from trainees.
[Education for new employees]
I learned how the company responds when major quality problems occur, how to listen to customers and how frightening quality problems are. Until now we had been looking at quality problems from the user's side, but now that we could see them from the producer's point of view, we understand that they must be prevented. The experience strengthened my resolve.
[Education for Promoted Employees]
I was able to reaffirm the importance of preventing recurrence. I came to fully understand the background and reasons for what I am doing now. I would like other members to listen to this educational content as well, and I look forward to working on maintaining quality with a new conviction.