Safety and Health Activities
In fiscal 2018, we placed foremost importance on spreading awareness to each employee that safety takes priority in all endeavors and raising alertness to risk.
In order to keep serious accident at zero, we implemented the following three priority policies at Group companies: (1) continuation of rigorous risk assessments (of work, equipment and chemical substances); (2) thorough check of rules related to safety equipment, operational standards of abnormality detection equipment, and equipment stoppages; and (3) more opportunities to check unsafe activities at work.
Each business office enhances each employee's awareness on safety by conducting small group activities (e.g., skill-improving education, danger awareness training, near-miss reporting) in addition to training new hires and transferees. It also conducts routine risk assessments (of equipment, work and chemical substances) according to an annual plan to prioritize the risks to be addressed and take preventive safety measures.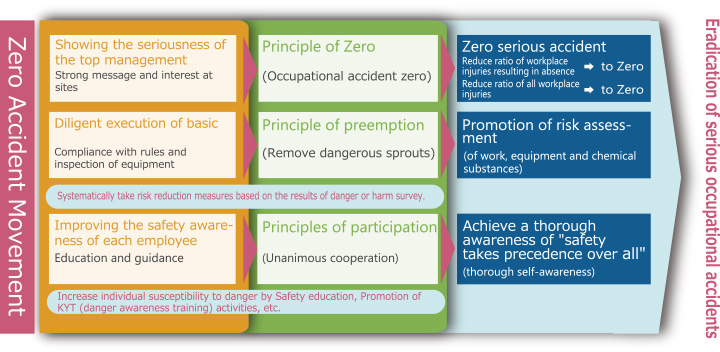 Occurrence of Occupational Injuries
In fiscal 2018, we had no serious occupational accidents (classified as grade 7 disabilities or higher).
The frequency of injuries with lost work days at our business sites in Japan was 0.71, lower than the Japanese manufacturing industry average but worse than the fiscal 2017 level of 0.49.
We will continue to implement guidance at business sites with frequent occupational injuries in the aim to raise the Group's overall safety management level.
Frequency of Injuries with Lost Work Days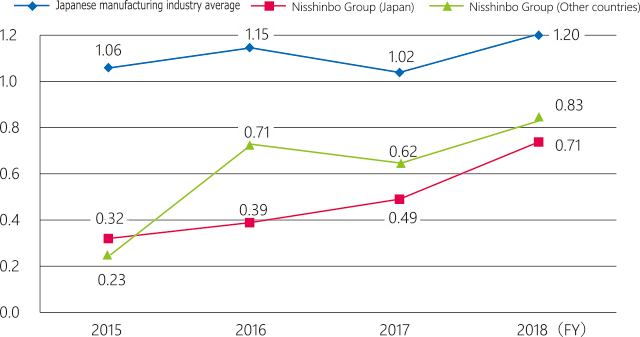 Activities at Business Sites in Other Countries
Nisshinbo Group's business sites in other countries have grown to outnumber those in Japan as its operations have become increasingly global. We deploy the danger awareness training and danger experience education carried out at our business sites in Japan to business sites in other countries as well, in order to raise each employee's safety awareness and instill the attitude that safety takes priority in all endeavors. We also communicate occupational injuries that have occurred at business sites in Japan to business sites in other countries to prevent recurrence worldwide. We also continue fostering an awareness of the dangers of chemical substances we handle, promote the thorough use of protective equipment and work to prevent health problems.
Safety and Health Audits
Nisshinbo Group conducts regular occupational safety and health audits of its manufacturing sites in Japan. A monitoring team—consisting of the Health & Safety Group from Nisshinbo Holdings Inc., labor unions, safety and health management staff representing each business, and safety and health officers of other business sites—checks the state of safety and health management at the targeted business sites. In fiscal 2018, we conducted regular occupational safety and health audits at 31 manufacturing sites in Japan and one manufacturing site in other country. In addition, we checked the status of safety and health activities and implemented safety inspections at four manufacturing sites in other countries.
At the end of each fiscal year, we prepare a comprehensive audit report based on these audit results. We also share accident risk analysis results and case studies of excellent activities throughout the Group and incorporate them into occupational safety and health activities in the following fiscal year.
Management Reviews
At the Corporate Strategy Conference, we conduct a management review on the achievement status of the Nisshinbo Group's safety and health targets, the status of occupational accidents, the results of safety and health audits, and other items, and also set the action policies and targets for the next fiscal year.
Nagano Japan Radio: Zero Accident Activities
Nagano Japan Radio Co., Ltd. (NJRC) and its affiliates have conducted activities to reduce occupation accidents to zero, specifically by establishing three pillars of preventive safety—KYT (danger detection training), near-miss activities and risk assessment—and they have been taking countermeasures against risks at each workplace.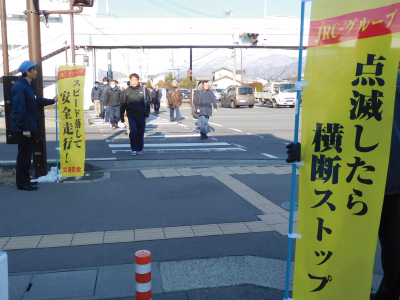 One example was the "traffic near-miss activities" conducted in October 2018 that involved having all employees report dangerous areas on their commuting routes to work. NJRC conducted ground inspections of these reported areas and created a hazard map of the potential dangers around the company. It distributed this map to employees to spread awareness of the dangers, and to help employees visualize these dangers. For intersections reported by many employees, the Safety and Health Committee members went to the actual intersections twice a month and gave instructions to employees during commuting hours to ensure that traffic rules were followed (e.g., not crossing the road after the light begins to blink, being alert to cars turning from the left or right). The company is working to raise employee awareness of safety through these activities, and has been continuing activities to reduce commuting accidents to zero since October 2017.
In addition, NJRC urges strict observance of traffic and pedestrian rules on the company premises to further raise the level of safety.
Nisshinbo Mechatronics: Conducting Safety and Health Activities Globally
Nisshinbo Mechatronics Inc.'s Miai Machinery Plant operates three completely different businesses, including a plastic product business (mainly produces resin fans), a precision parts business (auto parts), and a system machinery business (machinery and other equipment), and subsidiary Nanbu Plastics Co., Ltd. mainly operates a plastic forming business.
The company has many business sites in other countries, and the Miai Machinery Plant is responsible for promoting safety and health activities at all sites including the business sites in other countries.
In 2018, the Miai Machinery Plant reformulated its rules into an integrated version that encompasses all three of its business operations and deployed these new rules not only to Nisshinbo Mechatronics' subsidiaries and business sites in other countries, but also to Nanbu Plastics and its business sites in other countries, in order to continuously improve group-wide health and safety.
In 2019, Nisshinbo Mechatronics aims to make the Miai Machinery Plant a model plant for itself and its subsidiaries by opening a safety dojo (training hall) within the plant, where employees can learn about actions that lead to danger, and by investigating into the underlying cause of dangers pointed out during safety and health patrols.
Nisshinbo Textile: Using "Why-Why Sheets" to Identify the Cause of Injuries
Nisshinbo Textile Inc. conducts special safety audits at its priority safety workplaces and puts effort into establishing a safe workplace environment. It uses a "why-why sheet" to investigate the root cause of injuries and to prevent recurrence, and it also makes a video that reproduces the accident, which it deploys horizontally to all subsidiaries and business sites.
The "why-why sheet" is not only used to report occupational accidents but also to report near-miss incidents, and it helps each workplace raise its ability to investigate the root cause of accidents.