The Nisshinbo Group's Contributions to the SDGs
The Nisshinbo Group will contribute to the achievement of the Sustainable Development Goals (SDGs) through the promotion of health and safety activities. Key Performance Indicators (KPIs) are managed and systematically implemented to achieve the Group's Mid-Term CSR Targets of preventing occupational accidents.
Core SDGs Goals and Targets and the activities of the Nisshinbo Group
The Nisshinbo Group regards SDG 8.8 as a core target, and is promoting health and safety activities accordingly.
8. Decent Work and Economic Growth

Promote sustained, inclusive and sustainable economic growth, full and productive employment and decent work for all.

Targets: 8.8

Protect labour rights and promote safe and secure working environments for all workers, including migrant workers, in particular women migrants, and those in precarious employment.
Safety and Health Activities
In key activities in fiscal 2019, we made it a top priority for each employee to further permeate the awareness that "Safety is prioritized for all" and to improve the level of safety and health management.
To keep serious accidents at zero, we implemented the following four key policies at Group companies: (1) continuation of rigorous risk assessments (of work, equipment and chemical substances); (2) promoting safety education and KYT activities; (3) reviewing work standards and rules; and (4) improving the level of safety and health by referring to the activities of workplaces with no accidents.
Each business office enhances each employee's safety awareness by conducting small group activities (e.g., training when work details change, skill-improving education, horizontal development of occupational accidents within the Group, danger awareness training and near-miss reporting) in addition to training new hires and changing work content. It also conducts routine risk assessments (of equipment, work and chemical substances) according to an annual plan to prioritize the risks to be addressed and take preventive safety measures.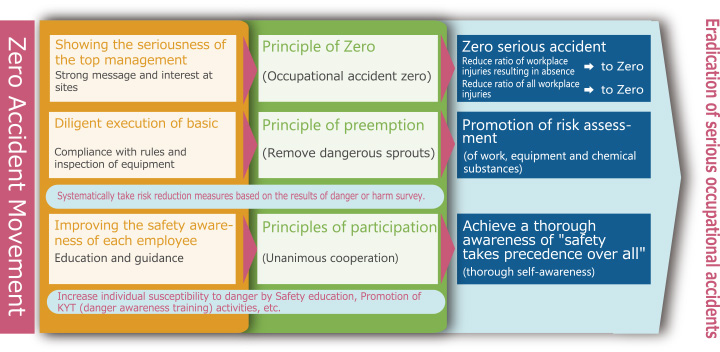 ■Occurrence of Occupational Injuries
In fiscal 2019, we had no serious occupational accidents (classified as grade 7 disabilities or higher).
The frequency of injuries with lost work days at our business sites in Japan was 0.65, lower than the Japanese manufacturing industry average, an improvement from 0.76 in fiscal 2018.
We will continue to implement guidance at business sites with frequent occupational injuries in the aim to raise the Group's overall safety management level.
Frequency of Injuries with Lost Work Days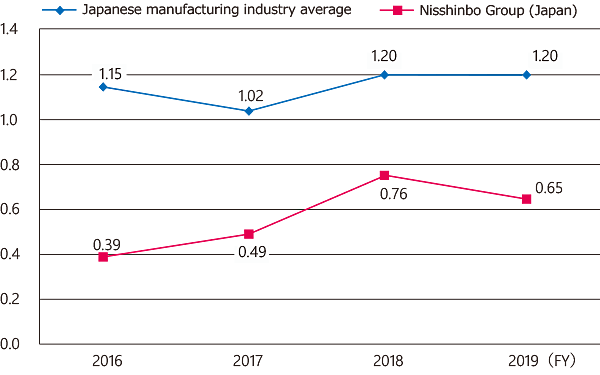 ■Activities at Business Sites in Other Countries
Nisshinbo Group's business sites in other countries have grown to outnumber those in Japan as its operations have become increasingly global. We deploy the danger awareness training and danger experience education carried out at our business sites in Japan to business sites in other countries as well, in order to raise each employee's safety awareness and instill the attitude that safety takes priority in all endeavors. We also communicate occupational injuries that have occurred at business sites in Japan to business sites in other countries to prevent recurrence worldwide. We also continue fostering an awareness of the dangers of chemical substances we handle, promote the thorough use of protective equipment and work to prevent health problems.
■Safety and Health Audits
Nisshinbo Group conducts regular occupational safety and health audits of its manufacturing sites in Japan. A monitoring team—consisting of the Health & Safety Group from Nisshinbo Holdings Inc., labor unions, safety and health management staff representing each business, and safety and health officers of other business sites—checks the state of safety and health management at the targeted business sites. In fiscal 2019, we conducted regular occupational safety and health audits at 35 manufacturing sites in Japan and one manufacturing site in other country. In addition, we checked the status of safety and health activities and implemented safety inspections at four business sites in other countries.
At the end of each fiscal year, we prepare a comprehensive audit report based on these audit results. We also share accident risk analysis results and case studies of excellent activities throughout the Group and incorporate them into occupational safety and health activities in the following fiscal year.
■Management Reviews
At the Corporate Strategy Conference, we conduct a management review on the achievement status of the Nisshinbo Group's safety and health targets, the status of occupational accidents, the results of safety and health audits, and other items, and also set the action policies and targets for the next fiscal year.
Collective acquisition of occupational health and safety management system
Japan Radio Co., Ltd. Solution Division obtains construction permits in the telecommunications business and delivers systems based on orders for construction work received from government and other public offices. Equipment installation and other work in this field often includes dangerous tasks such as working at height. Since 2010, we have experienced five serious accidents (crashes and falls), defined as those requiring four days' or more leave from work. From the perspective of compliance as well, the need for company-wide safety and health management specializing in the construction industry has increased. In response we have introduced the Construction Industry Safety and Health Management System (referred to as J-COHSMS in our company) which is accredited by the Construction Industry Accident Prevention Council. We aim to achieve zero accidents by extending the system to each work site, and expect the following effects.
①Improving the work environment in a bottom-up fashion and improving the system by driving the PDCA cycle
②Promoting the passing-on of safety culture to the next generation
③Establishing consistent health and safety construction management capabilities at all workplaces in Japan
④Use of comprehensive evaluation methods to obtain favorable evaluation in bidding for public works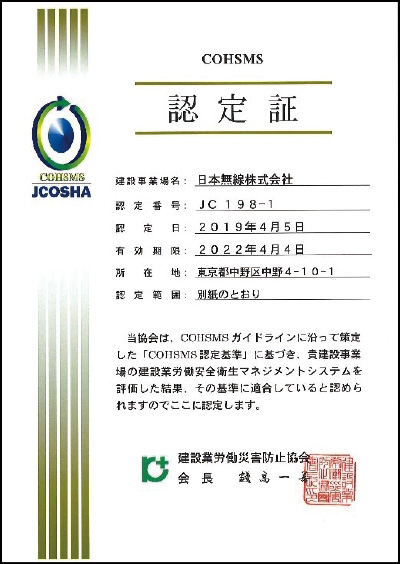 "SAGAISM" safety and health initiatives
Since December 17, 2018, SAGA ELECTRONICS CO., LTD. has been presenting "SAGAISM," an approach to improve safety awareness and discipline, and is engaged in activities on that basis. Our employees differ in age, gender, and form of employment, creating issues of "differences in values and common sense" among them. To focus employees' attention on common goals, we have summarized the shared values of Saga Electronics in seven items in an easy-to-understand format. This approach is called "SAGAISM" according to the Romanized initials of the Japanese words.
S
(

seifuku

): Wear uniforms properly (no hands in pockets, no open front!)
A
(

aisatsu

): Take the initiative to greet others
G
(

go-anzen ni!

):Maintain safety! Cherish acts of appreciation
A
(

aruki sumaho

): Don't mobile phone while walking
I
(

itsumo

): Always hold the handrail! Don't run even in a hurry
S
(shain-kodo-shishin): Take action in line with employee action guidelines
M
(

moraru

): Maitain discipline
Currently, we are aiming to reach as wide a range of employees as possible by conducting "capturing attention (bulletin boards and handheld cards)", "hearing and calling out" and "practice (confirming performance and conducting patrols)".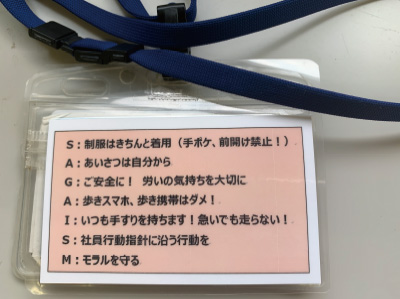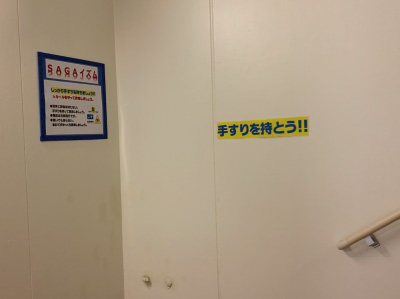 Safety and Health Conferences at Yashiro Plant
The Yashiro Plant of Ricoh Electronic Devices Co., Ltd. held a safety and health convention during National Occupational Health Week under the slogans "safety takes precedence over all else" and "sincerity, humility, and appreciation for a healthy life and functioning workplace." Safety and Health Committee members at each workplace lead efforts to eradicate occupational accidents and raise employee awareness of health and safety issues.
At the Safety and Health Conference, the section committee members declared their goals for the year, presented and awarded excellent examples of safety and health activities, and held safety and health quizzes. The quiz provided a fun way for participants to learn about safety. The company presented prizes to employees who answered all questions correctly.
In the special lecture, all members tried practicing yoga, led by an invited health yoga instructor. Participants offered favorable comments such as, "I haven't moved my body like this for a long time," and "Although we took it slow, I felt a pleasant sensation of breaking sweat." Going forward, we will continue to create such opportunities to ensure safe and secure plant operations and foster a culture of safety first.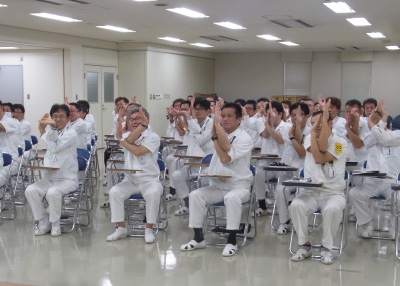 Safety, Health and Environment News
Nisshinbo Brake Inc. publishes a quarterly newsletter on safety, health and environmental issues. The January 2020 issue was the 16th in the series. The content of this newspaper includes messages from executives of the brake business group, descriptions of activities at each site, commentary on occupational accidents and the environment, and so on. The newsletter is published in English and Japanese, but it is then translated into local languages through the efforts of employees in each country, so that everyone can read it. These newspaper publishing activities are vital, not only to disseminate information on safety, health, and environmental, but also to contribute to fostering a sense of One Team among employees of the Braking Business Group.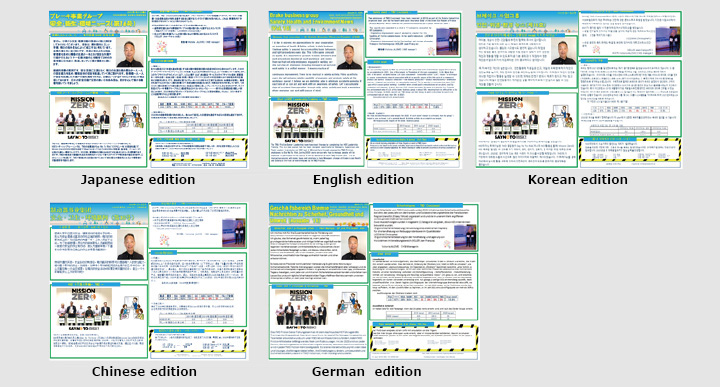 Translations into various languages
Activities to promote wearing of helmets and seat belts 100%
At Nisshinbo Mechatronics (Thailand) Ltd., we are strengthening our efforts to promote wearing helmets and seatbelts, as part of our internal traffic safety activities.
We have also exchanged a basic agreement (MOU) with the police department of Samut Prakan Province to raise awareness of traffic safety not only during commuting but also when driving on private time regarding the need to "wear a helmet when riding a motorcycle and a seat belt when riding in a car, at all times."
We hold meetings to report on our efforts and achievements in traffic safety activities with other companies that have exchanged the MOU with the police. These meetings are linked to achievements in raising awareness of traffic-safety issues.
As a result, the company was one of four excellent companies that won an award on February 27, 2020 for the content of their presentation at the debriefing session, the results of their activities, and their low number of traffic accidents.
KIDUKI Activities
Nisshinbo Chemical Inc. is engaged in KIDUKI ("awareness") activities as part of its safety and health activities. All employees, part-time employees and temporary staff participate in the activities to discuss problems in their day-to-day work.
By fostering an atmosphere in which people can chat easily, the company has enabled many members to begin to think about improvement measures and actively express their opinions. This culture of open communication has also substantially increased opportunities for discussion between superiors and subordinates, enhancing communication in the workplace.
Specific improvements were made in the work environment, including measures to prevent backaches. We will continue to eliminate triggers for unsafe situations and activities in the drive to achieve zero accidents.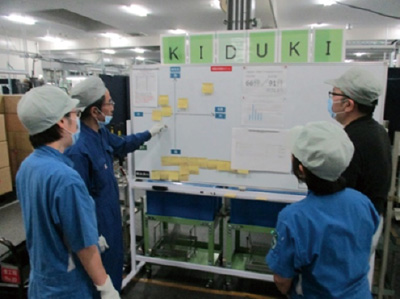 Globalization of Safety and Health
In July 2019, two local executives from PT. Nikawa Textile Industry conducted an inspection of Nisshinbo Do Brasil Industria Textil LTDA. as a mutual safety audit among overseas subsidiaries. The inspection resulted in discoveries on both sides and was an opportunity to review safety from a variety of perspectives. We will continue to implement these and similar measures in the future.
In addition, we are enhancing the horizontal development of case studies of occupational accidents among overseas subsidiaries and focusing on the globalization of occupational health and safety.