The Nisshinbo Group's Contributions to the SDGs
The Nisshinbo Group will contribute to the achievement of the Sustainable Development Goals (SDGs) through activities that respect human rights.
The Group is managing and systematically implementing Key Performance Indicators (KPIs) to achieve its sustainability targets for expanding human rights awareness activities and preventing harassment.
Core SDGs Goals and Targets and the activities of the Nisshinbo Group
The Nisshinbo Group regards SDG 4.7 as a core target, and is promoting activities that respect human rights.
4. Quality Education

Ensure inclusive and equitable quality education and promote lifelong learning opportunities for all.

Targets:4.7

By 2030.ensure that all leaners acquire the knowledge and skills needed to promote sustainable development, including, among others, through education for sustainable development and sustainable lifestyles, human rights, gender equality. promotion of a culture of peace and non-violence, global citizenship and appreciation of cultural diversity and of culture's contribution to sustainable development.
In an effort to promote respect for human rights and put in place a more comfortable workplace, the Nisshinbo Group engages in human rights education and training activities based on a structure in which Nisshinbo Holdings Inc.'s Chief of the Corporate Strategy Center serves as the Promotion Committee Chair, and Chief of the Sustainability Development Department serves as the Promotion Committee Vice-Chair.
With respect to the Group's human rights education, we conduct training for new employees and training for all employees throughout the year. To raise employee awareness of human rights, in December each year coinciding with Human Rights Week, Group companies in Japan and other countries invite employees and their families to submit human rights slogans and present awards for exceptional works.
Group companies in Japan have set up a Harassment Consultation Desk to prevent harassment and have a system in place with multiple contact persons to provide consultation to employees. In addition, the Group provides basic training and follow-up training to ensure that newly appointed personnel acquire the skills to handle consultations.
We also place importance on giving consideration to human rights in our supply chains. The Nisshinbo Group Sustainable Procurement Basic Policy and Sustainable Procurement Guidelines of Group companies clarify rules such as consideration toward basic human rights and the prohibition of child labor.
Further Expansion of Anger Management Training
Anger management is psychological training program to control the emotion of anger. It spread from the United States in the 1970s. In recent years, Anger Management has been introduced into employee training and other programs at Japanese companies.
Since 2017, the Nisshinbo Group has been conducting training for managers at all of its business sites in Japan, with the aim of achieving good workplace management through appropriate emotional control. Participants praised the training program with comments such as, "It was a good opportunity to face my anger" and "I learned that I can control my anger by myself". The program is expected to help foster good communication in the workplace.
In June 2020, the revised Act on Comprehensive Promotion of Labor Policy was enacted in Japan, obliging companies for the first time to take measures in employment management to prevent power harassment.
In response, the Group has further expanded its anger-management training program and is developing "basic training" and "reprimand training", to develop the ability to control the feelings of anger that can lead to power harassment.
Basic training is designed to teach the fundamentals of anger management. Originally offered only to managers, the program has been expanded to include general employees. Reprimand training teaches managers how to reprimand employees in positive ways that help them to grow professionally. It provides opportunities to explore ways of mentoring subordinates in ways that do not amount to power harassment.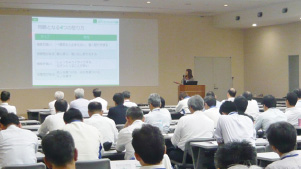 Anger Management Training
Examples of the Nisshinbo Group Activities
Promoting employment for the disabled
As of the end of December 2021, JRC Tokki Co., Ltd., employed 10 people with disabilities (2.6% of the workforce). The personnel are employed exclusively in individual (or respective) suitability departments and are active in a wide range of departments, including General Affairs, Accounting, Procurement, Quality Assurance, and Management. By respecting the self-reliance of the individual, the company offers an environment in which employees can work with high motivation as a single force.
After adoption, employees received intensive support (six months) from job coaches at the Kanagawa Occupational Center to enable consistent work for the long term, and the company also conducted one-month review interviews at the end of the month. In addition, with long-term establishment support as the theme, the company has a key person in each department with a natural support system where advice and individual consideration can be provided naturally from day to day. The company is focusing its efforts on creating workplaces where employees can work with reassurance.
In the future, the company will continue to respect diversity and promote employment for people with disabilities by creating a working environment that allows everyone to work together.
Prohibition of Discrimination and Respect for Human Rights Based on Legal Compliance
In the United States, human rights-related legislation has been enforced under the Americans with Disabilities Act (ADA); the Rehabilitation Act, which stipulates the prohibition of discrimination on the basis of reasonable considerations and disability, along with rules on medical examinations and inquiries of employers; the Age Discrimination in Employment Act (ADEA), which prohibits discrimination on the basis of age in all forms of employment, including hiring, wages, dismissal, and working conditions; and the Genetic Information Discrimination Act (GINA), which prohibits health insurance companies and employers from discriminating against Americans on the basis of personal genetic information.
Nisshinbo Automotive Manufacturing Inc. (NAMI) provides training on discrimination for all new employees and training on harassment and discrimination for supervisors each year. In addition, the company regularly updates its anti-discrimination policy and recruitment application guidelines to encourage respect for individuals.
Operation of the bullying prevention system in the workplace
In order to prevent bullying among supervisors, subordinates, or colleagues at work, the Korean Saeron Automotive Corporation (SAC) established new regulations as part of the internal employment regulations on preventing and responding to bullying at work. In order to completely ban workplace bullying, the company implemented and operationalized two rounds of in-house communication related to this regulation.
SAC has also published the Manual for Judgment, Prevention, and Response to Bullying at Work on the intranet site and has a system that allows everyone to inform the department in charge of bullying at work. While perpetrators are subject to disciplinary punishment under collective agreements (salary reduction, suspension from duty, and other penalties), victims and whistleblowers are not subject to any disadvantageous treatment or retaliation.
Bullying at work means exceeding the appropriate scope of work and causing physical and mental distress. Through the operation of this system, the company is working to ensure that employees respect each other and is making an effort to protect human rights.
Promoting employment for the disabled
Nanbu Plastics Co., Ltd., implemented the following measures related to employing people with disabilities and continues to achieve the statutory employment rate for people with disabilities.
1. Telework with supervision
Three people with disabilities telework from the office by using the resident Telework Office Fujisho Prestation (Shizuoka Prefecture), which is supported by observers who manage their physical condition. Care is taken to maintain the psychological safety of the individual to ensure stable work.
2. Acceptance of Workplace Practice from Special Support Schools
The company accepts students from the nearby special needs school senior college club for practical work with an eye toward working after graduation. Participating students begin to understand the basic attitudes or behaviors for work after graduation, as well as the characteristics of their own disability, and companies can identify the characteristics and abilities of students before employment, thus exerting the effects on smooth employment after graduation.
3. Acceptance of referrals from a continuing employment support facility Referral from a work continuity support facility accepts people with disabilities, and the company checks the likelihood and matches of working to appropriate tasks with the support of a professional instructor, such as work guidance and manual preparation.
Employment and Retention Support for Persons with Disabilities
The Asahi plant of Nisshinbo Chemical Inc. has actively participated in workshops sponsored by support institutions for people with disabilities.
During the current coronavirus outbreak, collective training and visits to companies employing people with disabilities have been difficult, but in fiscal 2021, two people participated in the Web's Challenge Project to Promote Employment for People with Disabilities and Consultation Sessions for Firms to collect and exchange information. The Web workshop, which will be held in the future, will also be disseminated to the target workplaces and used as a site where knowledge can be shared widely with the engagement of many employees.
Recruitment activities involve collaborating with support organizations for practical training in workplace visits and → for human resource referrals → to eliminate the fears of working with people with disabilities, to eliminate gaps in the image of employment, and to enable people to work in line with their wishes.
Acceptance of workplace experience for people with disabilities
The Osaka office of Nisshinbo Textile Inc. participates in a company matching conference sponsored by Osaka Prefecture and continues to provide workplace experience for people with disabilities. In 2021, four people gained experience in sorting posts and dough, cleaning supplies, and entering PC data.
Through a variety of work experience, the company was able to not only check the suitability of the participant but also gain an awareness of the considerations according to the characteristics of the participant, and some experienced people felt that the work to move the body was well balanced with the amount of PC work, and both mental and physical fitness aspects were able to work stably. The experience was also an effective opportunity for people with disabilities who are currently employed to learn how to interact with partners through teaching tasks.
The company will continue to promote activities to increase the number of places where people with disabilities are able to work positively.