The Nisshinbo Group's Contributions to the SDGs
The Nisshinbo Group will contribute to the achievement of the Sustainable Development Goals (SDGs) through activities that respect human rights.
The Group is managing and systematically implementing Key Performance Indicators (KPIs) to achieve its Mid-Term CSR Targets for expanding human rights awareness activities and preventing harassment.
Core SDGs Goals and Targets and the activities of the Nisshinbo Group
The Nisshinbo Group regards SDG 4.7 as a core target, and is promoting activities that respect human rights.
4. Quality Education

Ensure inclusive and equitable quality education and promote lifelong learning opportunities for all.

Targets: 4.7

By 2030, ensure that all learners acquire the knowledge and skills needed to promote sustainable development, including, among others, through education for sustainable development and sustainable lifestyles, human rights, gender equality, promotion of a culture of peace and non- violence, global citizenship and appreciation of cultural diversity and of culture's contribution to sustainable development.
In an effort to promote respect for human rights and put in place a more comfortable workplace, the Nisshinbo Group engages in human rights education and training activities based on a structure in which Nisshinbo Holdings Inc.'s Chief of the Corporate Strategy Center serves as the Promotion Committee Chair, and Chief of the CSR Department serves as the Promotion Committee Vice-Chair.
With respect to the Group's human rights education, we conduct training for new employees and training for all employees throughout the year. To raise employee awareness of human rights, in December each year coinciding with Human Rights Week, Group companies in Japan and other countries invite employees and their families to submit human rights slogans and present awards for exceptional works.
Our subsidiaries in Japan establish a harassment consultation help desk aimed at preventing harassment, and contact people for both male and female employees provide consultation under the system. Newly appointed contact people undergo basic training and follow-up courses to hone their consultation skills.
We also place importance on giving consideration to human rights in our supply chains. The Nisshinbo Group CSR Procurement Policy and CSR Procurement Guidelines of Group companies clarify rules such as consideration toward basic human rights and the prohibition of child labor.
Further Expansion of Anger Management Training
Anger management is psychological training program to control the emotion of anger. It spread from the United States in the 1970s. In recent years, Anger Management has been introduced into employee training and other programs at Japanese companies.
Since 2017, the Nisshinbo Group has been conducting training for managers at all of its business sites in Japan, with the aim of achieving good workplace management through appropriate emotional control. Participants praised the training program with comments such as, "It was a good opportunity to face my anger" and "I learned that I can control my anger by myself." The program is expected to help foster good communication in the workplace.
In June 2020, the Act for Comprehensive Promotion of Labor Policy was enacted in Japan, obliging companies for the first time to take measures in employment management to prevent power harassment.
In response, the Group has further expanded its anger-management training program and is developing "basic training" and "reprimand training," to develop the ability to control the feelings of anger that can lead to power harassment.
Basic training is designed to teach the fundamentals of anger management. Originally offered only to managers, the program has been expanded to include general employees. Reprimand training teaches managers how to reprimand employees in positive ways that help them to grow professionally. It provides opportunities to explore ways of mentoring subordinates in ways that do not amount to power harassment.
Leveraging the strengths of the disabled
As companies face the challenge of securing workers, people with disabilities, particularly those with mental disabilities, have become a major force for Nisshinbo Holdings Inc. New ways of working have also been proposed, and a movement to leverage the power of motivated people with mental disabilities is spreading throughout the world.
In Fujieda City, Shizuoka Prefecture, Nisshinbo Holdings operates a plant factory, which grows strawberries under perfect artificial light. This facility was showcased on the Shizuoka Broadcasting TV info program Orange as an example of a workplace in which people with mental disabilities play an active role.
The TV program detailed how each of the managers who were qualified as occupational health counselors for the disabled fills out a self-check sheet every day to check their own problems. The program showed how, based on these data, approaches are devised to empower disabled people to make full use of their abilities while safeguarding their mental stability. In addition, the program featured interviews with disabled people, who said that they were happy for the opportunity to take part in society as company members.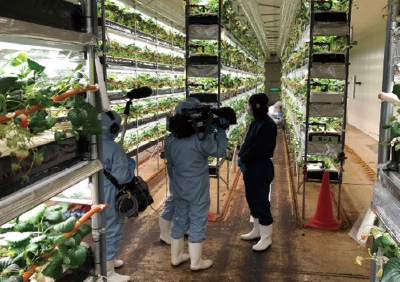 Employment Opportunities for the Disabled
Tokyo Shirts Co., Ltd. employed 15 people with disabilities (2.28% of its workforce) as of the end of December 2019. Employees work in a wide range of workplaces, including two at retail outlets, three at headquarters and 10 in sewing positions. In stores, I work with other staff to handle sales operations such as customer service and cash register operations. At the head office, they are involved in clerical operations such as the preparation of sales materials and accounting documents. In sewing duties, disabled employees play valuable roles in a variety of frontline operations, from fabric management to sewing and shipping.
Tokyo Shirts Industry Co., Ltd., a subsidiary of Tokyo Shirts Co., Ltd., works with the Kashiwa Special Assistance School in Chiba Prefecture to provide workplace training to people with disabilities. In May and October 2019 respectively, one person each spent two weeks practicing sewing and ironing. One of the trainees has been working since April of this year. This training program is a vital means of building friendly relations with local communities as well as an effective recruitment tool. The company plans to continue these activities going forward.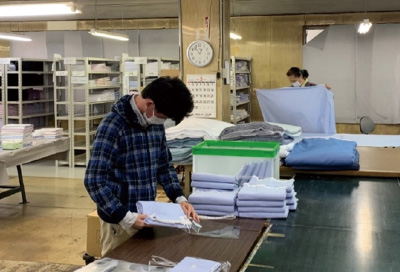 Hiring and Retaining People with Disabilities
The Osaka Office of Nisshinbo Textile Inc. employs four people with disabilities. Work details are determined in consideration of each person's disability, and methods such as subdividing work procedures are devised, while individual support through regular interviews is provided in an effort to ensure that these procedures are firmly entrenched. In November, we invited an outside lecturer to train all employees at the Osaka Office on the employment of people with disabilities, under the theme of "making the disabled a part of the workforce through understanding and support from peers." By acquiring knowledge and deepening understanding of how to work with people with disabilities, we are promoting the creation of a work environment in which both all parties can work together comfortably.
Training Supporters for Employees with Disabilities
Japan Radio Glass Co., Ltd. temporarily fell below the statutory percentage of employees with disabilities, as a result of increasing its workforce in response to inquiries from customers. To address this issue, Japan Radio Glass decided to consult with Hello Work and employ people with disabilities on a trial basis.
The current trial will be conducted on the employment of people with mental disabilities. We have considerable experience in this regard and understand the need to take sufficient care, such as paying attention to the physical condition of people with disabilities.
One issue is how well executives and front-line managers understand the Company's social responsibility regarding employment of people with disabilities and the specific responses required. To this end, Japan Radio Glass invited lecturers from Hello Work to provide support training for the employment of people with disabilities within the Company, which they did on March 15, 2019. All managers, including the president, and staff from indirect departments participated. As a result, we have successfully terminated trial employment and are continuing to comply with the statutory rate of employment of people with disabilities.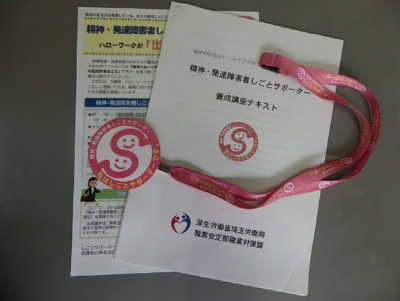 Preventing bullying in the workplace
In South Korea, the revised Work Standards Law on Workplace Bullying was passed on December 27, 2018, and came into force on July 16, 2019. This law obliges companies to prohibit bullying in the workplace and to list measures the Company will take in the event of bullying.
The Law on Prevention of Bullying at the Workplace prohibits employers and workers from committing acts that misuse their position and relationships in the workplace and that go beyond the bounds of appropriate work, causing physical or mental distress to other workers or deterioration of the working environment. In South Korea, bullying in the health, IT, manufacturing and other industries had become a topic of concern, leading to the enactment of laws to prevent incidents and improve conditions caused by such behavior.
In line with these government initiatives, four months prior to the enactment of the revised law, Saeron Automotive Corporation established workplace bullying prohibitions in its internal employment regulations and created a bullying prohibition process. If anyone becomes aware of bullying or is bullied, he or she can report this fact to the Complaint Handling Team so that it can be handled through the complaint handling process. It is also mandatory to make sure that there is no disadvantageous treatment for the applicant or victim. The Company uses an in-house bulletin board to inform employees about the prevention of bullying in the workplace and to protect the human rights of all employees.