In an effort to promote respect for human rights and put in place a more comfortable workplace, the Nisshinbo Group engages in human rights education and training activities based on a structure in which Nisshinbo Holdings Inc.'s Chief of the Corporate Strategy Center serves as the Promotion Committee Chair, and Chief of the CSR Department serves as the Promotion Committee Vice-Chair.
With respect to the Group's human rights education, we conduct training for new employees and training for all employees throughout the year. To raise employee awareness of human rights, in December each year coinciding with Human Rights Week, Group companies in Japan and other countries invite employees and their families to submit human rights slogans and present awards for exceptional works.
Our subsidiaries in Japan establish a harassment consultation help desk aimed at preventing harassment, and contact people for both male and female employees provide consultation under the system. Newly appointed contact people undergo basic training and follow-up courses to hone their consultation skills.
We also place importance on giving consideration to human rights in our supply chains. The Nisshinbo Group CSR Procurement Policy and CSR Procurement Guidelines of Group companies clarify rules such as consideration toward basic human rights and the prohibition of child labor.
Anger Management Training
The Nisshinbo Group has been conducting anger management training since fiscal 2017. Spreading from the United States in the 1970s, anger management is a form of psychological training that teaches one to control his or her anger. Recently, this training has also spread to employee training programs at Japanese companies.
At Nisshinbo Group, we first conducted anger management training at the management level for all business offices in Japan and about 1,600 staff have received the training. Many trainees indicated that it had been a good opportunity to face their own anger. The Company has high hopes for the training as a way to foster good communication and prevent power harassment through proper emotional control. We look to expand the scope of trainees in the future, and plan to add an advanced program on effective reprimand.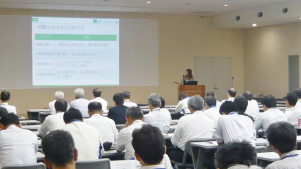 New Japan Radio: Opening a Social Office
New Japan Radio Co., Ltd. (NJR) calls its department specifically for disable persons, opened in June 2017, a "social office." People with mental disability certificates mainly work in this office under a designated supervisor.
This office handles requests from other departments that are "simple, standardized, and not in a rush," so that all employees can focus on their main tasks and reduce overtime work. Their tasks are wide-ranging from manufacturing, data entry and administrative work to the assembly and disassembly of trial products. The office currently has six members, who are all working hard every day. These members work six hours a day, which is shorter than other employees, but they complete a diverse range of tasks during that time. A supervisor regularly holds interviews with them to address any concerns they may be facing at work and help improve job retention. This department has become indispensable to the company amid the call for workplace reforms in recent times.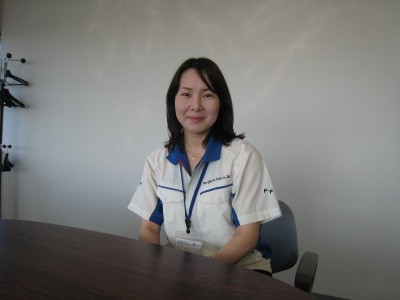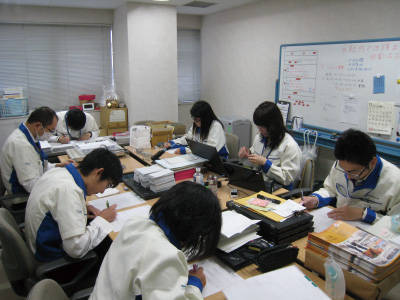 Nisshinbo Chemical: Hiring and Retention Support for Disabled Persons at Asahi Plant
Nisshinbo Chemical Inc.'s Asahi Plant not only achieves its target employment rate for disabled persons, but it also makes efforts to help them feel purpose in work, conducts hiring activities so that they can lead independent lives in society, and provides job retention support. In terms of job retention support, it cooperates with the Toso Employment Center (a local organization that supports disabled persons) and makes use of the Job Coach Support Program. Under this program, a job coach in charge regularly visits the workplace, checks the working conditions, provides job advice, and offers livelihood support when necessary. Additionally, study sessions on hiring disabled persons are held at the workplaces receiving these workers, and initiatives are taken to deepen employee understanding of disabled persons, raise awareness in terms of receiving them in the workplace, and establish a support structure, such as by having a general affairs employee serve as a "mental and developmental disability work supporter."
Brazil Nisshinbo: Clears 3% Country Standard for Employment Rate of Disabled Persons
While Brazil has an employment standard for disabled persons depending on the company size, Nisshinbo Do Brasil Industria Textil LTDA. (Brazil Nisshinbo) meets this standard by employing 16 persons (over 3% of all employees; as of end-December 2018). However, only about 1% of job applicants to Brazil Nisshinbo are persons with disabilities, so it tends to be hard to secure these employees. The company therefore hires persons with disabilities through referral by employee, such as their friends, family and acquaintances.
After employing disabled persons, the company makes efforts to increase their job retention, such as by (1) placing them in departments with few hindrances to their disabilities, (2) providing constant follow-up by persons responsible in their department, and (3) conducting internal training and other measures to ensure non-discrimination of disabled persons.
Ricoh Electronic Devices: Employment Support for Disabled Persons at Yashiro Plant
Ricoh Electronic Devices Co., Ltd. thinks that support for disabled persons reaches beyond just volunteering activities. The company understands it as an initiative that also includes providing support to the joint workplaces with disabled persons to aim to increase revenues with a corporate mindset, so that the business foundation is not weakened. It considers helping workers with disabilities develop a business sensibility in a social setting at worksites, and helping them understand the basic rules of society, as part of its regional contribution activity.
Ricoh Electronic Devices has set up a room within the Yashiro Plant called Denden Mushi No Heya, in order to outsource the production (box-folding) work for product shipment packaging boxes to the local social welfare service cooperation Denden Mushi No Kai, and it has provided this room as a work space for disabled persons. The company creates opportunities for persons with disabilities to work directly at its plant together with other employees, so that they can learn the work rules and internal procedures. By doing so, it aims to foster in them a sense that they are part of the larger society, and also help them learn the joy of working by receiving compensation for their work.