Nisshinbo Group Health Management Policy
Nisshinbo Group, through the establishment of an environment where each individual member can play an active role by promoting employee's health and sound workplace, aims to be a corporate group which is indispensable, at any time, for our society.
Promoting Health Management Group-wide
In order to promote health management group-wide, in fiscal 2018, Nisshinbo Group launched Group Health Management Department Meetings (consisting of representatives from the health management departments of each Group company) and has been promoting unified group-wide activities.
Specifically, we are conducting activities based on the three pillars of "individual health," "organizational health," and "execution of safety obligations without fail." From the perspective of individual health, we are working to improve life habits based on medical interview data from specific medical checkups of the health insurance association. From the perspective of organizational health, we are working to reduce general health risks by promoting workplace improvement activities based on the workplace analysis results of stress checks. In addition, we ensure safety obligations are executed without fail, given the diversification of work content and employment type and an increase in personnel exchanges as a result of business reorganizations and organizational reforms.
Framework of Health Management Measures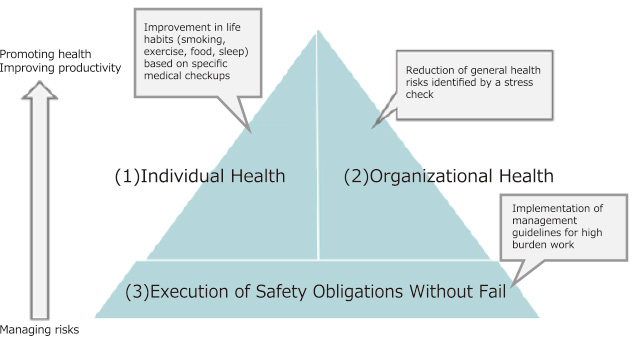 The effective promotion of these measures requires employees to be interested in acquiring proper knowledge about health. We hold hands-on health events using various health measurement equipment as a way for employees to gain awareness and learn about health while also having fun. Starting in fiscal 2018, we included the prevention of "falls" (one of the top causes of occupational injuries) as a theme in collaboration with the Safety and Health Management Department. Many participants expressed how they were able to learn about their own posture and the way they walk, and this has helped them prevent falls.
We aim to actively carry out group-wide measures to help employees perform better through mental and physical health.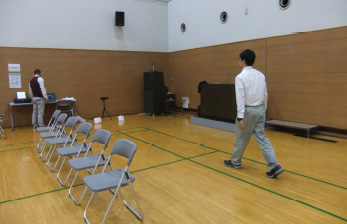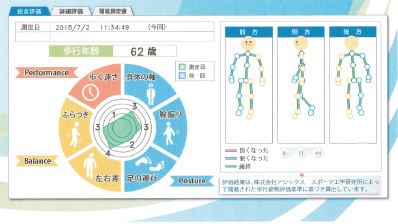 New Japan Radio: Recognized as Certified Health and Productivity Management Outstanding Organization in 2019 (White 500) for Third Straight Year
New Japan Radio Co., Ltd. (NJR) has been conducting health management in pursuit of becoming a "Healthy Company" since April 2016. These initiatives were well received, and NJR was selected for the Certified Health and Productivity Management Outstanding Organization Recognition Program's "White 500" 2019 conducted by the Japanese Ministry of Economy, Trade and Industry in collaboration with the Nippon Kenko Kaigi.
The certification recognizes companies for excellent health management, and NJR has been certified for the third straight year since 2017 in the large-scale corporate entity sector.
Main Initiatives
◆Hands-on Health Seminars
This seminar is hosted by an external sports facility and includes actual exercise through which employees learn how to prevent lifestyle related diseases, back pain and shoulder strain, and how to create a habit of eating and exercising properly. This seminar has been highly popular, with participants saying that it includes tips that can be practiced right away, and it has helped them change their mindset toward health.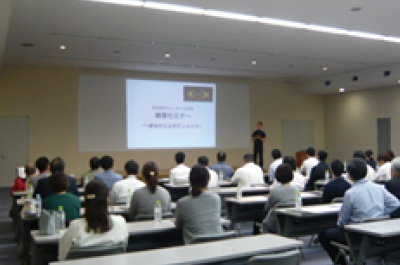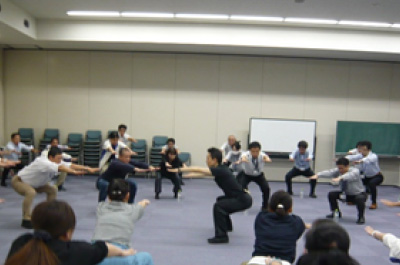 ◆Visceral Fat Measurement Event
This event helps participants get a visual idea of how much of their body area consists of visceral fat. About 100 people participate in each event, and public health nurses and registered nurses provide them with advice. The event is aimed at helping participants change their mindset toward exercising and improving their eating habits.
◆Prevention Measures Against Passive Smoking
Starting in July 2018, NJR prohibited all indoor smoking at Kawagoe Works (except for visitors).
◆Health points system (HELPO)
HELPO, started in fiscal 2017, is now in its second year and has over 40% of employees participating. The system grants points to employees based on how many steps they walk and how much progress they make on reaching their targets, and it is intended to support the voluntary health initiatives of individuals.
Through these and a variety of other measures and events, NJR aims to become a Healthy Company.
Nisshinbo Brake: Holding of TMD Health Day
TMD Friction Services GmbH and TMD Friction Holdings GmbH, located in Leverkusen, Germany, held the Fourth Health Day on July 10, 2018. The event was participated by 80 employees, including employees of TMD Friction EsCo GmbH situated in the same region.
The Health Day event is held to raise health awareness among employees. The main events included a driving simulation, measurement of one's reflexes, an introduction of healthy and simple recipes (like vegetable and fruit smoothies and salads) by a dietician, and a stretching class led by an athletic trainer.
The driving simulation and reflex test were especially popular. The driving simulation allows participants to simulate driving while intoxicated or under heavy rain, while the reflex test (famous on German TV shows) requires them to quickly touch lights that flash on.