The Nisshinbo Group's Contributions to the SDGs
The Nisshinbo Group will contribute to the achievement of the Sustainable Development Goals (SDGs) through activities to improve the health of employees. Key performance indicators (KPIs) are managed and systematically implemented to achieve the Group's Mid-Term CSR Targets of promoting healthy management.
Core SDGs Goals and Targets and the activities of the Nisshinbo Group
The Nisshinbo Group considers SDG 3.4 as a core target, and is promoting the health of its employees on that basis. The Nisshinbo Group Health Management Policy will be presented to all Group companies, and consistent activities will be carried out throughout the Group while taking advantage of the unique characteristics of each operating company.
3. Good Health and Well-Being

Ensure healthy lives and promote well-being for all at all ages.

Targets: 3.4

By 2030, reduce by one third premature mortality from non-communicable diseases through prevention and treatment and promote mental health and well-being.
Nisshinbo Group Health Management Policy
Nisshinbo Group, through the establishment of an environment where each individual member can play an active role by promoting employee's health and sound workplace, aims to be a corporate group which is indispensable, at any time, for our society.
Promoting Health Management Group-wide
In order to promote health management group-wide, in fiscal 2018, Nisshinbo Group launched Group Health Management Department Meetings (consisting of representatives from the health management departments of each Group company) and has been promoting unified group-wide activities.
Specifically, we are promoting activities with the following three items as the three pillars.
①From the perspective of individual health, we are working to improve life habits based on medical interview data from specific medical checkups of the health insurance association.
②From the perspective of organizational health, we are working to reduce general health risks by promoting workplace improvement activities based on the workplace analysis results of stress checks.
③We ensure safety obligations are executed without fail, given the diversification of work content and employment type and an increase in personnel exchanges as a result of business reorganizations and organizational reforms.
Framework of Health Management Measures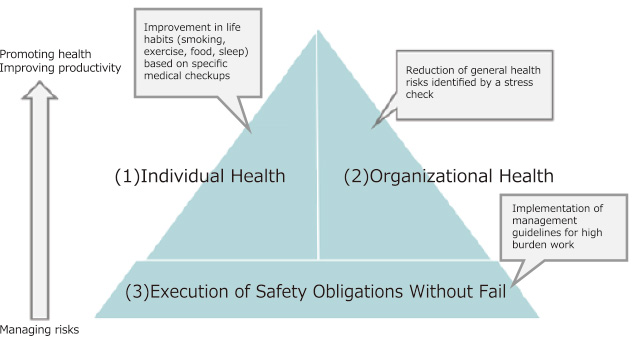 The results of activities for each item in fiscal 2019 are as follows.
①Comparing the lifestyle habits of about 6600 people from nine Nisshinbo Group companies with data from the National Federation of Health Insurance Societies, we discovered that the lack of exercise was a common issue, and the entire Group worked to promote a campaign (especially walking). The results showed that exercise habits remained somewhat poor, smoking and snacking rates were almost unchanged, and not enough people were getting sufficient sleep.
②As a result of the stress checks, the total health risk of the seven Group companies improved by 2.9 points from the previous year.
③To ensure that our safety-related obligations are fully fulfilled, seven Group companies conducted a trial of the newly established work guidelines. The trial confirmed that work restrictions and other measures could prevent illness and disruptions.
In fiscal 2020, the scope of these activities will be expanded. With regard to ①, based on the results of the previous fiscal year, we will strive to increase the number of people who exercise regularly, reduce the smoking rate and raise awareness about sleep, identifying these items as having a major impact on health.
To promote these activities effectively, it is essential that employees be interested, concerned and well-informed about health. In fiscal 2019, as part of the campaign promotion, Nisshinbo Holdings Inc. Head Office held walking classes led by invited outside lecturers, with more than 100 participants. Approximately 700 people from 10 companies participated in walking events held at each company. The Group will continue to work as a team to implement measures enabling employees to improve their physical and mental performance.
As a result of Group-wide activities, nine companies won the designation "Health Management Excellent Corporation 2020": Nisshinbo Holdings Inc. and four Nisshinbo Group companies; Japan Radio Co., Ltd.; New Japan Radio Co., Ltd. and two New Japan Radio Group companies.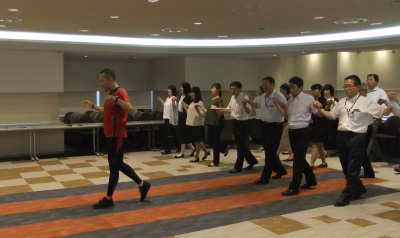 "Health & Productivity Management Organizations" certified by 3 companies
New Japan Radio Co., Ltd. (NJR) has been conducting health management in pursuit of becoming a "Healthy Company" since April 2016. In addition, we are working on measures to prevent second-hand smoke, exercise habits, etc. in cooperation with two domestic subsidiaries.
In recognition of these efforts, New Japan Radio Co., Ltd. was awarded the "Health and Productivity Management Organization 2020 (Large-scale Corporate Division) White 500" designation by the Ministry of Economy, Trade and Industry (METI) and the Nippon Kenko Kaigi for the fourth consecutive year. Domestic subsidiaries SAGA ELECTRONICS CO., LTD. and NJR FUKUOKA CO., LTD. were awarded the designation "Health and Productivity Management Organization 2020 (Small and Medium Enterprise Division)."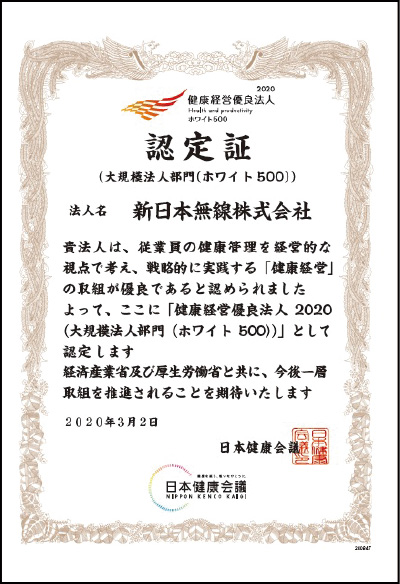 Main Initiatives
◆+10 Walking Challenge
As one measure to encourage exercise habits, we set a goal based on the current number of steps taken in a typical day and added 10 minutes of walking (for a total of about 1,000 steps). Individuals and groups who were able to achieve that goal in 3 months received individual and group achievement awards.
The program has been implemented jointly with two domestic subsidiaries beginning in 2018 and with a total of three companies in 2019, with a total of 447 people from the three companies participating in the program.
◆Prevention Measures Against Passive Smoking
The use of smoking areas is limited to time before the opening and after the closing of business and during break time. Since April 2019, New Japan Radio Co., Ltd.'s Kawagoe Works has banned indoor smoking and smoking during work hours (so smoking is allowed before the opening and after the closing of business and during break time, and never inside the plant).
Going forward, we will redouble our efforts on health management. We aim to acquire the "Health and Productivity Management Organization White 500" designation for the entire Group, including domestic subsidiaries, over the medium-and long-term.