The Nisshinbo Group's Contributions to the SDGs
The Nisshinbo Group contributes to the achievement of the Sustainable Development Goals (SDGs) through its transportation volume activities. To achieve its medium-term environmental targets regarding reductions of emissions of greenhouse gases per unit of sales, the Group manages key performance indicators (KPIs) as part of systematic measures.
Core SDGs Goals and Targets and the activities of the Nisshinbo Group
The Nisshinbo Group considers SDG 12.2 to be a core target, and is working to reduce transportation volumes. We are reducing transportation volumes and promoting the efficient use of natural resources such as fuel used in transportation.
12. Responsible consumption, production

Ensure sustainable consumption and production patterns.

Targets: 12.2

By 2030, achieve the sustainable management and efficient use of natural resources.
Transport Volume
The Nisshinbo Group's freight transport volume totaled 36.74 million ton-kilometers (t/km), up 346% year-on-year (YoY) after adjustments*. Freight transport volume per unit of sales was 403.7 t/km per million yen, up 271% YoY after adjustments*.
This year we added the volume of TMD transported overseas to the tabulation. This change resulted in a significant increase.
* Effective from the previous consolidated fiscal year, we have changed the fiscal year-end from March 31 to December 31. As a result, the previous consolidated fiscal year, which is the transitional period, was an irregular fiscal year. For this reason, the rate of year-on-year change in actual results is not stated. Instead, when comparing the fiscal year under review with the previous fiscal year, for reference purposes, we state the rate of increase/decrease in freight transport volume and freight transport volume per unit of sales from the same period of the previous fiscal year, adjusted to be the same 12-month period as in the consolidated fiscal year under review, to the consolidated fiscal year under review.
Trends in Transport Volume and Transport Volume per Unit of Sales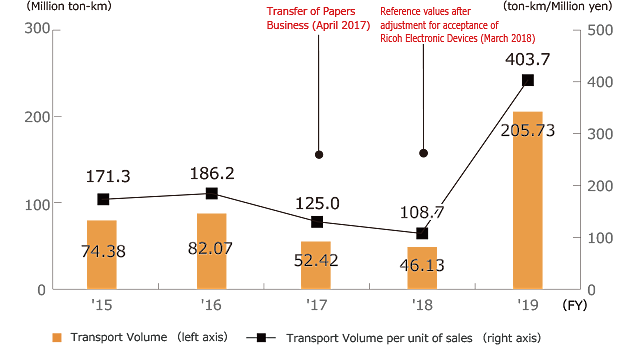 (Million ton-km)
2015
2016
2017
2018
(Reference value after adjustment)
2019
Transport Volume
74.38
82.07
52.42
46.13
205.73
(ton-km/Million yen)
Transport Volume per unit of sales
171.3
186.2
125.0
108.7
403.7
The automobile brakes business accounted for 83% of overall transport volume.
Trends in Transport Volume by Business (Reference Value After Adjustments for FY2018)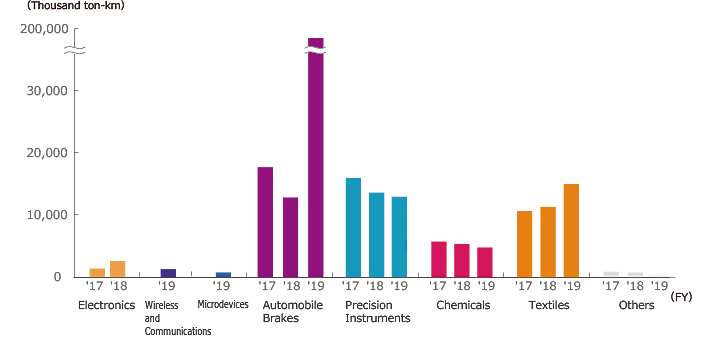 (Thousand ton-km)
2017
2018
(Reference value after adjustment)
2019
Electronics
1,655
2,454
--
Wireless and Communications
--
--
1,227
Microdevices
--
--
686
Automobile Brakes
17,542
12,523
171,019
Precision Instruments
15,950
13,543
12,813
Chemicals
5,890
5,692
4,904
Textiles
10,518
11,204
14,868
Others
866
717
209
* In fiscal 2019, the Electronics business was separated into the Wireless and Communications business and the Microdevices business.
Nitrogen gas supply changed to pipeline
THAI NJR CO., LTD. uses about 760 tons of nitrogen gas annually for processing products and storing materials. We are proceeding with a plan to change the method of supplying this nitrogen gas from conventional truck transportation to a gas pipeline.
By connecting a storage tank on the Company's site to a nitrogen pipeline that runs into the industrial park where the company is located, THAI NJR can significantly reduce truck transportation, and therefore carbon-dioxide emissions, due to the reduction in truck exhaust.
We made the switch in January 2020. Through this effort, truck transportation distances are expected to fall from the current level of approximately 1,600 km/year to approximately 100 km/year. This decrease in truck transportation volume reduces transportation volume from about 3,400 tons of km per year to about 210 tons of km per year, and carbon dioxide generation from about 910 kg of CO2 per year to about 60 kg of CO2 per year.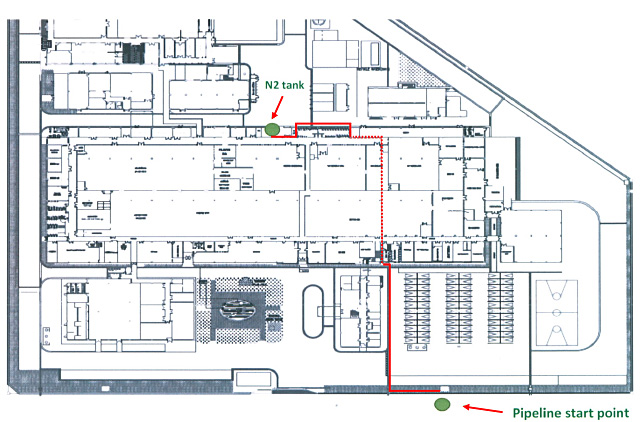 Pipeline Layout Diagram
Efforts related to transportation
To continue to reduce frequency of transportation and thereby environmental impact from transportation, Nisshinbo Brake Inc.'s Tatebayashi Plant is combining shipping dates of purchased raw materials and consolidating truck transportation.
For some customers, we have changed product delivery from daily shipments to weekly shipments, among other measures, resulting in an 80% reduction in shipments and an increase in load factor from about 10% to about 40%. With the cooperation of our customers and transportation companies in the supply chain, we were able to reduce the volume of transportation per month by about 93,000 tons of km.
Saving on transportation costs by reducing transportation frequency
At Nisshinbo Somboon Automotive Co., Ltd. (NSA) in Thailand, we proposed and approved reductions in the number of deliveries to improve transportation efficiency for our customers. By doubling the load ratio at the time of delivery and reducing deliveries from four times a month to twice a month, we were able to reduce the fuel required for transportation by about 100 L/month.
Because of the large variation in the number of customer orders, we were able to obtain the cooperation of our customers by highlighting the inefficiency and energy losses caused by weekly delivery.
Reducing transportation costs through collaboration in the supply chain
At Nisshinbo Automotive Manufacturing Inc. (NAMI) in the United States, NAMI takes the lead in coordinating with three suppliers (MMF*1, YSPS*2, UTIL*3) to integrate transportation vehicles between supply chains.
Previously, separate vehicles moved between NAMI and the three supply chains, but now the same vehicle is picked up from all three suppliers. As a result, we have achieved a reduction in transportation volume of 6,734 tons per year.
*1 MMF: Micro Metal Finishing, LLC
*2 YSPS: YS Precision Stamping Inc.
*3 UTIL: UTIL CANADA
Reduction in transportation costs
Kyushu Nanbu Plastics Co., Ltd. reviewed the production processes at its Oita and Saga Plants, optimized production sites, and worked to reduce transportation between plants. To bolster production efficiency, we conducted integrated production at the same site (from the plastic molding process to the surface-treatment process to the assembly process) and reduced the volume of materials transported between plants in process (fabric/material prior to completion). In addition, we reduced the amount of transportation from external procurement by moving outside production from subcontracted factories to in-house production).
As a result of these efforts, we were able to reduce the amount of diesel oil used in transportation by 73kL (189 tons of CO2 emissions). We will continue these and other activities to improve transportation efficiency.