Life cycle assessment (LCA) is a process used to numerically assess the use of raw materials, their environmental impact, and their potential environmental impact on the earth and ecosystem over the entire life of a product, spanning the procurement of raw materials through to production, distribution, use and disposal. To determine and reduce its environmental impact, the Nisshinbo Group calculates LCA data, which it uses to improve product planning and manufacturing processes.
The Nisshinbo Group's Contributions to the SDGs
The Nisshinbo Group contributes to the achievement of the Sustainable Development Goals (SDGs) through its Life Cycle Assessment (LCA) activities. The Group manages key performance indicators (KPIs) as part of systematic measures to achieve its environmental goal of promoting LCA.
Core SDGs Goals and Targets and the activities of the Nisshinbo Group
The Nisshinbo Group promotes LCA activities with SDG 12.4 as their core target, through the following efforts.
①Enhancing user convenience by concluding an unlimited end-user license for LCA software
②Promoting the development and expansion of operators by holding LCA software utilization seminars
③Reduction of chemical substances and waste emissions based on product LCA results
④Introduction of LCA from the product development stage and application of it for the development of environmentally friendly products
12. Responsible consumption, production

Ensure sustainable consumption and production patterns.

Target: 12.4

By 2020, achieve the environmentally sound management of chemicals and all wastes throughout their life cycle, in accordance with agreed international frameworks, and significantly reduce their release to air, water and soil in order to minimize their adverse impacts on human health and the environment.
Advancement of LCA activities
The Nisshinbo Group is advancing the development of environmentally friendly products by expanding its LCA activities while putting LCA software to effective use.
Naturally, the Group draws on LCA product results to reduce energy consumption in manufacturing and emissions of chemical substances. Additionally, we introduced LCA from the product development stage, contributing to the expansion of sales of environmentally friendly products.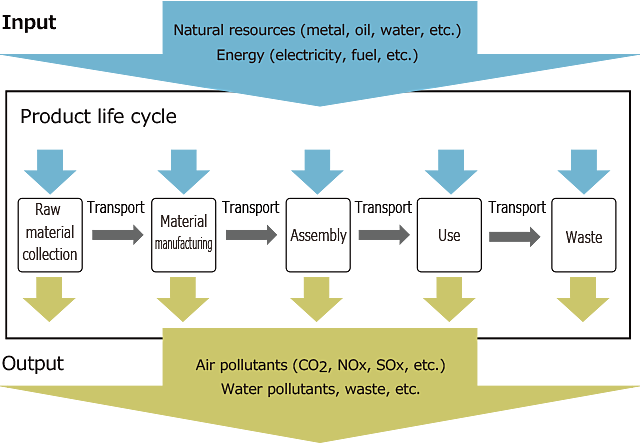 Image of Life Cycle Assessment
Examples of the Nisshinbo Group Activities
LCA of Locator for medium and heavy-duty vehicles
Japan Radio Co., Ltd., conducted the Life Cycle Assessment (LCA) of locators for medium- and heavy-duty vehicles as products for installation in trucks, construction machinery, and heavy machinery.
This product sends location information and vehicle operating status to the user's server through communication carriers and is useful for appropriate vehicle maintenance management, such as operation management, support for fuel-efficient and safe driving, and responses in the event of theft or accidents. The company also uses telecommunications carriers to transmit information, providing a wide range of communications services. The LCA-results are shown below, and the impact on climate change (CO2 emissions) is nearly eighty percent for the product-use stage. The locator consumes 5.28 watts of power and is always energized during vehicle operation hours. Emissions of CO2 are about 1.2 kg when power is used for a month. This is the same level of CO2 emissions as when LED bulbs with a brightness of 40 W or equivalent were turned on only at night, which indicates a lower environmental impact.

Connected services for commercial vehicles using locators for medium- and heavy-duty vehicles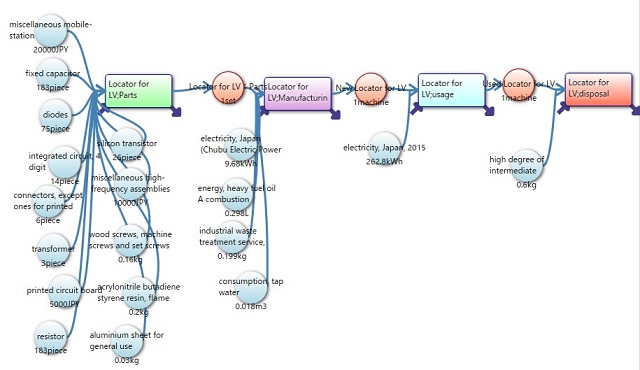 System diagram (Locators for medium- and heavy-duty vehicles)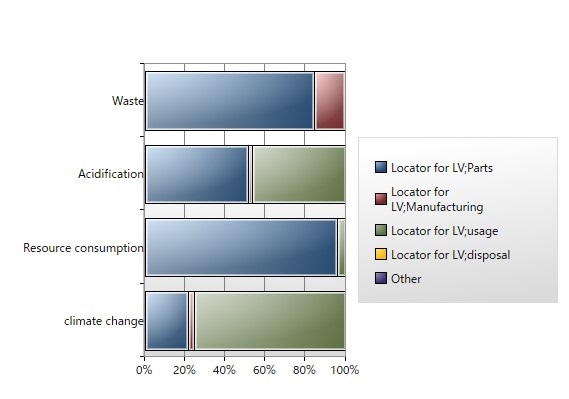 LCA analysis results (Locators for medium- and heavy-duty vehicles)
Promotion of LCA activities
TMD Friction UK Limited, Hartlepool Plant, has promoted the Life Cycle Assessment (LCA) since June 2021. Implementation of LCA allows the company to understand the environmental impact of its product manufacturing processes and led to efforts to reduce the environmental impact.
Previously, the company found that there had been improvements in energy conservation by reducing the release of chemical substances into the atmosphere and reducing the amount of transportation and waste in the painting processes. In the future, the Hartlepool Plant will continue to promote LCA for each product and continue to conduct improvement activities.
Promotion of LCA analysis
Since fiscal year 2020, Nanbu Plastics Co., Ltd., has worked on LCA analyses as a priority issue for environmental activities. Its mother bases at the Susono, Fujieda, and Oigawa plants provide support for LCA analyses at domestic and overseas subsidiaries.
Sales of LCA-analyzed products accounted for 0.8% of total sales of the Nanbu Plastics group in 2019, 45.9% in 2020, and 67.4% in 2021.
Nanbu Plastics is engaged in the expansion of marketing of products that contribute to a sustainable society by using LCA analysis. The sales ratio in 2021 was 33.9%, which is still struggling, but the company will continue its efforts in the future.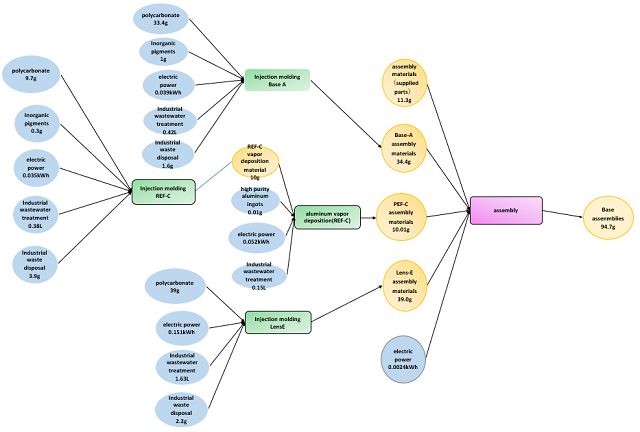 System diagram (Automotive Lamp Components)
Initiatives for LCA analysis
Nisshinbo Textile Inc. promotes the LCA analysis of products manufactured and sold. With increasing awareness of environmental issues, it is necessary to disseminate products and services with as little environmental impact on society as possible. LCA analyses of existing and developed products are considered a very effective means of realizing an environmentally oriented society. Through analyses, Nisshinbo Textile is developing products to reduce the environmental impact from use to disposal, as well as to improve energy conservation and CO2 emissions in the manufacturing processes. In 2021, the company conducted LCA analyses on uniform materials, biomass Nisshinbo Mobilon, and low-temperature heat-fused Nisshinbo Mobilon. As a member of the Environment and Energy Company Group, Nisshinbo Textile will continue to conduct LCA analyses of products, including those of overseas subsidiaries, in order to ensure manufacturing processes that are friendly to the global environment with an emphasis on sustainability in raw materials and production processes.