Life cycle assessment (LCA) is a process used to numerically assess the use of raw materials, their environmental impact, and their potential environmental impact on the earth and ecosystem over the entire life of a product, spanning the procurement of raw materials through to production, distribution, use and disposal. To determine and reduce its environmental impact, the Nisshinbo Group calculates LCA data, which it uses to improve product planning and manufacturing processes.
LCA of a Radio Rebroadcasting Device
Japan Radio Co., Ltd. sells radio rebroadcasting devices, which relay electric waves emitted during radio broadcasting to areas inside tunnels. Car drivers driving through tunnels normally cannot listen to radio, because the electric waves cannot reach within tunnels. However, the installation of the rebroadcasting devices enables car drivers to listen to radio even within tunnels, allowing them to receive evacuation guidance during accidents or disasters, and contributing to public safety.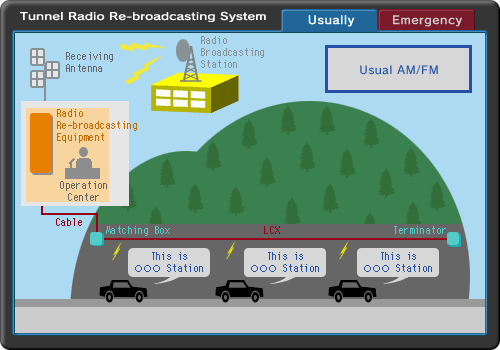 Overview of the radio rebroadcasting device
We conducted an LCA of this radio rebroadcasting device. (We evaluated the product lifecycle in the stages of manufacturing, installation, use, and disposal). Acidification and global warming occur predominantly in the usage stage, due to electric power consumption. Acidification and global warming in the usage stage had the greatest impact on the environment across the product lifecycle.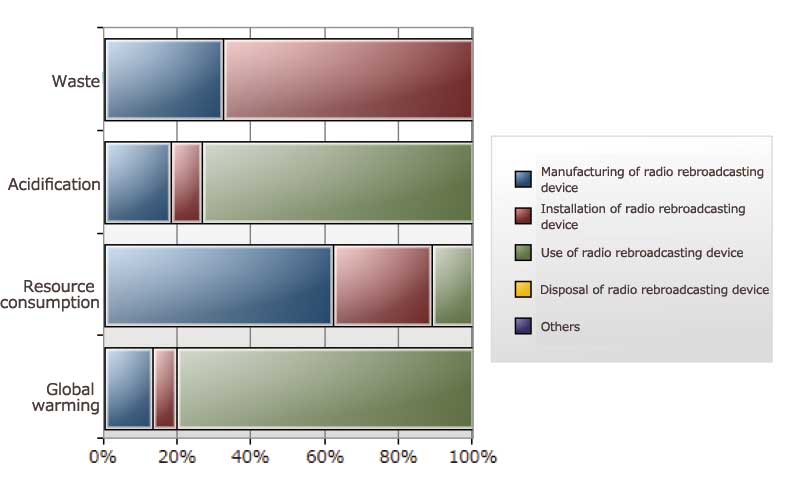 Environmental impact evaluation results (Electricity usage of the device is calculated as 600 VA with a product life of 10 years)
Achieved 100% Implementation of LCA
Japan Radio Glass Co., Ltd. conducts an LCA of all of its products.
The company manufactures glass products used for special-purpose electron tubes, electric lamp bulbs, and various industrial equipment. Based on information obtained from an inventory analysis* and impact assessment, it works to improve its production method taking stock of reducing CO2, saving energy, and cutting costs. In fiscal 2018, it conducted a full renovation of its insulating brick materials.
*Inventory analysis: Input and output of substances involved over the life cycle of products and services