Climate Change Countermeasures
Greenhouse Gas Emissions
The Nisshinbo Group's greenhouse gas emissions totaled 611,500 tons of CO2. The greenhouse gas emissions after adjustment* came to 690,200 tons of CO2, up 5% year on year, while the greenhouse gas emissions per unit of sales after adjustment* were 1.320 tons of CO2 per million yen, up 3% year on year. The increase was mainly due to the addition of Ricoh Electronic Devices Co., Ltd. to the Nisshinbo Group.
Perfluorocarbons (PFCs) composed 75% of non-energy derived greenhouse gas emissions. The primary emitters of these PFCs were New Japan Radio Co., Ltd. and the electronic device manufacturing processes of Ricoh Electronic Devices Co., Ltd.
*The consolidated fiscal year that ended in December 2018 was a transitional period with an irregular fiscal year adjusted for changes in the fiscal periods of the Company and consolidated subsidiaries as follows: the Company and consolidated subsidiaries switching from fiscal years ending in March (nine-month consolidation from April 1, 2018 to December 31, 2018); consolidated subsidiaries switching from fiscal years ending in February (10-month consolidation from March 1, 2018 to December 31, 2018), and consolidated subsidiaries with fiscal years ending in December (12-month consolidation from January 1, 2018 to December 31, 2018).
Consequently, we do not indicate comparisons (% of change) versus past results of greenhouse gas emissions, but provide comparisons (% of change) for greenhouse gas emissions and greenhouse gas emissions per unit of sales after adjustment to a 12-month consolidated financial year as a reference.
Trends in Greenhouse Gas Emissions and Greenhouse Gas Emissions per Unit of Sales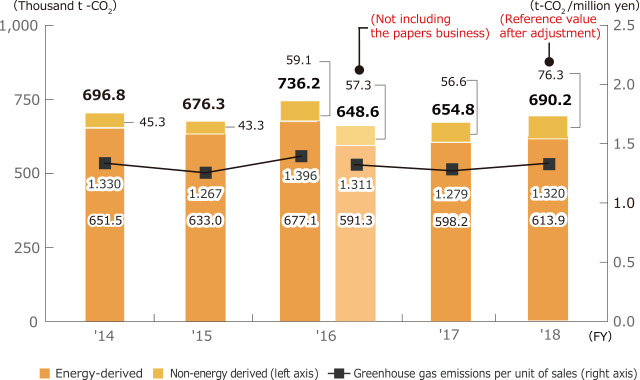 In greenhouse gas emissions by business, the textiles business accounted for 31% of total emissions while the electronics business accounted for 29% and the automobile brakes business accounted for 25%.
Greenhouse Gas Emissions by Business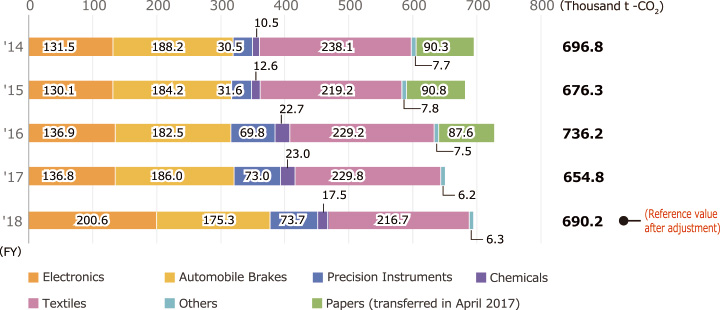 Emissions in Japan accounted for 41% of greenhouse gas emissions.
Greenhouse Gas Emissions in Japan and Other Countries

Note
For calculating greenhouse gas emission volumes, the CO2 emission conversion factors as defined in the "List of Calculation Methods and Emission Factors for Calculation, Reporting, and Publication" published by the Ministry of the Environment and based on the "Law Concerning the Promotion of the Measures to Cope with Global Warming" are used. We also use the coefficients provided by the producer for coal.
Conversion Factors for CO2 Emission Conversion

The alternative conversion factor from the "Fiscal Year 2017 CO2 Emission Factors by Electric Power Supplier" has been used.
We have retroactively recalculated all reported years with the factors listed above.
Introduction of Renewable Energy
Operations of photovoltaic modules installed by the Nisshinbo Group remained steady throughout fiscal 2018, generating 3.8 thousand MWh of power.
Generation Capacity by Business Site in Fiscal 2018
Installation site
Generation capacity (kW)
Year operation commenced
Use
Nisshinbo Mechatronics Inc.
Miai Machinery Plant
430
2010
Self-consumption
Nisshinbo Chemical Inc.
Chiba Plant
150
2011
Electric power sales,
self-consumption
Nisshinbo Brake Inc.
Tatebayashi Plant
300
2011
Self-consumption
Nagano Japan Radio Co., Ltd.
Head Office & Factory
110
2013
Electric power sales
Nisshinbo Holdings Inc.
Tokushima Plant
1,768
2013
Electric power sales,
test facility
Nisshinbo Precision Instrument & Machinery Hiroshima Corp.
1,020
2015
Electric power sales
New Japan Radio Co., Ltd.
Kawagoe Works
19
2018
Self-consumption
Total
3,797
Shirts Adapting to Climate Change
Tokyo Shirts Co., Ltd. is Nisshinbo Group's only specialty store retailer of private label apparel (SPA) that sells men's and women's shirts.
In view of the enactment of the Paris Agreement, the Climate Change Adaptation Act was passed in Japan to address global warming in 2018. Our living environment is expected to undergo even more frequent changes caused by climate change.
For summer wear ("Cool Biz"), the company offers SUPIMA Shirts with excellent sweat absorbance and air permeability, Comfort Undershirts with quick-drying features, Hemp Blended Shirts with a crisp touch, and Cool Max Ties featuring a cool sensation. For winter wear ("Warm Biz"), it offers HOT-II Shirts that prevents the cooling of shirt fabrics. The company aims to help customers deal with climate change by actively developing products suitable for both Cool Biz and Warm Biz.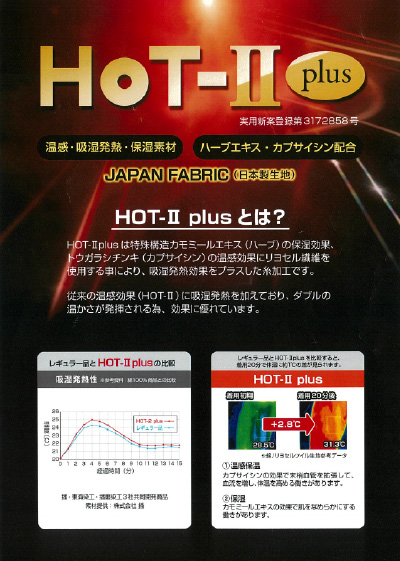 For Cool Biz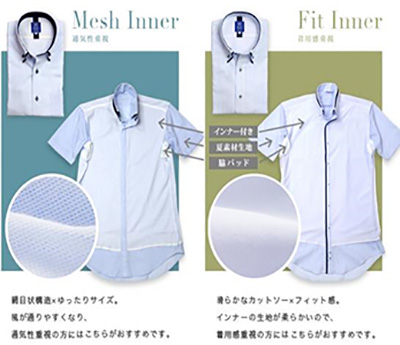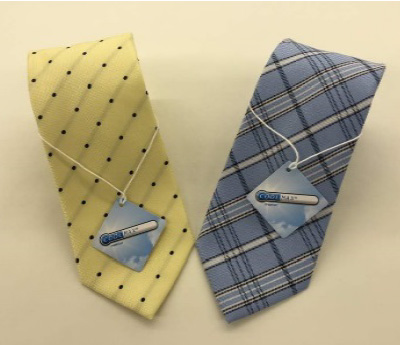 Introduction of Emergency Power Supply (Solar and Wind Hybrid)
New Japan Radio Co., Ltd.'s Kawagoe Works has rebuilt a building that did not meet earthquake resistance standards. Along with this work, it decided to install a solar power generation equipment aimed at saving energy and using the plant as a disaster protection center.
In the seven months after installation, the solar power equipment generated 11.5 MWh of energy, which was all used for self-consumption at the new building. Additionally, a storage battery installed together with the equipment can be used as a power supply for lighting and outlets in the building during power outages.
Near the entrance of the building, the company installed an outside light operated on hybrid power of solar and wind energy. During normal times, this outside light is used for security purposes, while during disasters, it can be used as a power source to charge communication equipment.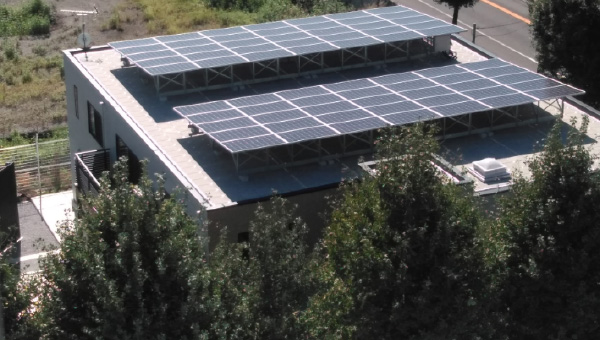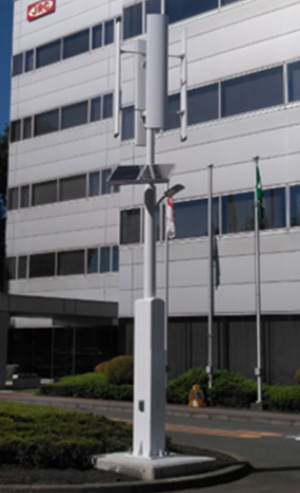 Consumption of CO2 at Plant Factories
Nisshinbo Holdings Inc.'s Tokushima and Fujieda Plants cultivate safe and secure strawberries at their fully-sealed plant factories. The factories consume CO2 emitted from chemical factories to speed the photosynthesis of strawberry roots. Between April and December 2018, the plants consumed a combined total of roughly 33 tons of CO2, thereby contributing to the prevention of global warming, while also generating some 24 tons of oxygen necessary for plants.