Energy Use by Type of Fuel
The Nisshinbo Group's energy usage amounted to 9.85 million GJ. Energy usage after adjustment* came to 10.94 million GJ, up 6% year on year, while energy usage per unit of sales after adjustment* was 20.93 GJ per million yen, up 3% year on year. The increase was mainly due to the addition of Ricoh Electronic Devices Co., Ltd. to the Nisshinbo Group.
By type of fuel used, purchased electricity accounted for 76% of the total. Of the total energy used, 14% was represented by coal used at two Indonesian subsidiaries in the textiles business (PT. Nisshinbo Indonesia and PT. Nikawa Textile Industry).
*The consolidated fiscal year that ended in December 2018 was a transitional period with an irregular fiscal year adjusted for changes in the fiscal periods of the Company and consolidated subsidiaries as follows: the Company and consolidated subsidiaries switching from fiscal years ending in March (nine-month consolidation from April 1, 2018 to December 31, 2018); consolidated subsidiaries switching from fiscal years ending in February (10-month consolidation from March 1, 2018 to December 31, 2018), and consolidated subsidiaries with fiscal years ending in December (12-month consolidation from January 1, 2018 to December 31, 2018).
Consequently, we do not indicate comparisons (% of change) versus past results of energy usage, but provide comparisons (% of change) for energy usage amount and energy used per unit of sales after adjustment to a 12-month consolidated financial year as a reference.
Trends in the Amount of Energy Consumed and the Amount of Energy Consumed per Unit of Sales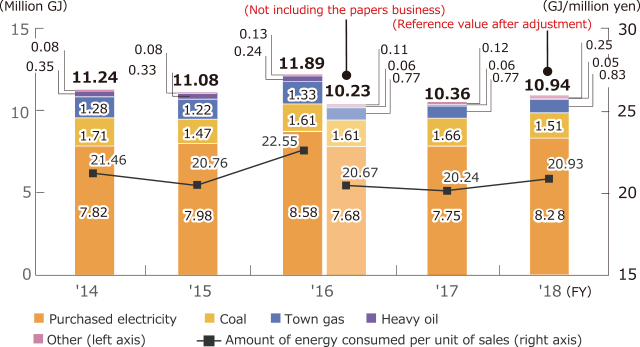 Amount of Energy Consumed by Business
The automobile brakes business accounts for the largest portion of energy consumed, followed by the textiles business.
Amount of Energy Consumed by Business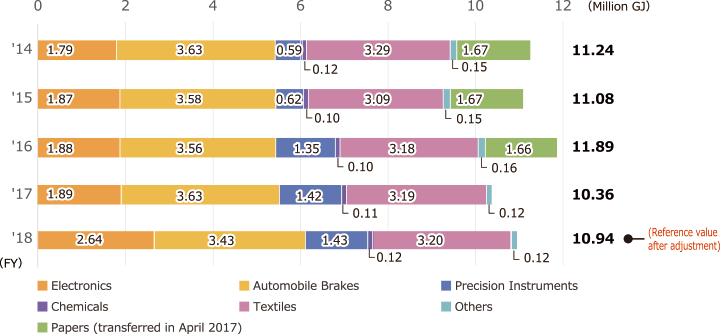 Accelerated Installation of LED Lighting
The energy conservation impact of new conversion to LED lighting in fiscal 2018 was 1,240 MWh, as indicated in the table below.
Reduction in Electricity Consumption
| Business Category | Reduced Consumption (MWh) |
| --- | --- |
| Electronics | 173 |
| Automobile Brakes | 542 |
| Precision Instruments | 196 |
| Chemicals | 11 |
| Textiles | 318 |
| Total | 1,240 |
Installation of Inverter Turbo Refrigerator
New Japan Radio Co., Ltd.'s Kawagoe Works installed a new turbo refrigerator with the aim of saving energy and reducing environmental load, given the aging of its turbo refrigerator (installed 31 years ago) at its electronic device factory.
The newly installed refrigerator is an inverter type featuring improved operational efficiency.
The installation of this new refrigerator helped reduce energy consumption by 388 MWh per year. It also helped cut greenhouse gas emissions, as it uses non-fluorocarbon refrigerant HFO-1233zd (global warming coefficient=1) instead of the conventional R-11 fluorocarbon gas refrigerant (global warming coefficient=4,750).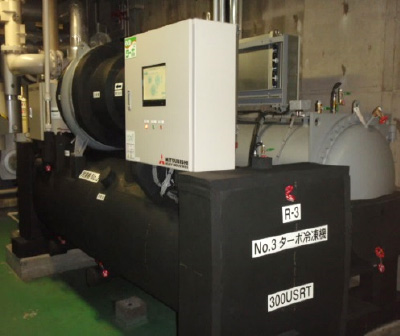 Additionally, the exemption of Kawagoe Works from application of the High Pressure Gas Safety Act has brought additional benefits such as the reduction of regulatory management work.
Completion of New Plant in Thailand (Precision Instruments Business)
A new plant (Plant No. 3) was completed at Nisshinbo Mechatronics (Thailand) Ltd. in June 2018 and came online in August. The new plant is designed to reduce electricity demand through increased use of natural light inside buildings and installation of LED lighting fixtures.
In addition, by improving the efficiency of ventilation within the plant through the adoption of a jet fan that reduces the amount of heat generated from equipment during production, the new plant mitigates deterioration of the work environment caused by heat and contributes to the reduction of power consumption.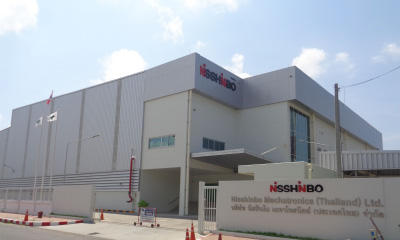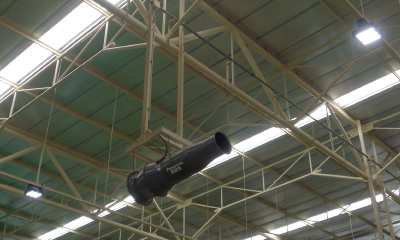 Improving Compressor Energy Loss
Saeron Automotive Corporation in South Korea remodeled its air line and controlled its operation schedule to cut energy loss from compressors when other equipment are offline. As a result, it reduced 268 MWh of energy consumption in a year.
Although only certain equipment required air supply on weekends, the existing air line circulated air throughout the entire plant and generated a loss. To improve this loss, the company fitted the plant with new pipes and controlled the compressor according to a schedule, so that it would only supply air to processes that needed it. As a result, the company reduced 78% of energy used by the compressor on weekends. In addition, the reduction in the total number of operation hours of the compressor is expected to help save maintenance costs and consumables.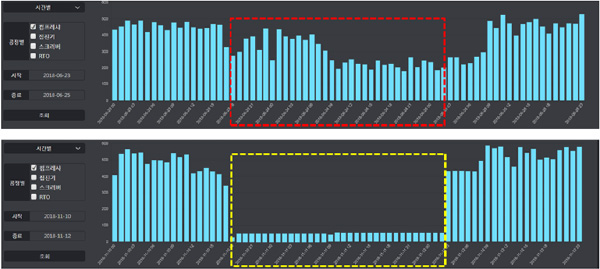 Comparison of energy usage before and after improving the air line
Upgrading A/C Equipment
Nisshinbo Textile Inc.'s Tokushima Plant produces spandex yarns used in stockings. Room temperature control is important in spandex production. A/C equipment using R-22 hydrochlorofluorocarbon (HCFC) refrigerants have been installed in factories 1 and 3 since the 1990s. However, the production of these refrigerants will be banned by law on January 1, 2020, presenting a risk that the plant will not be able to replace these refrigerants. In response, the plant has been systematically upgrading its A/C equipment used for its production lines. In 2018, the plant upgraded its A/C equipment to one with superior energy-saving features. This resulted in a 20% saving of energy usage and a reduction of 21 tons of CO2 of greenhouse gas emissions compared with the previous A/C equipment.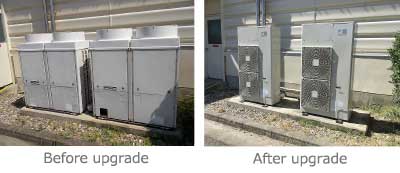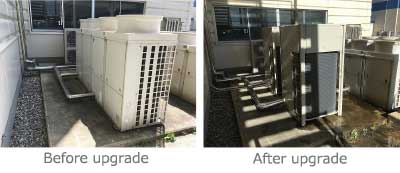 Safe, Secure, and Eco-Friendly Operation Control Service
Japan Radio Co., Ltd. developed J-Marine Cloud, a service that aims to realize the visualization of ship navigation and ship management that is safe, secure, and eco-friendly. J-Marine Cloud is expected to support users in selecting optimal routes and preventing accidents by providing navigation support service and information. It shares radar videos from ground radar stations, weather and maritime information, and navigation support service and information, and it superimposes the display with electronic nautical charts, helping users select optimal routes. Through this service, the company looks to help improve and resolve various problems related to energy-saving navigation, environmental measures, and anti-piracy.
In general, it is estimated that optimal route selection can reduce fuel consumption by 5 to 20%, and navigation support can reduce accidents by about 2%.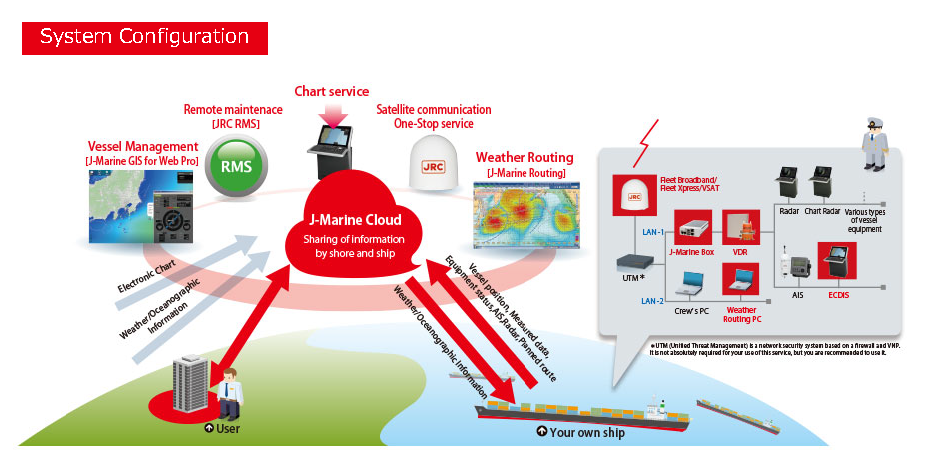 J-Marine Cloud
Plant-Wide Efforts to Save Energy
Nisshinbo Brake Inc.'s Tatebayashi Plant conducted 246 energy-saving initiatives . The most effective initiative was the discontinuation of city gas combustion for the deodorization of the heat circulation oven, in which there was a change in raw materials and processes, resulting in a reduction of 450MWh per year converted to electricity. This was followed by an initiative to switch to an inverter motor pump that helped save about 266 MWh per year, and then the installation of LED lighting that reduced 264 MWh per year. Through these and other plant-wide efforts, the company saved a total of 2,384 MWh of energy in a year.
Full Renovation of Heat Insulation Bricks
Japan Radio Glass Co., Ltd. uses a pot furnace* made of insulating bricks that heats up to over 1,200 degrees Celsius when melting glass. Although the pot furnace combusts city gas, the high temperature causes a gradual corrosion of the insulating bricks. The thinning of the bricks then causes deterioration of its heat insulating performance and increases fuel usage amount. To address this problem, the company conducted a full renovation of two pot furnaces in 2018, reducing 13,500m³ of city gas usage and 30 tons of CO2 of greenhouse gas emissions.
*Crucible-type melting furnace
Concentrated Management of Refrigerators
NJR Fukuoka Co., Ltd. has three refrigerators. All three of them were operated most of the time during the summer (July–September).
However, along with an upgrade of its A/C temperature and humidity measurement panel, the company decided to change the system into one that allows concentrated monitoring of refrigerator load and alarm setting for load current value. The adoption of this system made it possible to make minor adjustments in the number of refrigerators in operation. While all three refrigerators were in operation during the daytime in August, only two units were operated on most days in July and September.
As a result, energy use by refrigerators was reduced by 372 MWh in the three months during the summer.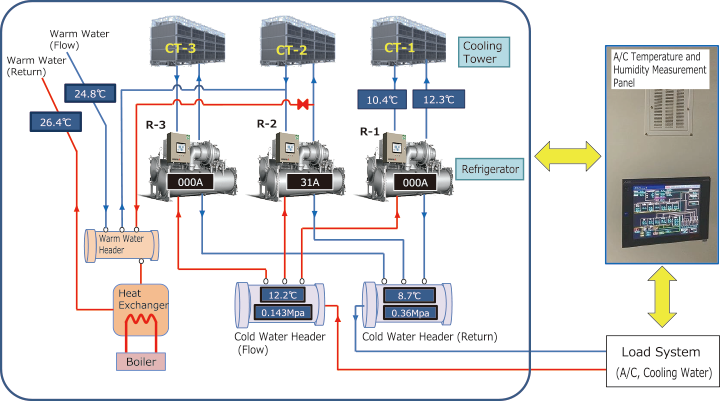 Refrigerator System Flow
Reduction of Electricity Use Through Conversion to LEDs
In 2018, Thai NJR Co., Ltd. set out to save electricity use through the conversion of fluorescent lights to LEDs. It converted a total of 1,000 28W and 36W fluorescent light bulbs to LEDs, reducing 294 kWh of electricity used per day, equivalent to saving 1,029 Thai bahts per day, and 31,518 kWh of electricity used or 110,316 Thai bahts over five months. Workplace brightness also improved from 735 Lux to 935 Lux. The company looks to consider the proper allocation of LED fixtures and further increase the usage rate of LEDs in fiscal 2019. LED usage has not had an impact on product appearance during inspections.