Environmental Contribution Activities
The Nisshinbo Group's Contributions to the SDGs
The Nisshinbo Group contributes to the achievement of the Sustainable Development Goals (SDGs) through collaboration with local communities, local governments, universities, local companies, supply chains, and other organizations, as well as by participation in environmental contribution and beautification activities.
SDGs in Focus: Goals and Targets and the activities of the Nisshinbo Group
Taking careful note of SDG 17.17, the employees of the Nisshinbo Group actively participate in environmental contribution beautification activities.
17. Partnerships for the goals

Strengthen the means of implementation and revitalize the global partnership for sustainable development.

Targets: 17.17

Encourage and promote effective public, public-private and civil society partnerships, building on the experience and resourcing strategies of partnerships.
Participation in the Jyosho Area Forest Festival in Aoki Village, Chiisagata County, Nagano Prefecture
Ueda Japan Radio Co., Ltd. has participated in the Jyosho District Forest Festival since 2015. This tree-planting festival is sponsored by the local government as a biodiversity conservation activity.
The Jyosho area consists of the Cities of Ueda and Tomi, the Town of Nagawa and the Village of Aoki. In May 2019, we participated in the Jyosho District Forest Festival (tree planting festival) held at Yokote Camp in Aoki. More than 400 participants, including 10 from the Company, planted about 1,600 trees, including Cerasus jamasakura (Sieb. ex Koidz.) H.Ohba, Quercus serrata, and Quercus dentata.
The City of Ueda was severely damaged by Typhoon Hagibis in October. This year's activities call attention to the fact that afforestation contributes not only to biodiversity but also to flood control. We will continue to participate in the program for its valuable role in raising employee awareness.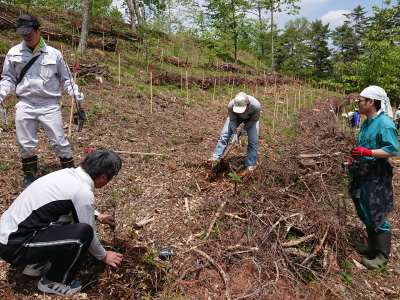 Participation in Beach Clean and Dosukoi Beach Clean
JRC Tokki Co., Ltd. participated in "Beach Clean" on the Enoshima and Katase coasts sponsored by NPO UMISAKURA.
As many as 400 people at a time take part in Beach Clean. The aim of this activity is restore the sea to sufficiently pristine beauty that the seahorses that once frolicked here can live here again. Employees have participated every month since 2018, and continuously for one year since May 2019, for which they received the "Umi Sakura Trash Master T-shirt."
In August we participated in another beach-cleaning operation, "Dosukoi Beach Clean," in which active sumo wrestlers and masters participate. A total of 800 people, including five from JRC Tokki (four employees and one family member) joined in this cleaning activity aimed at making the beaches safe and clean so that children can run barefoot. We were able to refresh ourselves in mind and body by doing gymnastics and sumo wrestling on the beautiful beach. Once again, it was a day to reaffirm that our lives are supported by the blessings of nature.
In the future, we plan to encourage more employees and their families able to participate.
Group photo of beach cleaning participants

Group photo of Dosukoi Beach Clean participants

Posing for pictures with sumo wrestlers
Third participation in Kato citizens' gatherings to think about the environment
Ricoh Electronic Devices Co., Ltd.'s Yashiro Plant has an environmental partnership agreement with the City of Kato in Hyogo Prefecture. The Company also participates in the Kato Citizens' Meetings hosted by the city and presents an experiential learning booth.
Participants have fun at these meetings using an app developed to teach about global warming. Participants draw pictures, which are scanned in by the app. The characters in the drawing live on an island, and the app automatically determines their environmental impact based on the drawing. The living environment on the island (waste and carbon dioxide emissions) gradually changes. Both children and their parents swing from joy to sorrow, knowing that the environment on the island can be improved, and felt that the app taught valuable lessons about the importance of environmental issues and biodiversity.
We will continue to value these points of contact and help raise the environmental awareness of citizens, while broadening understanding of Yashiro Plant, with its deep roots in Kato, and the environmental measures to which it is committed.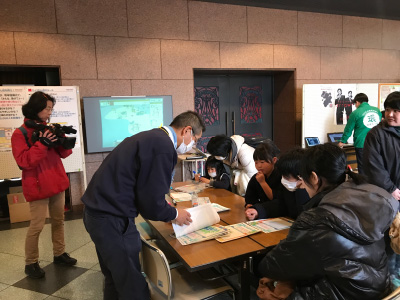 Receipt of the Tatebayashi City Environmental Award
Nisshinbo Brake Inc.'s Tatebayashi Plant is a member of the Kurakake Industrial Club, a group of companies that neighbor each other. The group conducts clean-up activities in the vicinity of their business sites in June of each year, Environment Month. This year, a total of 13 people participated in the "Kurakake Club Plant Vicinity Cleanup Activities 2019." A total of 804 people from 14 companies participated in these activities, collecting approximately 700 kg of waste.
The Kurakake Industrial Club was awarded the Environmental Award (Environmental Beautification Category) in recognition of its contribution to preserving the rich natural environment that the City of Tatebayashi City desires for its citizens and preserving an environment in which citizens can live with peace of mind in the future.
We will continue to participate enthusiastically in activities to contribute to local communities by protecting the natural environment.
River purification activities and environmental cleanup activities
Since 2008, Saeron Automotive Corporation (SAC) in South Korean has been conducting monthly clean-up activities around rivers, as well as environmental purification activities in the vicinity of its Byeongcheon-myeon business site.
The nearby Sunban River flows through a wide swath of Byeongcheon-myeon. Most of the river basin consists of fields and residential areas, hosting a variety of ecosystems. The river basin harbors plants such as Brassica rapa and Persicaria perfoliata, and freshwater fish such as Oryzias and Carassius live in the rivers. Unfortunately, during the rainy season or when heavy rains occur, wind and rain cause large volumes of garbage collected in the levees from fields and residential areas to flow into this precious river, damaging the natural environment.
To protect the natural environment and prevent water pollution, SAC employees conduct intensive clean-up activities on the bank before the rainy season begins. In 2019, a total of 122 people participated.
By continuing these clean-up activities, we aim to contribute to the enhancement of the morale of local residents and the conservation of the region's natural environment.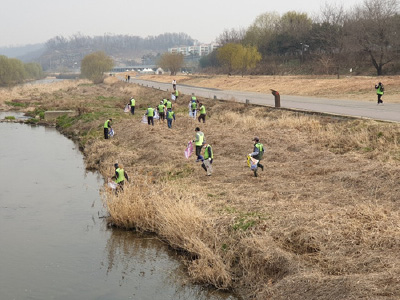 Cleanup of the Marimango River
Nanbu Philippines Incorporated (NPI) participates in a cleanup of the Marimango River that is conducted four times a year by the Philippine Economic Zone Authority. The Company also supports the River/Waterfront Program of the Environmental Management Bureau of the Department of Environment and Natural Resources.
In 2019 a total of 21 employees participated in two volunteer activities in March and December. A total of 800 employees from about 60 companies participate in large-scale programs each year.
These activities are intended primarily for flood control, but they also serve to improve the environment and ecosystems of rivers and surrounding waters.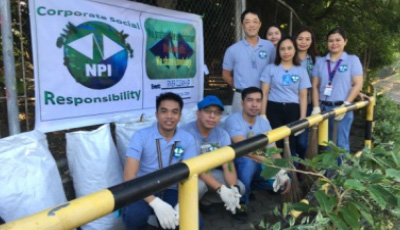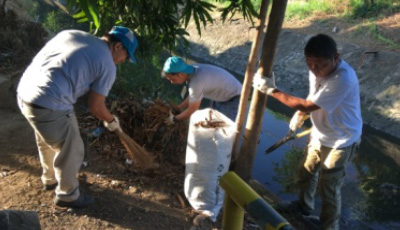 Participated in GO GREEN GO LIFE tree-planting events
In August 2019 PT. Standard Indonesia Industry (SII), a subsidiary of Nanbu Plastics Co., Ltd., participated in GO GREEN GO LIFE, an environmental event to plant trees on Mt. Sanga Buana (1,291m). Sponsored by the Karawang Industrial Estate (KIE) in the Sangga Buana area, this event has been held once a year since its inception three years ago. In addition to KIE, it is sponsored by local communities, businesses, relevant government agencies and NGOs.
This year about 300 participants from 18 companies planted 10,000 saplings. Nine people joined in the Company's participation for the first time, donating 1,000 pine saplings. The main purpose of these activities is to manage the floods that occur frequently in the rainy season. We hope that this afforestation effort will improve the ecosystem while contributing to the local community.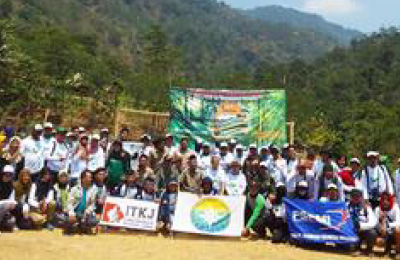 Participation in Adopt Program Yoshinogawa and the "530 Days of Zero Garbage" campaign
Nisshinbo Textile Inc.'s Tokushima Plant, together with Nisshinbo Holdings Inc., Nisshinbo Chemical Inc., and Daio Paper Products Corporation, which are located within the plant, participates in Adopt Program Yoshinogawa and the 530 Days of Zero Garbage campaign. For 10 years, these Companies have been conducting cleanup activities on roads around the plant and on the river dikes of the Imagiregawa River.
Adopt Program Yoshinogawa was held three times in 2019, in March, June, and October. A total of 63 people from the Companies' business sites participated in the program over the three days of the program.
In March 2020, in the first activity in the year of Adopt Program Yoshinogawa, 21 workers cleaned the seawalls and weeded around the site. The event is held every year with more than 80 participants, contributing greatly to improving the appearance of the community.
The 530 Days of Zero Garbage campaign was held in May 2019. On that occasion, 21 people participated in clean-up activities on the western and northern walkways of Tokushima Plant.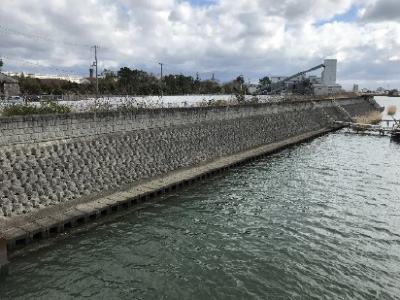 Cleanup and Weeding Activities in Areas Surrounding Business Sites
As part of continuous efforts to contribute to local communities, Nisshinbo Textile Inc.'s Yoshinogawa Plant continued its cleanup and weeding activities in the vicinity of its business sites for one year. In fiscal 2019, 10 activities were held, with a total of 53 people participating.
In these activities, which began in fiscal 2019, Nisshinbo Textile employees contributed to the beautification of the community by picking up waste paper, empty cans, PET bottles and other waste in the vicinity of the company's business site; weeding walkways; and picking up fallen leaves in the wake of a typhoon. Nisshinbo Textile is committed to continuing these activities, to do its part to raise environmental awareness among employees and local residents.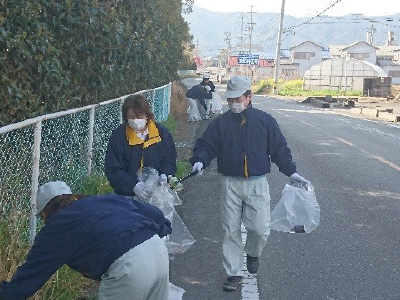 Certification under GOTS*, the world standard for organic textiles
In December 2019, PT. Nisshinbo Indonesia (NID) acquired certification under the Global Organic Textile Standard (GOTS), a global standard for organic textiles. This certification imposes strict standards regarding issues such as certified raw materials and their traceability, prohibition and restriction of the use of chemicals, separation and identification, environmental management, residue limits and social criteria.
NID acquired certification at the request of its European customers, who are keenly aware of sustainability issues. Our customers in the United States also give the Company high marks for obtaining certification in a field where Japanese companies are expected to have the greatest strengths. The requirements are rigorous, including purchasing raw materials only from GOTS-certified suppliers and considering multiple factors such as restrictions on the use of chemicals in manufacturing. Nonetheless, s an Environment and Energy Company group, the Nisshinbo Group is committed to contributing to the communities in which it does business, in all of these ways and more.
* GOTS: A global standard for manufacturing and processing textiles from organic cotton, wool, hemp, silk, and other raw materials in an environmentally and socially friendly manner.