Community Involvement and Development
Basic Stance
The Nisshinbo Group values its relationships with communities. As an Environment and Energy Company, we will participate enthusiastically in the communities in which we do business and contribute to their development in order to contribute to them and their development.
The Nisshinbo Group's Efforts on the SDGs
The objectives of the Nisshinbo Group overlap with SDGs, and we will contribute to the achievement of SDGs through our business activities.
We are aware of all our SDGs and are considering specific goals to contribute. We believe that SDG Goal 17 is at the heart of community involvement and development.
17. Partnerships for the goals

Strengthen the means of implementation and revitalize the global partnership for sustainable development.
The Nisshinbo Group's Contributions to the SDGs
The Nisshinbo Group contributes to the achievement of the Sustainable Development Goals (SDGs) through social contribution activities. We will actively engage in activities to achieve our Group's Mid-Term CSR Target related to participation in activities that contribute to local communities.
Core SDGs Goals and Targets and the activities of the Nisshinbo Group
The Nisshinbo Group considers SDG 17.17 as a core target, and is carrying out social contribution activities on that basis. As a member of its local community, each Group company participates in a variety of activities.
17. Partnerships for the goals

Strengthen the means of implementation and revitalize the global partnership for sustainable development.

Targets: 17.17

Encourage and promote effective public, public-private and civil society partnerships, building on the experience and resourcing strategies of partnerships.
Local Community Interaction and Contribution Activities
Participated in the Inasato Friendship Festival
We participated in the Inasato Friendship Festival, the seventh of which was held on September 1, 2019. Japan Radio Co., Ltd.'s Nagano Plant has participated in this festival from the fourth year, making this year its fourth appearance at the event.
Planned and operated jointly by local residents, local governments, schools and companies, the festival aims to revitalize the Inasato area in Nagano City and bolster its regional strength. We participated in the Inasato Friendship Festival from the planning stage as an executive member. On the day of the holiday, approximately 16 people from our Company and three people from our subsidiary, Nagano Japan Radio Co., Ltd., took part in the event, which helped us to forge strong bonds of interaction with local communities.
Examples of activities:
Handicraft class: About 100 children experienced the joy of manufacturing through handicrafts.
Experiment in receiving satellite broadcasts using a Chinese pot
With the cooperation of our cafeteria, we presented the Japan Radio Cafeteria, an exciting event for selling corn docks and fried bread.
Out of a crowd of approximately 3,000 people, approximately 300 people attended the JRC booth.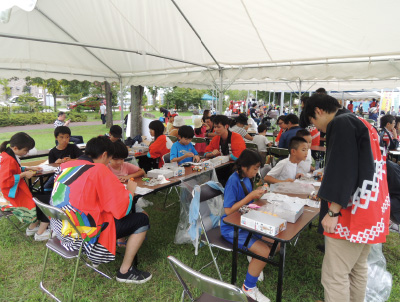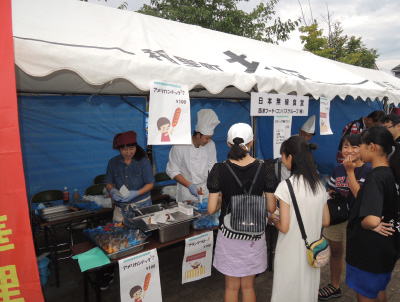 Briquettes-of-love delivery
Every November, Saeron Automotive Corporation in South Korea volunteers for "briquettes-of-love delivery." Among the residents in the Byeongcheon-myeon area where we are located, there are people who do not have boilers or other heating systems, so they heat their homes in the winter using briquettes. We deliver briquettes to heat the homes of people with difficult living conditions, such as households receiving the basic living allowance and elderly living alone.
We started this activity started in 2008 and have been taking part every year since 2015. Employees and their families participate to deliver more than 2000 charcoal briquettes to those who need them. Saeron Automotive Corporation is pleased to contribute to the development of local communities and the support of its neighbors.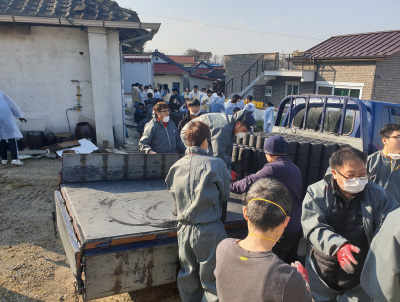 Family Day
On May 11, 2019, Nisshinbo-Continental Precision Machining (Yangzhou) Co., Ltd. held a "Family Day" to thank employees and their families. On this day, which corresponds to the anniversary of the Company's establishment, it is customary to give thanks to employees and their families for their daily efforts. This year's event marked the Company's third Family Day, and 260 people participated.
We kicked off the festivities by presenting quality awards to five employees who had contributed to the Company in terms of quality. By honoring employees who have contributed to the Company, we show appreciation for their daily efforts, increase their motivation to improve quality and the Company's business, and encourage them to make continuous efforts as a Company.
After that, we divided into teams and played games such as tug-of-war. Employees and their families pulled together in the effort to defeat the opposing team, and the competition was enthusiastic. After exercising hard, everyone ate BBQ and we had a good time together.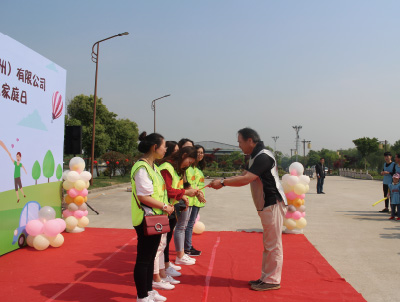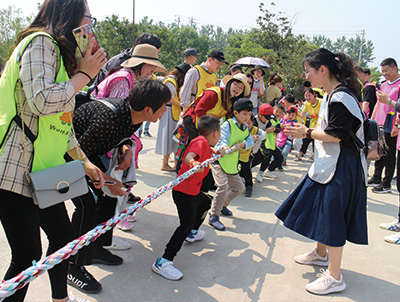 Participation in the Green Fund
The Asahi Plant of Nisshinbo Chemical Inc. has participated in the Green Fund since 2012 as part of its environmental protection activities.
We donate 1% of the sales of two vending machines installed at our business sites to the Chiba Greenery Promotion Committee through our contract partner, DyDo DRINCO, Inc. Donations are used to fund greenery promotion activities throughout Japan and contribute to the conservation of forests, which conserve rainwater and absorb carbon dioxide. The average monthly donation is modest at about 1,000 yen, but it's a program that's easy to continue over the long term.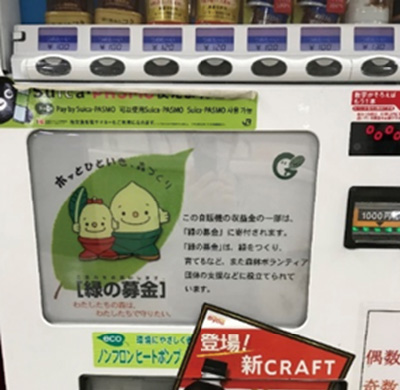 Support for victims of heavy rain
Tokyo Shirts Co., Ltd. offered support to the communities of Chiba, Kimitsu, and Mobara by delivering clothing to their municipal offices, after these three cities in Chiba Prefecture were severely damaged by the torrential rain that struck on October 25, 2019. Chiba and Kimitsu declined the donations, but Mobara responded positively, accepting them. Knowing that colder weather was on the way, we donated a total of 104 ladies' cardigans, jersey shirts (cutsews) and jackets to people living in evacuation centers.
We received a letter of thanks from the mayor of Mobara at a later date.
Participation in volunteer activities for the Forget-me-not Project
The Food Products Division of NISSHINTOA IWAO INC. has a business relationship with JC Comsa Corporation, which is an important customer for NISSHINTOA IWAO's flour. As part of its CSR activities, the Company operates the "Heartwarming Appeal Council", through which it engages in a variety of social contribution activities.
Every year we participate in the "Forget-me-not Project," one of our social contribution activities. This is an activity to collect support for recovery from the Great East Japan Earthquake by distributing forget-me-nots, which are grown by students of agricultural high schools in Fukushima Prefecture. The flowers are distributed in return for donations in Tokyo, solicited in Yoyogi Park and on the shopping streets in front of Sugamo Station. This initiative has been underway since 2014.
The campaign is held every March, with two sales representatives from the Food Products Division participating. Many companies other than ours are also participating in this program, which returns significant value to society while forging bonds of friendship with students from agricultural high schools.
Unfortunately, the event had to be canceled this year as a result of the COVID-19 pandemic. Nonetheless we will continue to participate in this campaign as an important activity for recovery from the devastation of the Great East Japan Earthquake.
Donation to UN World Food Programme
NISSHINTOA IWAO INC. has continued to make donations to the United Nations World Food Programme (WFP) since 2006.
The WFP provides food support during emergencies such as conflicts and natural disasters, and cooperates with the regional societies of developing nations to improve their nutritional conditions and build a stronger society, in an aim to realize a world without hunger.
As an operator of a general food wholesale business handling a wide variety of products—ranging from ingredients used to make confectionery and bread to processed food products (marine, meat, vegetables)—NISSHINTOA IWAO supports WFP's activities and serves as one of its corporate council members. In addition to making donations to the WFP from the company, it also collects donations from employees.
Engagement with Singapore's Japanese Community
Nisshinbo Singapore Pte. Ltd. places importance on its relationship with the Japanese community in Singapore.
For example, this year we participated in the Charity Draw, which is held annually by the Women's Section of the Japanese Association, Singapore. Since 1958, the Women's Section has contributed a portion of its profits to special support facilities and charitable organizations in Singapore.
We also donated funds to a fund managed by the Singapore Chamber of Commerce and Industry, which makes annual donations. A part of the donations collected from the institute funds scholarships for young Singaporean students studying in Japan, who play an active role as a bridge of exchange between Japan and Singapore. In 2020, it was decided that two people would be dispatched to Waseda University's Faculty of International Education and one to the Faculty of Education of International Christmas. Nisshinbo Singapore is pleased to cooperate in nurturing the next generation of human resources through this fund.
The three Nisshinbo Group companies in Singapore (NJR (Singapore) Pte. Ltd., Alphatron Marine Systems Pte. Ltd. and Nisshinbo Singapore Pte. Ltd.) endorse the fund's objectives and donate the funds.