Community Involvement and Development
Basic Stance
The Nisshinbo Group values its relationships with communities. As an Environment and Energy Company, we will participate enthusiastically in the communities in which we do business and contribute to their development in order to contribute to them and their development.
The Nisshinbo Group's Efforts on the SDGs
The objectives of the Nisshinbo Group overlap with SDGs, and we will contribute to the achievement of SDGs through our business activities.
We are aware of all our SDGs and are considering specific goals to contribute. We believe that SDG Goal 17 is at the heart of community involvement and development.

17. Partnerships for the goals

Strengthen the means of implementation and revitalize the global partnership for sustainable development.
The Nisshinbo Group's Contributions to the SDGs
The Nisshinbo Group contributes to the achievement of the Sustainable Development Goals (SDGs) through social contribution activities. We will actively engage in activities to achieve our Group's Mid-Term CSR Target related to participation in activities that contribute to local communities.
Core SDGs Goals and Targets and the activities of the Nisshinbo Group
The Nisshinbo Group considers SDG 17.17 as a core target, and is carrying out social contribution activities on that basis. As a member of its local community, each Group company participates in a variety of activities.
17. Partnerships for the goals

Strengthen the means of implementation and revitalize the global partnership for sustainable development.

Targets: 17.17

Encourage and promote effective public, public-private and civil society partnerships, building on the experience and resourcing stategies of partnerships.
Local Community Interaction and Contribution Activities
Donation to the United Nations World Food Programme (WFP)
Since 2006, NISSHINTOA IWAO INC. has been a regular donor to the United Nations World Food Programme (WFP), a humanitarian aid agency that won the Nobel Peace Prize in 2020.
The company endorses WFP's mission to "combat global hunger." As a trustee of WFP, in addition to donating as a company, NISSHINTOA IWAO collects donations from employees and passes them on to WFP.
The company also supports WFP's activities by participating in WFP Walk the World (Charity Walk for Children in Developing Countries, postponed in 2020).
Support for the International Development Relief Foundation
NISSHINTOA IWAO INC. supports the activities of the Foundation for International Development/Relief (FIDR).
Established in 1990, FIDR is an international cooperative NGO. Under its twin missions of "child care" and "promotion of international cooperation by Japanese companies and Japanese people" to nurture the future of children, FIDR implements international cooperation projects and domestic and overseas emergency assistance projects aimed at the self-reliance development of developing countries. Currently FIDR is implementing projects for medical care, health, education, agriculture, and income improvement in Cambodia, Vietnam, Nepal, and other Asian countries. The organization also provides emergency assistance and reconstruction assistance to victims of natural disasters, such as the Great East Japan Earthquake.
The company endorses FIDR's activities and has done so since its inception.
Supporting Kodomo Shokudo
As a division of a general food wholesaler, NISSHINTOA IWAO INC.'s Food Business Division handles food products in a wide range of fields, including flour, oils and fats, processed marine products, fresh meats, imported foodstuffs and processed foods.
In recent years, Kodomo Shokudo, a children's charity, has been expandng throughout Japan as various problems that hinder children's healthy growth have become more serious. These include the deterioration of nutritional balance due to poverty and the weakening of family and community ties due to food isolation.
The company endorses the Activities of the children's restaurant Calorie & Oily (within Saitamaken Uoichiba, a fish market) operated by Yamashou Foods Co., Ltd., which offers meals free of charge to children below elementary-school age. Since 2019, the company has continued its activities to provide foodstuffs free of charge.
NISSHINTOA IWAO was presented with a certificate of appreciation from the children's restaurant Calorie & Oily. The company will continue to pursue activities that contributes to society through food.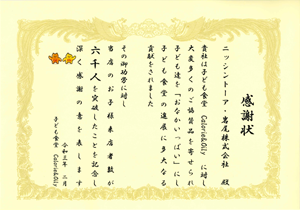 Contributing to Society
JRC Tokki Co., Ltd. conducts clean-up activities on three routes around Head Office as an initiative to contribute to local communities. In fiscal 2020, due to the COVID-19 pandemic, activities lasted only four months from January to April. Nonetheless, a total of 78 people participated in picking up trash on the sidewalk.
Since 2005, the company has been setting up vending machines to promote eco-friendly choices in-house, and is making efforts to donate 1% of its sales to the Green Fund campaign. Through DyDo Drinco, Inc., a vending machine contractor, the Green Fund is widely used to protect and nurture the prefecture's environment and to improve the environmental performance of schools and communities. Notably, the Green Fund is also used for the restoration of forests in Tanzawa, which is a source of major rivers such as the Sagami and Sakao Rivers. These rivers support as many as 9 million people in Kanagawa Prefecture.
The cumulative amount of donations collected to date (from August 2005 to March 2021) is 514,869 yen.
Donations to Local Governments
In May, Indonesian PT. Standard Indonesia Industry (SII) participated in food-package donations to the Sukaresmi Sub-district in West Java.
PT. East Jakarta Industrial Park, the industrial park where SII is located, solicited donations within the industrial park and prepared about 700 food packages. The total volume of the package reached approximately 3.5 tons and included 292 instant meal boxes, 651 edible oils, 414kg of granular sugar and 100kg of wheat flour. The donations were delivered to the Sukaresmi Sub-district office, attended by local officers and leaders as well as representatives of companies in the industrial park.
SII continues to donate to Japanese schools, local organizations and other organizations, as well as to efforts against the COVID-19 pandemic.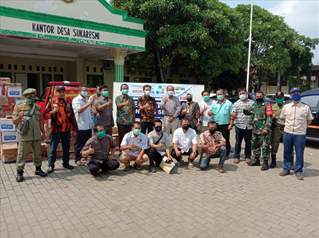 Vocational lectures at nearby elementary schools
Nisshinbo Chemical Inc.'s Asahi Plant received a request from a neighboring elementary school for a vocational lecture, as a career training program for sixth-grade students.
Six lecturers representing different workplaces were dispatched to provide an overview of the Nisshinbo Group, Asahi Plant and their operations. After these lectures, the speakers shared the feelings of joy and achievement that they derived from their work, as well as stories of difficulties and the reasons for their choice of work. After listening intently, the students asked a wide range of questions, such as, "What were your dreams for the future when you were students?" and "What do you have in mind when you work?" The lectures were a refreshing change from usual classes that presented a good opportunity for students to think about their future careers.
Later, Asahi Plant received many comments from participating students, including, "I learned the importance of having goals and taking an active interest in things" and "I was able to realize the importance of proper greetings."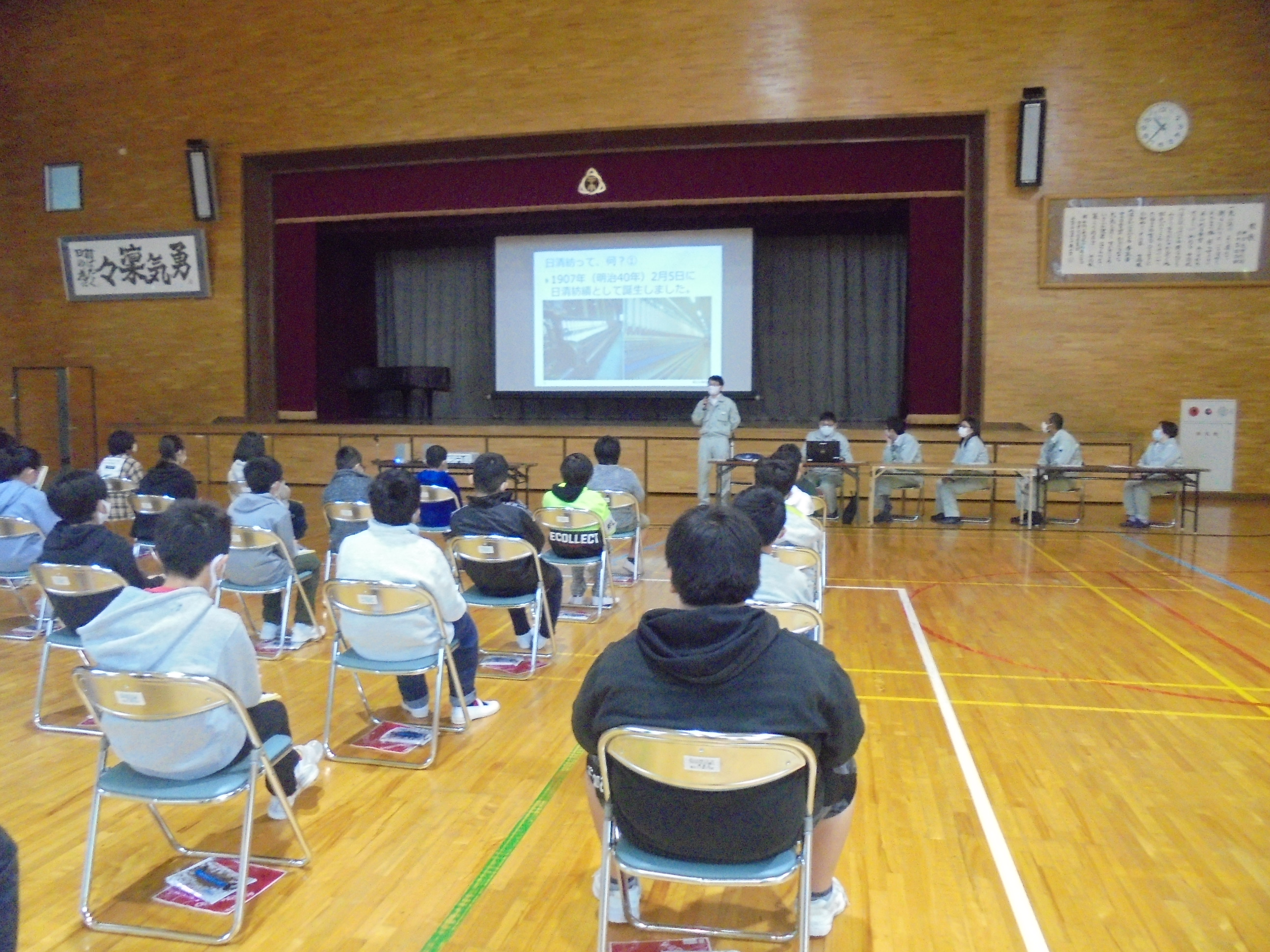 Contributing to Local Communities
In Indonesia, the development of water supply and sewerage systems is still lagging behind that of Japan. PT. Nisshinbo Indonesia has long been supplying local residents with the water they need to live. The company supplies approximately 10,800 m3 per month, equivalent to 200 25-meter swimming pools per year, free of charge for daily use.
In Indonesia, where ninety percent of the population is Muslim, Islamic religious events re held every year. In 2020, despite concerns about the COVID-19 pandemic, the "festival of 'Id al-Adha was held, in which goats are sacrificed. The company donated 17 goats for dedication to God. Through activities such as these, the company is building good relationships with local residents and contributing to the community.