Community Involvement and Development
Local Community Interaction and Contribution Activities
New Japan Radio: Receiving Students from Middle Schools in the Neighborhood to Provide Social Learning Experience
New Japan Radio Co., Ltd.'s (NJR) Kawagoe Works supports the Middle School Student Social Learning Experience Challenge Project hosted by Fujimino City, Saitama Prefecture, and it has been receiving two to three students from several schools in Fujimino City since around 20 years ago to provide work experience.
Participating students have expressed how they were able to learn both the difficulty and joy of working through their interactions with employees.
In fiscal 2018, the factory visit consisted of an explanation of manufacturing, which students listened to intently, a hands-on experience of parts assembly and product inspection, and a trial listening of music played on an audio device that uses NJR's completed parts. The students seemed to have enjoyed the workplace experiences, including lunch at the cafeteria.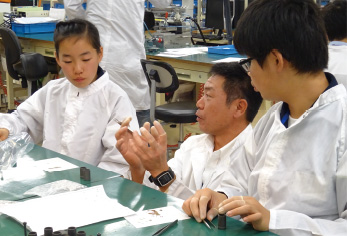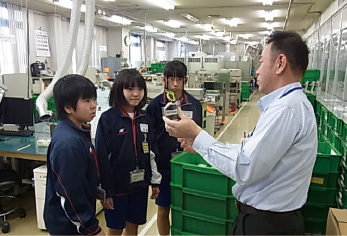 NJR Fukuoka: Factory Visits for Local Elementary School Students
NJR Fukuoka Co., Ltd. has been receiving third grade students from the local Imajuku Elementary School every year since 2011 for a visit to its factory, as part of its efforts to build stronger ties with the local community. In fiscal 2018, it received a total of 188 third grade students (six classes) divided into two sessions on June 18 and 20.
The students experienced the same work that employees usually carry out, such as the handling of thin silicon wafers that serve as substrates for IC chips and pattern inspection using a microscope. The students got very excited when they discovered that there are "roads" (circuit patterns) on the small IC chips when looking at them through a microscope. At the end of the factory tour, the company gave the students a notebook with group photos of each class on the front page as a souvenir.
NJR Fukuoka aims to continue to build a strong relationship with the local community through initiatives to teach children the importance and fun of manufacturing.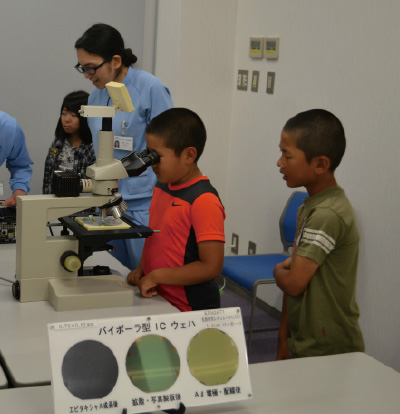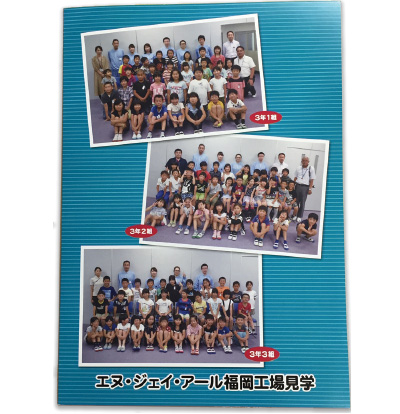 New Japan Radio: Local Cleaning Activities
New Japan Radio Co., Ltd. (NJR) holds a biannual cleaning activity in the area around Kawagoe Works in the spring and the autumn.
These activities are held in the morning on holidays. In fiscal 2018, 62 employees and their families participated in the spring and 46 participated in the autumn.
Each time, these activities received appreciation from local residents and they have been a direct way for employees to feel their contribution to the community. NJR aims to continue to hold these activities as a member of the local community.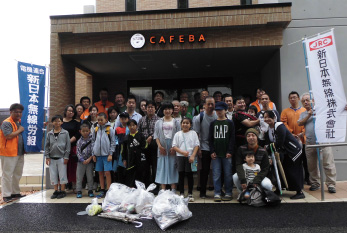 Naigai Shirts Indonesia: Communication with Local Technical High Schools
PT Naigai Shirts Indonesia (NSI) receives trainees from the sewing classes of local technical high schools. The program is offered as an internship for high school students and lasts around three months, providing practical training within the company (including classroom learning), and counts as high school credits. As most of NSI's employees are local hires, it considers the program a good opportunity for local students to learn about the company. In fiscal 2018, roughly 100 trainees participated in the program and experienced production activities together with employees.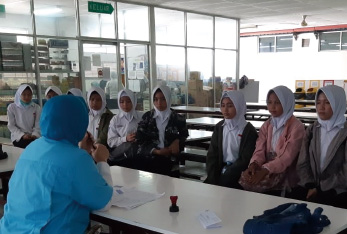 NSI aims to gain understanding of its activities from the local community and help high school students transition smoothly into the workforce.
Nisshinbo Textile: Fabric Donations to Dressmaking Schools
Nisshinbo Textile Inc. has been donating its fabric scraps to Hoshigaoka Sewing School in Hirakata City, Osaka since fiscal 2018 to promote recycling. The donated fabric is used in classrooms to sew various creative garments on the school campus filled with greenery.
Some employees visited the school on September 18, 2018 and viewed the garments sewed from the donated fabric. The students had turned the fabric scraps into beautiful garments, ranging from blouses, dresses, and wide pants to baby diaper covers, making great use of the fabric's fine texture.
Nisshinbo Textile aims to continue this activity.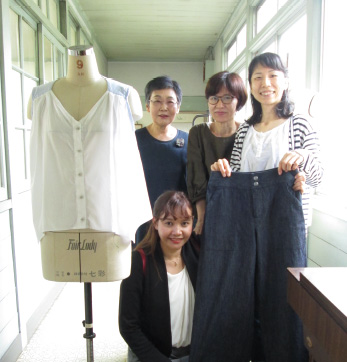 NISSHINTOA IWAO: Donation to UN World Food Programme
NISSHINTOA IWAO INC. has continued to make donations to the United Nations World Food Programme (WFP) since 2006.
The WFP provides food support during emergencies such as conflicts and natural disasters, and cooperates with the regional societies of developing nations to improve their nutritional conditions and build a stronger society, in an aim to realize a world without hunger.
As an operator of a general food wholesale business handling a wide variety of products—ranging from ingredients used to make confectionery and bread to processed food products (marine, meat, vegetables)—Nisshintoa Iwao supports WFP's activities and serves as one of its corporate council members. In addition to making donations to the WFP from the company, it also collects donations from employees.