The Nisshinbo Group's Promotion of Environmental Management
The Nisshinbo Group is aiming to increase corporate value as a more united corporate group by realizing its Corporate Philosophy, "Change and Challenge! For the creation of the future of Earth and People." As an Environment and Energy Company group, we will continue to offer new products and systems that help protect the environment, save energy and create alternative sources of energy, while also providing solutions that address some of the greatest issues faced by humanity today, such as environmental destruction and natural disasters caused by climate change, to make life safer and more secure for people everywhere.
Long-term Environmental Target
(to fiscal 2050)
Targeting carbon neutrality
Medium-term Environmental Target (to fiscal 2030)

Previous Three-year Environmental Targets and Results (2019–2021),
New Three-year Environmental Targets (2022–2024)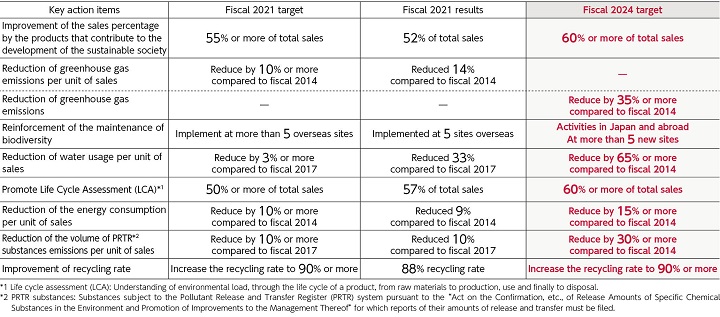 Nisshinbo Group SDG Initiatives

The direction targeted by the Nisshinbo Group overlaps with the Sustainable Development Goals (SDGs), hence we will contribute to the achievement of the SDGs through our business. The Group considers goals to which it will specifically contribute while maintaining an awareness of all the SDGs. With the manufacturing industry constituting the focal point of Group business activities, these four goals (right) are core.
For more detailed information, please visit the Sustainability section of the Nisshinbo Group website.