Message from the Chairman of New Japan Radio
We face a tough operating environment due to China's economic slowdown and the COVID-19 outbreak, but we continue to develop new products and invest in our business in preparation for the rebound in the economy.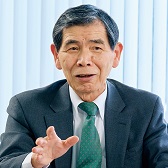 Our Operating Environment
The Nisshinbo Group's micro devices are used in automotive and industrial equipment and communication products such as smartphones. However, all of those fields were hit by the slowdown in China in 2019 that spread to other parts of the global economy.
We had expected our business to return to 2018 levels this year, but the COVID-19 outbreak means the tough business climate is set to continue. Despite that outlook, we are putting systems in place to prepare for a rapid rebound in orders once the economy recovers.
A key theme for the electronics components sector is the expected increase in demand related to 5G, CASE and IoT. We are preparing for the possibility of a steep rise in demand across the board if the various problems the world currently faces are resolved swiftly. Automotive devices in particular are likely to see sustained growth in shipments over the long term, so we are adjusting output and inventories while keeping a close eye on market conditions.
Stable Business Expansion
The micro devices segment is well-placed for growth in shipments over the medium and long term. In the automotive field, we anticipate new orders from Tier 1 auto components suppliers in Japan and Europe for ADAS devices and other parts related to the CASE trend. While EVs are becoming increasingly common, gasoline vehicles are likely to be around for some time yet, so we forecast continued demand for engine sensors, gas sensors and other ICE-related devices. We are preparing to launch a number of new automotive products from 2021, which should lead to greater earnings stability as the weighting of automotive sales rises. In the industrial equipment field, business enquiries are rising at a steady rate, with potential customers particularly interested in our ICs for optical rotary encoders. The ICs help to increase the speed and precision of robot arms, which are playing a key role in the shift to factory automation. In the ICT field, the global smartphone sector, which ships roughly 1.4 billion devices annually, is now transitioning to 5G smartphones. That trend is likely to support firm demand for semiconductors.
Our semiconductor technology is also vital to various joint projects with other businesses in the Nisshinbo Group. New Japan Radio is playing an increasingly important role in the Group by supporting the development of new medical equipment and other products. A leading example is the automotive ultrasound sensor we developed with JRC Mobility Inc.
Ongoing Capital Investment
Against that backdrop, we have continued to invest in design and development and manufacturing facilities in order to increase added value through device modularization and to respond to rising orders.
New Japan Radio's subsidiary Saga Electronics Co., Ltd. has completed the expansion of its automotive device assembly line, while Ricoh Electronic Devices, plans to increase 8-inch wafer output at its Yashiro plant from the current 6,500 wafers per month to 10,000 by 2025. The company is also rapidly introducing 0.18um process technology, which will further increase the competitiveness of the micro devices business. The new technology will shrink chip area by 40%, reducing costs by increasing the number of chips per wafer, while the more complex chip architecture will improve performance and a higher operating voltage will boost power output.