The properties of materials hold a major key to ensuring that the daily items adding sparkle to our lives contribute even more toward building a sustainable society.
Through our textile and chemical product businesses, the Nisshinbo Group endeavors to develop products that can both add color to our lives and contribute to environmental preservation.
Related Business
Textiles
Well known as a pioneer of wrinkle-resistant shirts, of which it has sold more than 100 million items so far, Nisshinbo Textile Inc. developed the amazing non-iron Apollocot shirt, which is made of 100% cotton. The Apollocot has been highly acclaimed as the ultimate eco-shirt. Even if it is worn all day long, the shirt does not become wrinkled, and after washing there is no need for ironing at all. This Apollocot technology, which completely overturns our image of wrinkle resistance, is also applied in such items as handkerchiefs, pants, and jackets.
Chemicals

Developed by Nisshinbo Chemical Inc., Carbodilite is a modifier for controlling the decomposition speed of biodegradable plastics and enhancing their strength and durability. In Europe, where environmental awareness is strong, plant-derived biodegradable plastics have already begun to be used in shopping bags and compost boxes, and applications are spreading to such items as food product trays, cosmetic containers, and computer cases. The key lies in developing a modifier with functions suited to the use. Thanks to its properties and characteristics, Carbodilite is becoming the de facto standard in this field.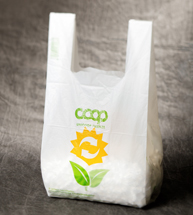 Non-fluorocarbon Airlite Foam, a rigid polyurethane resin developed by Nisshinbo Chemical Inc., is an excellent environment-friendly insulating material that does not use any chlorofluorocarbon gas, which is thought to be a cause of global warming, instead utilizing carbon dioxide gas in the foaming agent. Thanks to its outstanding environmental and insulating properties, Airlite Foam is used in a wide range of fields, from construction to automobiles.