November 7, 2017
Notice regarding Ultrasonic Hydrogen Gas Sensor
Nisshinbo Holdings Co., Ltd. has developed Ultrasonic Hydrogen Gas Sensor that detects hydrogen gas at high speed.
Installation of a gas sensor is essential for hydrogen infrastructure and fuel cell that support hydrogen society. The gas sensor developed by Nissihinbo is not based on the conventional chemical reaction method, but it is based on the method of calculating the gas concentration from the change of the speed (sound speed) through which the ultrasonic wave is transmitted.
 
1. Overview
To support the safety and security of the hydrogen society, a hydrogen gas sensor is indispensable. The current sensor is mainly a method of detecting hydrogen by chemical reaction. Therefore, deterioration of the catalyst etc. has been regarded as a problem.
This time, Ultrasonic Hydrogen Gas Sensor developed by our company utilizes phenomena in which the speed of sound waves traveling through the gas varies depending on the gas concentration. Ueda Japan Radio Co., Ltd. developed a sensor using ultrasonic technology cultivated in the medical field and the signal processing technology Japan Radio Co., Ltd. developed through radar and wireless communication. Because it does not use catalyst, it is not affected by catalyst poison *1 such as NOx and SOx. It has features such as faster detection speed, wide range of density measurement (0 to 100%), fast start-up and so on.
Also, it is possible to detect not only hydrogen gas, but also gas having a specific gravity difference from atmospheric gas such as helium gas, vaporized gasoline, sulfur hexafluoride (SF 6) gas or the like. For example, it can be expected to apply to leak test (confirmation of airtightness) of automobile parts and machine parts using helium gas. We will also develop applications for a wide range of markets from leakage detection to concentration measurement.
This sensor will start test sale sequentially from fiscal 2018 depending on the application and specifications.
*1 Substances that cause a significant reduction or complete disappearance of the action of the catalyst in the presence of trace amounts
 
2. Features
(1) No catalyst used : The durability of the detection part is high (consideration to the catalyst poison is unnecessary)
(2) Fast detection speed : 0.5 seconds or less
(3) Wide detection range : 0 to 100%
(4) Heating heater not used : High speed start possible
3. Principle of detection
Measure the speed (sound speed) of the ultrasonic wave transmitted between the transducers (transmission and reception) and calculate the gas concentration from the change in the sound speed.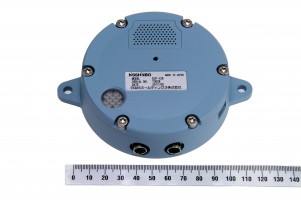 Ultrasonic Hydrogen Gas Sensor (prototype)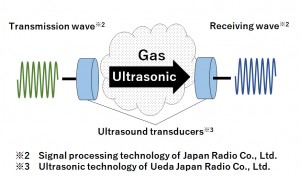 1: Principle of detection
If you ask about this news, please contact us at following page:
Contact Us