June 9, 2008
Nisshinbo Continuously Accepted by the Worldwide Influential SRI"FTSE4Good Index Series"
With the revision of "FTSE4Good Index Series" in June 2008, Nisshinbo has been continuously accepted.
The FTSE4Good Index Series has been designed to measure the performance of companies that meet globally recognized corporate responsibility standards, and to facilitate investment in those companies by FTSE Group (FTSE)*. Transparent management and criteria alongside the FTSE brand make FTSE4Good the index of choice for the creation of Socially Responsible Investment products. Nisshinbo has being continuously accepted by this index since 2004.
*FTSE Group (FTSE) is a world-leader in the creation and management of over 100,000 equity, bond and alternative asset class indices.
FTSE is an independent company jointly owned by The Financial Times and the London Stock Exchange. FTSE does not give financial advice to clients, which allows for the provision of truly objective market information.
FTSE indices are used extensively by a range of investors such as consultants, asset owners, fund managers, investment banks, stock exchanges and brokers.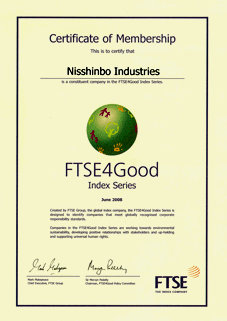 If you ask about this news, please contact us at following page:
Contact Us