May 23, 2006
Nisshinbo Continuously Accepted by the Worldwide Influential SRI "FTSE4Good Index Series"
With the revision of the "FTSE4Good Japan Index" and the "FTSE4Good Global Index" in March 2006, Nisshinbo has been continuously accepted by both indices.
As of March 2006, 733 leading companies throughout the world have been accepted by the "FTSE4Good Global Index," of which 190 are Japanese companies.
The "FTSE4Good Index" is a Social Responsibility Investment (SRI) index, which was established in July 2001 by the UK FTSE Group, and has since received high acclaim worldwide.
Companies are screened from three angles, environmental, social and human rights, the judging standards are revised as needed, and investment support is given to companies with excellent performance.
To ensure subjectivity without bias, the various indices produced by FTSE are judged by independent committees made up of senior fund managers. These indices are used for various purposes, such as investment analysis and business evaluation by investors worldwide.
May 23,2006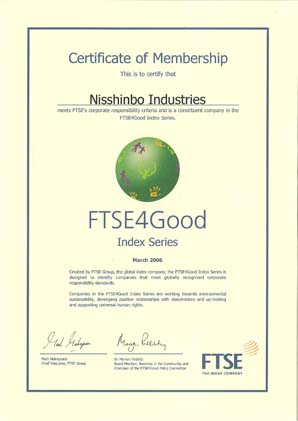 If you ask about this news, please contact us at following page:
Contact Us