Message from the President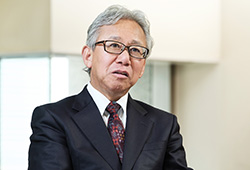 Financial results for the fiscal year ended March 2017
In the fiscal year ended March 31, 2017, net sales declined 1.3% year on year to ¥527,274 million, operating income fell 61.2% to ¥4,890 million and net income attributable to Nisshinbo Holdings Inc. declined 66.8% to ¥3,575 million. There were two main reasons for the lower sales and profits.
The first reason was a weak performance by our electronics business. Segment profit in electronics declined ¥11,558 million, resulting in a segment loss of ¥3,240 million. Earnings deteriorated sharply at Japan Radio Co., Ltd., the segment's core company, due to a poor performance in the marine equipment business* amid a weak shipbuilding market and a slump in the marine transportation market. Japan Radio's solutions and specialized equipment business was also affected by a cyclical decline in large disaster prevention system projects.
The second reason was the strong yen. Shipments at New Japan Radio Co., Ltd. increased year on year, but profits declined, mainly due to forex factors, which had a large impact on earnings in our electronics business. Similarly, forex factors led to lower sales in the automobile brakes business. Excluding the impact of the strong yen, there was a steady recovery in profitability in the automobile brakes business, which reported operating income before goodwill amortization related to TMD Friction Group of ¥5,914 million, up ¥224 million year on year.
Performance in other business segments was largely firm.
* Effective from the fiscal year ending March 2018, the marine equipment business was renamed the marine systems business.
Japan Radio's restructuring program
Over the last few years, Japan Radio has been implementing a major restructuring program that included some radical reforms, such as the relocation of operations from Mitaka in Tokyo to Nagano and the conversion of Nagano Japan Radio Co., Ltd. and Ueda Japan Radio Co., Ltd. to wholly owned subsidiaries. However, one reason for the deterioration in earnings this fiscal year was the company's continued high exposure to domestic public-sector demand and to the market for large merchant vessels, reflecting a lack of speed in executing its business strategy.
Japan Radio is now working to end its dependence on domestic public-sector projects in the solutions business by actively reinforcing its sales network overseas. Aiming to grow sales of disaster prevention systems and other products, Japan Radio established a new joint-venture company in Indonesia in January 2017 with local partner the Warga Djaja Group, a major business conglomerate and a long-term business partner in our textiles business. The joint venture has already started sales and aftermarket service operations. We also plan to set up local subsidiaries in the Philippines and Vietnam.
Amid continued economic growth, we forecast rising demand in various countries across Asia as they improve port infrastructure and upgrade weather radar and disaster prevention systems. The Japanese government is also stepping up its support in this area, including the creation of a new project team by the Ministry of Internal Affairs and Communications to promote public-private sector partnerships. Our disaster prevention systems, which have captured a large share of the domestic market, are already widely used in Asia, where they have won strong support from users. Going forward, we plan to accelerate growth in this field by focusing on direct sales and the provision of maintenance services.
In the marine systems business, Japan Radio, led by subsidiary Alphatron Marine Beheer B.V., plans to actively convert global representative offices to full local subsidiaries and boost sales by expanding its lineup of products for small and mid-size vessels such as fishing boats and pleasure craft. Capturing overseas demand, particularly in Asia, also holds the key to growth in the marine systems business. We aim to become the world's leading integrated supplier of marine systems by providing data and service solutions to complement our existing operations developing and selling marine equipment. Our services will give users the ability to centrally control all types of shipping data, enabling the rapid gathering and sharing of information on ship-to-ship and ship-to-shore positions, leading to safer and more efficient shipping movements.

Harnessing the Group's strengths to develop ADAS
For the medium and long term, our main focus is on advanced driving assistance systems (ADAS) and other areas related to autonomous driving. Autonomous driving comprises three key areas of functionality ― recognition, decision-making and control. At Nisshinbo, we are focusing on devices and systems related to recognition. Our goal is to develop and expand our ADAS business by drawing on the strengths of Japan Radio and New Japan Radio in radar, laser, sensor and semiconductor technologies. As part of that approach, we will convert Japan Radio into a wholly owned consolidated subsidiary of Nisshinbo Holdings Inc. in October, leading to faster and more effective decision-making and helping to accelerate growth in ADAS-related operations.
The Nisshinbo Group has supplied high-quality parts to automakers and Tier 1 parts suppliers in Japan and overseas for many years through its automobile brakes and precision instruments businesses. We aim to create a new growth business by combining the trust we have built up through those business relationships with the technological expertise in our electronics business.
It may take several years before we can launch products that contribute to earnings, but we are confident our ADAS and autonomous driving-related business can become a key part of the Group in the future.
Challenging towards a new era of technological innovation & super smart society
Challenging towards a New Era of Technological Innovation & Super Smart Society* is the Nisshinbo Group's corporate slogan for 2017. Advances in technology are accelerating. Companies will fail to grow and develop if they do not consistently respond to new developments in the operating environment, such as smart societies and super smart societies. Our response is to think more carefully about what end-users really need from our products so that we can improve outcomes and the services we provide to customers. That will lead to greater satisfaction and more rewarding experiences for our customers, increasing the Nisshinbo Group's competitiveness.
* A super smart society is defined as "a society where the various needs of society are finely differentiated and met by providingthe necessary products and services in the required amounts to the people who need them when they need them, and in which allpeople can receive high-quality services and live a comfortable and active life that makes allowances for their various differences such as age, gender, region, or language." (Science and Technology Basic Plan, January 22, 2016).
Strengthening cooperation across the Group
As shown by the launch of our ADAS business, which harnesses synergies in our electronics, automobile brakes and precision instruments businesses, the Nisshinbo Group's greatest strength, and its greatest potential, lies in its ability to bring together diverse businesses and technologies to create new businesses. That means an optimal Groupwide approach is vital, which is dependent on internal cooperation.
In a Group as diverse as Nisshinbo operating in a wide range of regions and business fields, synergies will not materialize if employees communicate only with people in their narrow business fields. By venturing out of their respective areas and interacting with employees in other fields, our employees will help to create new businesses and increase the Group's corporate value.
Specific examples include efforts to optimize the Group, such as reinforcing manufacturing technology and upgrading IT infrastructure. We are also creating more opportunities for interaction between different R&D teams, enhancing our ability to identify promising business themes, and encouraging young employees to meet with counterparts across the Group to learn from each other and stimulate exchanges of ideas. We are rolling out a range of other initiatives as well: developing the ADAS and automotive business, adopting a shared services model for Group businesses, promoting information sharing between Group companies that are in the same country but in different business fields, and improving the efficiency of back office operations. All these initiatives are grounded in the Group's corporate DNA.
Groupwide cooperation also has a crucial to role to play in generating synergies with companies that have been acquired by or merged with the Nisshinbo Group. Nanbu Plastics Co., Ltd., which joined the Group in the previous fiscal year, has a strong position in molded plastic parts for medical equipment, as well as automotive parts. We plan to identify more business opportunities by combining the company's expertise in plastics with our manufacturing technologies in microwave products and medical ultrasound devices in the electronics business.
Our aim is to use M&A deals, existing businesses and R&D to generate new synergies and increase the number of new businesses to drive Nisshinbo's exponential growth. To support that, we will accelerate efforts to create a corporate culture that fosters diverse thinking and creates groundbreaking new business fields.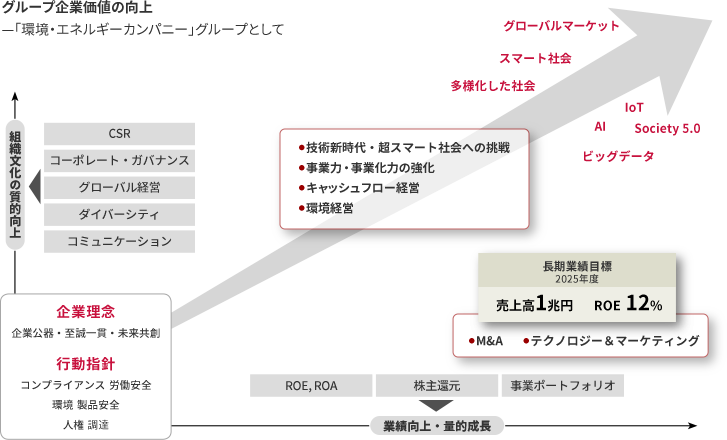 Our goals for the fiscal year ending March 2026
Our long-term goals are sales of ¥1 trillion and ROE of 12% in the fiscal year ending March 2026, although we are putting more importance on profit margins than sales. We envision sales growth of ¥250 billion from M&A deals and another ¥250 billion from growth in existing businesses and the creation of new businesses driven by successes in R&D. Again, cooperation across the Group will be key to generating synergies that support sales growth. In the period through to March 2026, we intend to invest around ¥400 billion in our business to drive growth. By stepping up cash flow management, we aim to exceed our current estimate for annual operating cash flow of ¥40-50 billion, providing more funds to invest in growth.
Our policy is to channel management resources into automotive and super smart society-related businesses, which offer good prospects for growth. The disposal of our papers business in April 2017 is in line with that strategy, and we intend to continue implementing our growth strategy backed up by similar decisions to optimize the Group based on a long-term perspective. We will work to boost profitability by improving asset efficiency, while taking into account the strength of the Group's finances and maintaining the shareholders' equity ratio at 30-40%.
We also plan to pay a stable and continuous dividend to shareholders. When the Group has sufficient internal reserves to fund investment in growth, such as R&D, increased capital investment and M&A deals, we will endeavor to return profits to shareholders through dividend hikes and share buybacks after considering factors such as financial stability.
After our acquisition of TMD, we booked annual goodwill amortization costs of nearly ¥6 billion for five years. The fiscal year ended March 2017 was the final year of that amortization schedule.
During that period, TMD implemented a restructuring program that saw it consolidate, transfer and expand certain manufacturing sites, leading to an improvement in profitability. TMD is also generating synergies with Nisshinbo Brake Inc. in areas such as joint raw material procurement and workplace safety. With our global Groupwide strategy taking shape, the fiscal year ending March 2018 is set to be a major step forward for the Nisshinbo Group.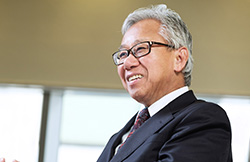 Our vision for the Nisshinbo Group
Our vision is to transform Nisshinbo into an Environment and Energy Company group that provides solutions for today's global society. To enhance the Group's presence, we need to provide new outcomes and services that society needs, supported by our strengths in manufacturing. We have identified seven key areas where we believe Nisshinbo can create new value: security, safety, disaster prevention, health, comfort, convenience and smart society.By reinforcing cooperation across the Group, every one of our employees can help create a deep-thinking corporate culture backed up by a connected, optimized organization.
The Group's business fields and classifications may change over the next ten years. Autonomous driving could develop into smart mobility or smart transportation covering ships, aircraft and all areas of land, sea and air transport. As changes emerge, we will employ flexible approaches and channel business resources into promising strategic areas to help realize a super smart society.
Meanwhile, we are continuing to implement corporate governance reforms as part of our efforts to become an even better global company. The Nomination Committee and Remuneration Committee, which were established voluntarily and largely comprise outside directors, started their activities during the fiscal year ended March 2017. Also, in June 2017, we put even greater emphasis on transparency by abolishing an internal system that allowed previous Presidents and Chairmen to stay on at the Company in an advisory role.
Geopolitical risk is rising worldwide and the business outlook is increasingly uncertain. Against that backdrop, we will strive to make an even greater contribution to global society in line with our vision for the Group ― in the short term, medium term and long term.
June 2017
President, Nisshinbo Holdings Inc.