With regard to workplace safety, the Nisshinbo Group's conduct guidelines emphasize placing top priority on safety in its business activities. The Group accordingly conducts regular safety and health activities, promotes individual physical and mental health management, and strives to ensure a safe and agreeable workplace environment.
Safety and Health Activities
In fiscal 2016, we worked toward several safety targets: zero major accidents, a frequency of injuries in Japan with lost work days*1 of 0.3 or less, and a frequency of injuries overseas with lost work days (excluding the TMD Group*2) of 0.2 or less.
To reach these goals, we worked to instill priority policies at each Group company, ensuring thorough awareness that safety takes first priority in all endeavors, continuously promoting risk assessments (of work, equipment and chemical substances) and promoting the horizontal rollout of measures to reduce equipment risks. The safety and health activity period during fiscal 2016 was between April and December.
We conducted risk assessments on work, equipment and chemical substances on a scheduled basis according to annual plans at each factory and sequentially executed preventive measures determined in order of priority. We also strove to prevent accidents through small group activities, including danger awareness training and near-miss reports.
We held Group internal training sessions covering risk assessment perspectives and implementation methods, aimed at increasing understanding among individual companies' safety managers and augmenting the level of activities. In the event of an accident, we quickly enact countermeasures to prevent recurrence and share occupational accident reports across the Group to prevent similar accidents from occurring in the future.
*1 Frequency of injuries with lost work days: An index that indicates the frequency of accidents resulting in lost work days determined according to the number of work-related injuries per one million working hours.
*2 The TMD Group uses a different standard for measuring the frequency of occupational injuries, so this is dealt with separately.
Occurrence of Occupational Injuries
In fiscal 2016 no serious accidents (accidents resulting in a disability grade of six or higher) occurred.
The frequency of injuries with lost work days at our domestic business sites was 0.39, lower than the manufacturing industry average but a worsening from the fiscal 2015 level of 0.32. At our overseas sites, this frequency worsened from 0.23 in fiscal 2015 to 0.71 in fiscal 2016. Although we fell short of our targets for frequency of injuries with lost work days in Japan and overseas, we will continue to implement guidance at plants where multiple occupational injuries have occurred, in the aim to raising the Group's overall safety management level.
Frequency of Injuries with Lost Work Days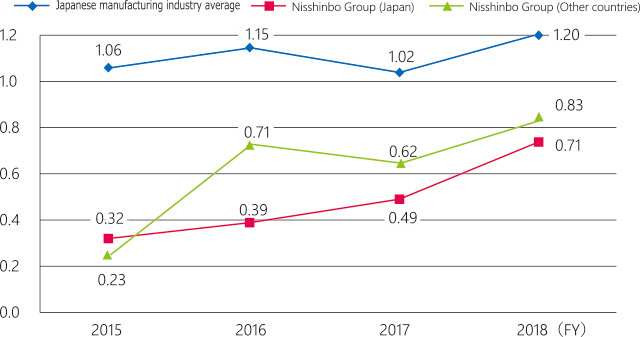 Activities at Overseas Sites
As the Nisshinbo Group moves towards globalization, its overseas sites have grown to outnumber its domestic ones. The management and safety officers of each subsidiary provide on-site guidance on the implementation of policies to prevent the recurrence of occupational accidents in Japan and at overseas sites.
In fiscal 2016, we rolled out to overseas sites the hands-on danger-awareness training that Nisshinbo Brake introduced in fiscal 2015 at Group business sites in Japan. By simulating occupational accidents, this training increased individual employees' alertness to danger and raised safety awareness.
We also continued fostering an awareness of the dangers of chemical substances, promoted the thorough use of protective equipment and worked to prevent health problems.
Safety and Health Audits
The Nisshinbo Group conducts regular occupational safety and health audits of its domestic manufacturing sites. A monitoring team composed of the Health & Safety Group from Nisshinbo Holdings Inc., and labor unions, safety and health management staff representing each site, and safety and health officers of other business sites checks the state of safety and health management at the targeted business sites. In fiscal 2016, regular occupational safety and health audits were conducted at 29 manufacturing sites.
At the end of each fiscal year, we prepare a comprehensive audit report based on these audit results. We also share accident risk analysis results and case studies of excellent activities throughout the Group and incorporate them into occupational safety and health activities in the following fiscal year.
Management Reviews
We conduct a management review at the Corporate Strategy Conference on the achievement status of the Nisshinbo Group's safety and health targets, the status of occupational accidents, the results of safety and health audits, and other items. This information is fed into action policies and the setting of targets for the next fiscal year.
Nisshinbo Brake's "Safety Dojo"
Nisshinbo Brake Inc. first introduced the "safety dojo" as an educational facility in its Toyota Plant. The dojo provides educational equipment, referred to as teaching stalls, arranged according to 13 themes, including being caught in equipment, trouble with lower back pain and promotion of 5S. Rather than providing lecture-based unidirectional safety and health education, the dojo simulates occupational accidents so that participants can sense the fear of nearby danger. For example, to simulate the danger of getting caught in equipment, the teaching stall on being caught in equipment offers three danger sensations: of becoming caught in a roller, chain or drill. The teaching stall on lower back pain uses a life-size model to demonstrate visually how the lower back is stressed as pressure is applied. The teaching stall for 5S promotion uses 5S inside a refrigerator to raise awareness of 5S and help participants experience its implementation methods and effects. The July 2016 issue of Safety Staff, a periodical specializing in occupational safety and health, used the Toyota Plant's activities as a case study for the independent development of teaching materials based on the plant's work content and the innovation of its first-hand experience-based training.
The company has been increasing its number of teaching stalls since fiscal 2015, and these have been deployed at the Nisshinbo Group's overseas sites (one location in South Korea, six in China, four in Thailand and one in the United Kingdom). As they are now creating their own safety stalls and using them for training at overseas sites, this safety dojo training is gradually taking hold overseas, as well. Going forward, we plan to extend these activities to Europe and the United States, and focus on developing teaching stalls according to new themes.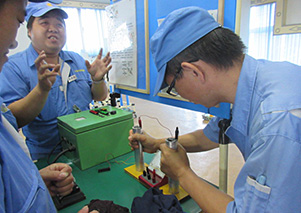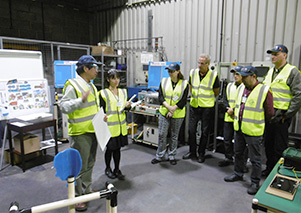 Safety Activities at TMD
The TMD Group has been taking proactive measures with all employees to prevent occupational accidents and improve workplace environments. As a result, by fiscal 2016 the number of accidents resulting in lost work days had fallen by more than 60% from the 90 recorded in fiscal 2011. Its sites in Creutzwald (France), Klimarnock (U.K.) and Valencia (Spain) have received awards both within and outside the company for marking 1,000 workdays without any accident.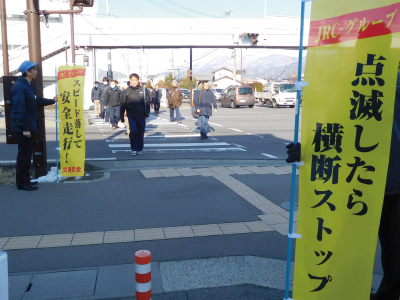 Health Management
In recent years, employee health has become recognized as an important management asset. Accordingly, companies have begun pursuing "health and productivity management"—actively promoting health improvement initiatives while simultaneously working to boost productivity. In fiscal 2017, Japan's Ministry of Economy, Trade and Industry established the 2017 Certified Health and Productivity Management Organization Recognition Program (Large Enterprise Category) "White 500" to recognize companies working with health insurance societies to implement excellent health management initiatives. Nisshinbo Holdings Inc. and New Japan Radio Co., Ltd., were recognized under this program.
The Nisshinbo Group has begun conducting stress checks even at sites with fewer than 50 employees, which goes beyond the legally stipulated requirements. We are also conducting mental health training, centered on industrial health staff, in accordance with the needs at individual sites.
The Company ensures thorough follow-up after health checkups as a health management initiative aimed at preventing physical and mental illness. We are also implementing various measures to further reduce the risk of health damage. For example, we encourage employees to confer with industrial physicians and go to public health nurses for health support depending on their health check results. By providing support up to receiving medical treatment at healthcare facilities, we are working to prevent lifestyle diseases.
To boost the rate of family members undergoing health checks, we have tied up with a health insurance association to provide screening opportunities at external clinics, as well as group health checks at business sites.
To raise employee health awareness, we are working to disseminate health-related information by setting up a "hands-on health exhibit" containing various equipment for measuring health at worksites and using our intranet to make health issues visible.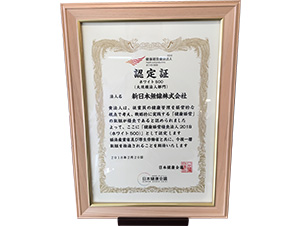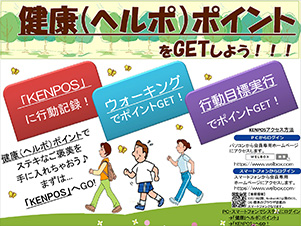 Health Management at New Japan Radio
New Japan Radio Co., Ltd., announced its Healthy Company Declaration in April 2016, recognizing that "the health of employees and their workplaces are the foundation of all endeavors." Based on this declaration, the company initiated health management efforts aimed at ensuring that all its group employees could work with vigor and enthusiasm.
Passive smoking was the target of measures in the first fiscal year. As a first step toward the medium-term goal of prohibiting smoking in all buildings, in addition to its previous practice of separating smoking areas the company introduced no-smoking times. In addition to limiting the times during working hours when smoking was permissible, the company introduced smoking cessation programs. These moves proved successful in reducing the smoking rate by 4 percentage points in a single year.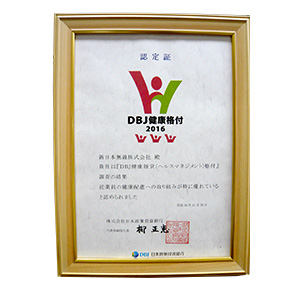 To instill the habit of exercise, New Japan Radio is running the "10 minutes more walking challenge program" and implementing stress checks as unique measures to energize the organization.
As recognition of such initiatives, in addition to being cited under the 2017 Certified Health and Productivity Management Organization Recognition Program (Large Enterprise Category) "White 500," New Japan Radio received the highest available ranking (A rank) in the DBJ Health Management Ratings provided by the Development Bank of Japan Inc.