Fair Competition and Trade
CSR Procurement
The Company has summarized its basic perspectives on CSR activities throughout the supply chain in the Basic CSR Procurement Policy of the Nisshinbo Group.
To consistently promote CSR procurement at all Group companies, in fiscal 2017 the Company formulated CSR Procurement Guidelines and set the promotion of CSR procurement as a key performance indicator.
Fair Transactions at Nagano Japan Radio
Nagano Japan Radio Co., Ltd., is pursuing CSR procurement companywide to create trust-based relationships with suppliers and ensure stable and continuous business activities.
Twice each year, the company holds briefings on business trends for some 50 partner companies, and calls for the cooperation in CSR procurement. Nagano Japan Radio also requests enhanced compliance from around 360 of its key suppliers and conducts CSR audits. Furthermore, the company places its green procurement guidelines on its website in an effort to procure environmentally friendly components and materials.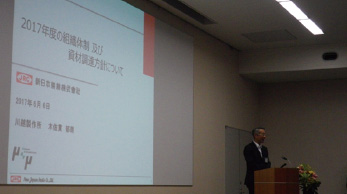 Nagano Japan Radio regularly provides training related to the Subcontract Act for procurement department employees, and promotes fair transactions through the establishment of a Subcontract Act consultation desk for suppliers.
Antimonopoly Act Infringement and Efforts to Prevent Recurrence
In February 2017, Japan Radio Co., Ltd., received a cease-and-desist order and a surcharge payment order from the Japan Fair Trade Commission for infringements of the Antimonopoly Act on transactions related to digital emergency radio systems for fire-fighting. The company is reinforcing its systems in an effort to prevent recurrence. These include conducting training and education to enhance awareness and compliance at sales and engineering organizations, establishing rules for contact with competitors, and the review and thorough application of sales regulations and bylaws.
The Group continues working to further ensure thorough compliance and enhance governance.
Response to Conflict Minerals
Conflict minerals refer to four minerals (tin, tantalum, tungsten and gold) mined in the Democratic Republic of the Congo and its neighboring countries that are sold to fund armed insurgents. Section 1502 of the Dodd-Frank Wall Street Reform and Consumer Protection Act, which went into effect in January 2013, mandates that companies listed on equity markets in the United States disclose whether conflict minerals are used in their products.
The Nisshinbo Group conducts surveys on the corporate use of conflict minerals in the electronics, automotive parts, chemicals and precision instruments businesses, as a corporation that has a connection to members of the supply chain that are listed on U.S. stock markets, and report this information to our customers.
Going forward, we will continue communicating with our suppliers to ensure against complicity in human rights abuses and acts of violence, thereby promoting responsible procurement.