Compliance Training
In order to ensure fair and honest business practices, the Nisshinbo Group conducts various types of compliance training for different employee levels and work sites and provides training to employees prior to overseas assignments.
At subsidiaries, we also provide practical training on the Antimonopoly Act and the Act against Delay in Payment of Subcontract Proceeds, Etc., to Subcontractors (the Subcontract Act) to people involved in these activities.
Training Activities at Nanbu Plastics
Nanbu Plastics Co., Ltd., which joined the Nisshinbo Group in October 2015, created a pamphlet summarizing in a single document the Nisshinbo Group Corporate Philosophy and Business Conduct Guidelines. The company distributed the compact and easy-to-carry pamphlet to its employees and those of its subsidiaries, and held a training course at a management policy briefing in January 2017. Nanbu Plastics uses this pamphlet to share the Corporate Philosophy and Business Conduct Guidelines with new employees and mid-career recruits in the training provided when they join the company.
To also instill the Nisshinbo Group's Business Conduct Guidelines (human rights), the company also conducted human rights awareness training for some 70 management-level employees.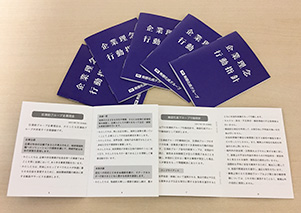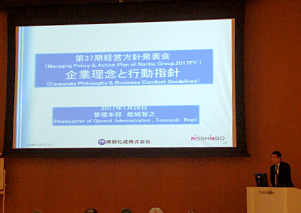 Anticorruption Efforts
In recent years, international legislation on bribery and corrupt practices have been strengthened, and detection has grown more rigorous. In the Business Conduct Guidelines of the Nisshinbo Group, we have defined our initiatives in this area, through which we work to prevent violations. In 2015 we formulated the Guide to Prevent Corruption in response to related legislation overseas. We have rolled out the guide across the Group, including all overseas subsidiaries. This guide encompasses Article 18 of Japan's Unfair Competition Prevention Act (Prohibition to Provide Illicit Gain, etc. to Foreign Public Officers, etc.), the United Nations Convention against Corruption (UNCAC), the OECD Convention on Combating Bribery of Foreign Public Officials in International Business Transactions, the U.S. Foreign Corrupt Practices Act (FCPA) and related guidelines, and the UK Bribery Act. In fiscal 2016, revising the guide to correspond to the up-to-date information, we continued to use it at all subsidiaries.
Adhering Strictly to a Policy of Confidentiality
Regarding information concerning intellectual property, technology and know-how that is shared during collaborative discussions with suppliers from the design and development stages, we take steps to conclude confidentiality agreements and to prevent any leakage of such information.
Each year, we conduct internal audits of trade secret management to ensure that proper confidentiality is maintained.