Use of Water Resources
Although we are working to use water resource more efficiently, water usage grew by 8% year on year, to 26.6 million cubic meters. The volume of water used per unit of sales was also up 9%. The amount of water recycled increased 5% year on year. This result was attributable to the additional 130,000 cubic meters of water recycled at the Oigawa Plant of Nanbu Plastics Co., Ltd.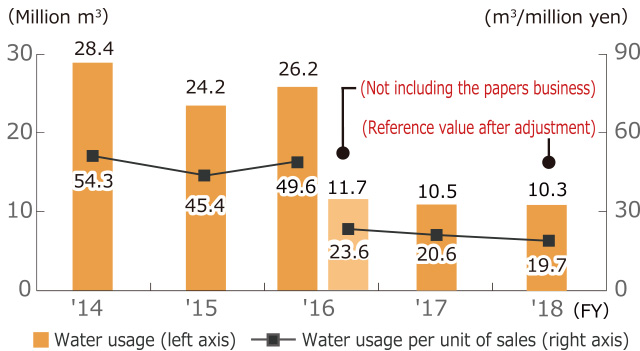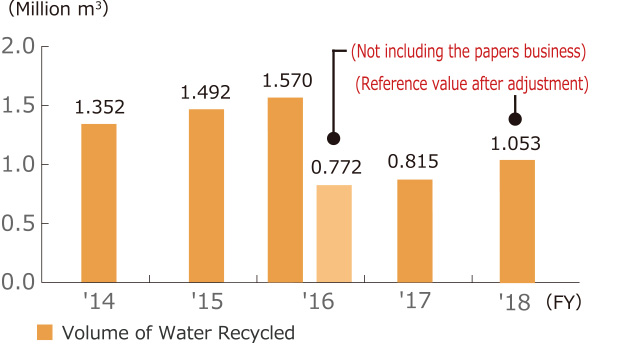 By type of business, water use in the papers business accounted for 55% of the total. The textiles business, for which use is falling, accounted for 28%. Accordingly, these two businesses accounted for 82% of the Group's total water use.
Trends in Volume of Water Used by Business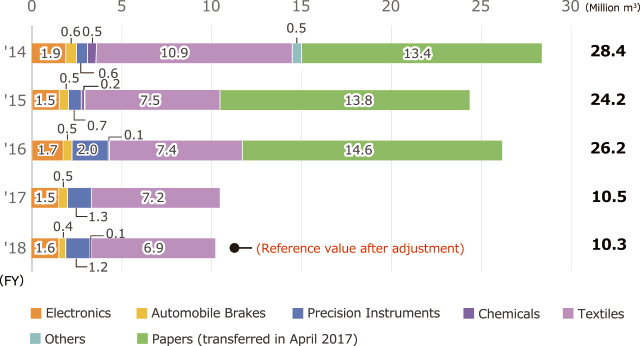 Effective Use of Wastewater
NJR FUKUOKA
NJR FUKUOKA CO., LTD., has installed a system for reusing wastewater. This system diverts some factory wastewater, using a sand filtration tower, filter, and reverse osmosis membrane unit to remove impurities from the wastewater. The treated water is mainly used for spraying in cooling towers.
This system enables the reuse of approximately 7,000 cubic meters of wastewater per month.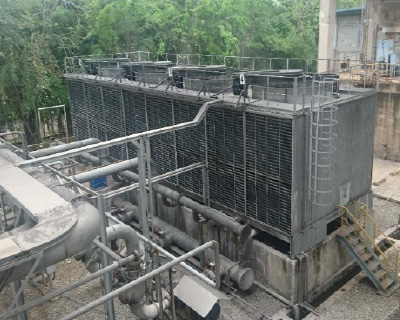 *Reverse osmosis (RO) membrane
THAI NJR
THAI NJR CO., LTD., produces pure water from the source water supplied by its industrial estate for use in semiconductor assembly processes. The wastewater generated in the pure water production process is reused to provide irrigation at the soccer field and for the greenery on the company's site. The amount of water reused in this manner accounts for 2–4% of total water consumption.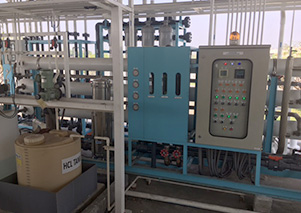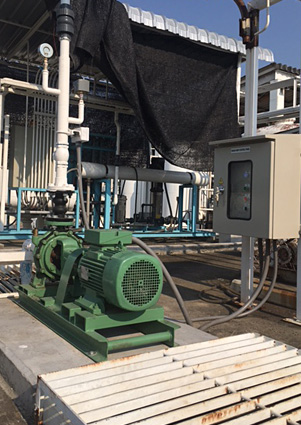 Installation of a Well for Drought Protection
Nisshinbo Automotive Manufacturing Inc. (NAMI) of the United States has built within its premises a well capable of supplying 76 liters of water per minute.
In addition to reducing costs by $54,000 per year, the well can also be used to supply unlimited water in the event of a drought.
The water condensation that forms on the company's rooftop cooling units is also used to wash its wet scrubbers. As another water conservation measure, the men's toilets have been fitted with deodorant-type waterless urinals.