The amount of cargo shipped by the Nisshinbo Group went up by 10% from the previous year. The amount of cargo shipped per unit of sales rose by 8%.
Trends in Transport Volume and Transport Volume per Unit of Sales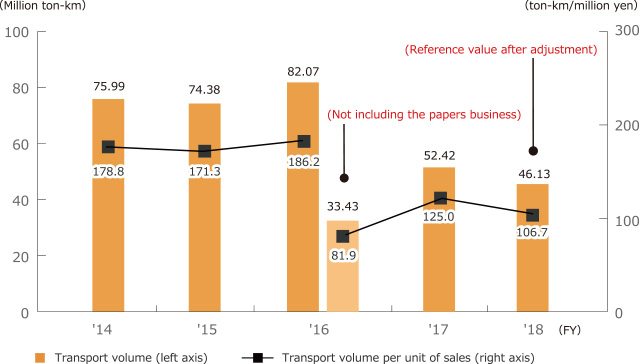 By business, Papers accounted for 60% of the total. Due to the transfer of this business, the transport volume is expected to decrease substantially in fiscal 2017.
Trends in Transport Volume by Business

Making Full-Fledged Use of 3PL
TOKYO SHIRTS CO., LTD., has begun making full-fledged use of 3PL* to subcontract all of its logistics operations to a major logistics operator. By integrating its systems with this logistics operator, TOKYO SHIRTS succeeded in more quickly determining its orders, shipments and inventory levels.
At the same time, misdeliveries fell considerably (from 1.9% in the previous year, to 0.8%). Furthermore, improvements in distribution efficiency helped to reduce environmental impact.
* 3PL (third-party logistics): A company other than the shipper subcontracts all logistics activities and proposes comprehensive logistics reforms, including the receipt and placement of product orders, inventory management and computerization.