Global Warming Prevention
Emissions of Greenhouse Gases
The Nisshinbo Group's greenhouse gas emissions amounted to 800,700 t-CO2, up 9% from the preceding fiscal year, due to the addition to the Group of Nanbu Plastics Co., Ltd. Greenhouse gas emissions per unit of sales were up 10% year on year.
Perfluorocarbon (PFC) accounts for 61% of greenhouse gas emissions from non-energy sources. The PFC is mainly emitted from electronic device manufacturing processes by New Japan Radio Co., Ltd.
Trends in Greenhouse Gas Emissions and Greenhouse Gas Emissions per Unit of Sales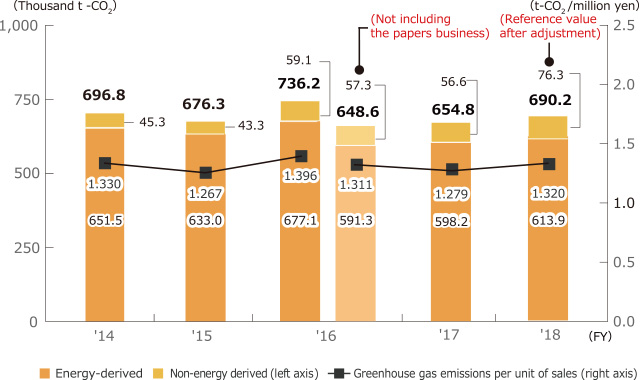 By business type, the textiles business accounts for 30% of overall greenhouse gas emissions, while 26% is attributable to the automobile brakes business. In the chemicals business, greenhouse gas emissions rose 76% year on year, due to the full-fledged start of production of insulating materials for LNG carriers.
Greenhouse Gas Emissions by Business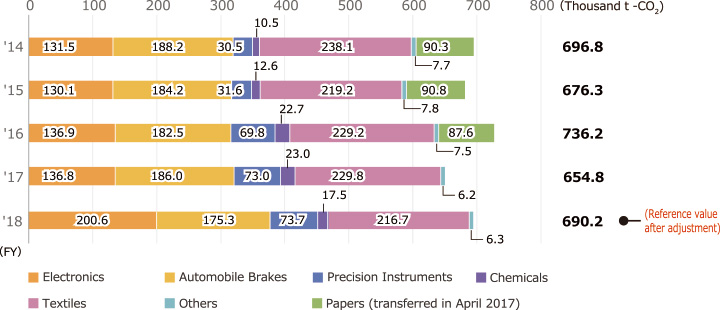 The percentage of greenhouse gas emissions generated in Japan amounted to 44% of the total.
Greenhouse Gas Emissions in Japan and Overseas


Commuting by Motorcycle: Cutting Carbon Dioxide and Carbon Monoxide
Out of its 1,350 employees, approximately 260 people at Nisshinbo Mechatronics (Thailand) Ltd. commute to work by motorcycle. In response to a call from the government, in recent years the company has redoubled its instruction to employees to be certain to wear helmets when riding. For safety's sake, the company has also made it a rule for motorcycle riders to shut off their engines at the company gate, which has also led to reduce carbon dioxide and carbon monoxide.
Through such initiatives, the company has received an award from the local provincial governor for its contributions to safety and the environment. Out of the 6,652 companies in Samut Prakan Province, Nisshinbo Mechatronics (Thailand) was one of the 55 to receive an award, and one of only two in the Bangplee Industrial Estate, where it is located.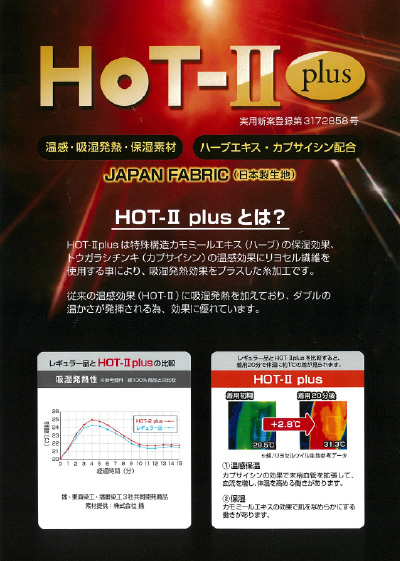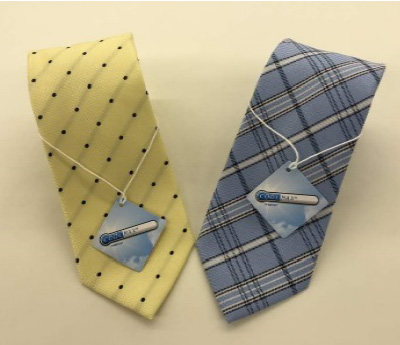 Expanding Orders for Eco-Car Parts
A subsidiary of Nisshinbo Mechatronics Inc., Nanbu Plastics Co., Ltd., handles a variety of plastic products used in diverse fields ranging from automobiles to healthcare and housing. Since the time hybrid cars began entering the market, Nanbu Plastics has received a continuous stream of orders from tier one Japanese automotive component manufacturers for plastic parts for connectors, batteries, headlights and interiors. Its plastic products are characterized by a high degree of durability and precision, as well as being lightweight. The company has a solid technological reputation and is steadily increasing its production, including of parts made overseas.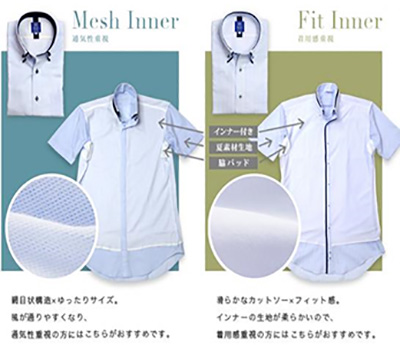 Introducing Renewable Energy
Operations of photovoltaic modules installed by the Nisshinbo Group remained steady throughout fiscal 2016, generating 5.16 thousand MWh of power.
Generation Capacity by Business Site in Fisical 2016
Installation site
Generation Capacity (kW)
Year Operation Commenced
Use
Nisshinbo Mechatronics Inc.
Miai Machinery Plant
430
2010
Self-consumption
Nisshinbo Paper Products Inc.
Shimada Plant
250
2010
Self-consumption
Nisshinbo Chemical Inc.
Chiba Plant
150
2011
Electric power sales,
self-consumption
Nisshinbo Brake Inc.
Tatebayashi Plant
300
2011
Self-consumption
Nagano Japan Radio Co., Ltd.
Head office plant
110
2013
Electric power sales
Nisshinbo Holdings Inc.
Tokushima Plant
Nisshinbo Paper Products Inc.
Tokushima Plant
1,768
2013
Electric power sales,
test facility
Nisshinbo Precision Instrument & Machinery Hiroshima Corporation
1,020
2015
Electric power sales
Total
4,028