Energy Use by Type of Fuel
The Nisshinbo Group's energy usage amounted to 11.89 million GJ, up 7% year on year. The amount of energy used per unit of sales was 22.55GJ/million yen, or a 9% increase.
The main reason for the increased energy usage was the new addition to the Group of Nanbu Plastics Co., Ltd.
By type of energy used, purchased electricity accounted for 72% of the total. Of the total energy used, 14% was represented by coal used at two Indonesian subsidiaries in the textiles business (PT. Nisshinbo Indonesia and PT. Nikawa Textile Industry).
Trends in the Amount of Energy Consumed and the Amount of Energy Consumed per Unit of Sales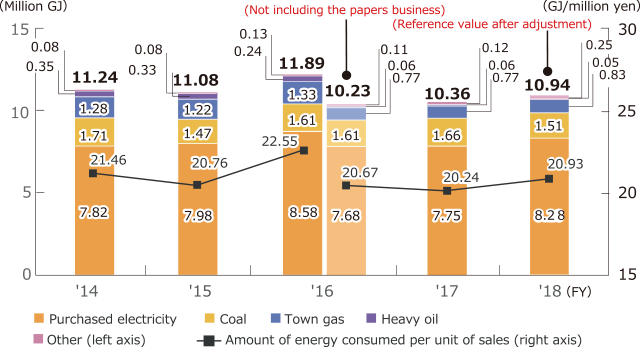 Amount of Energy Consumed by Business
The brake business accounts for the largest portion of energy consumed. The main reason for the increase in energy use was the addition to the Group of Nanbu Plastics Co., Ltd.
Amount of Energy Consumed by Business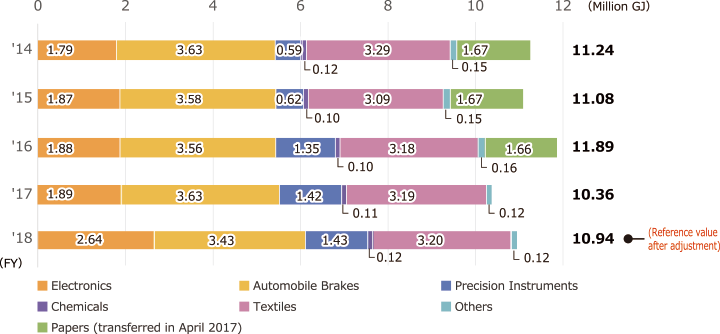 Accelerated Installation of LED Lighting
The energy conservation impact of new conversion to LED lighting in fiscal 2016 was 3,595 MWh, as indicated in the table below.
Reduction in Electricity Consumption
| Business Category | Reduced Consumption (MWh) |
| --- | --- |
| Electronics | 416 |
| Automobile Brakes | 1,551 |
| Precision Instruments | 685 |
| Chemicals | 4 |
| Textiles | 314 |
| Papers | 92 |
| Others (Plant Factories) | 533 |
| Total | 3,595 |
Installing LED Lighting at Plant Factories
The Tokushima Plant and the Fujieda Plant of Nisshinbo Holdings Inc. contain plant factories operating entirely on artificial light* that grow strawberries. In the past, fluorescent lamps were used as lighting for cultivation, but we began switching to LED lighting in fiscal 2016 to conserve electricity. Lighting accounts for around 60% of the electricity used at plant factories. In fiscal 2017, we expect to reduce this consumption by 2,180MWh/year. Going forward, we also anticipate a reduction in electricity demand.
* Plant factories operating entirely on artificial light: A system of producing plants in an entirely closed space, using artificial light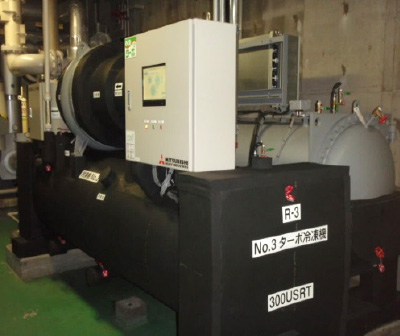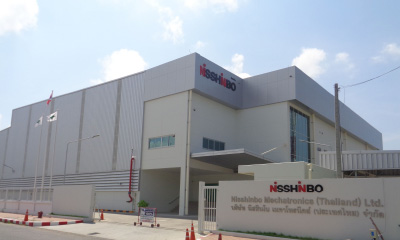 Moving to Energy-Saving Dust Collection Systems
Nisshinbo Somboon Automotive Co., Ltd. (NSA) in Thailand uses four dust collectors to collect the dust emitted in such processes as material measurement, preforming, grinding and inspection to prevent this dust from being inhaled by workers.
Like generic vacuum cleaners, dust collectors use filters that need to be cleaned periodically. In the past, the company cleaned these filters on a fixed schedule, regardless how dirty they were. This situation was improved last year, when the filters were fitted with differential pressure gauges. The filters are cleaned automatically, but the method for controlling the cleaning has been improved control mechanism to perform cleaning is necessary when the filters reach a certain level of clogging. Cleaning frequency has been reduced as a result, and the annual electricity savings is expected to amount to 485 MWh.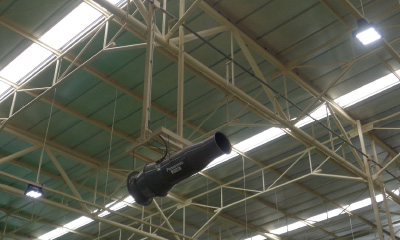 Promoting Eco-Friendly Product Design
Nagano Japan Radio Co., Ltd., has set targets for the development of products that contribute to the development of a sustainable society, and the company is working to promote the design of eco-friendly products and increase its sales.
Centering on ODM*1 products, the company is selecting RoHS*2-compatible components and working to reduce electricity consumption and make products more compact. One example of these efforts is to adjust the settings on the remote units used to check electricity meters to reduce the frequency of maintenance (replacing the remote units' lithium batteries). The company set 10 years as its target for the units' continued operation. It achieved this goal by designing the units for intermittent operation and reduced power consumption.
*1 ODM (Original Design Manufacturing) products: Products that a company develops, designs and manufactures, but that are sold under a business partner's brand
*2 RoHS (Restriction of Hazardous Substances): A European Union (EU) directive limiting the use of specified hazardous substances in electrical and electronic equipment.