Chemical Substance Management
Volume of Chemical Substances Handled
Overall, the volume of PRTR* substances handled was 3,549 tons, up 12% year on year. This rise was attributable to the full-fledged production of insulation materials for LNG carriers by the chemicals business.
Major items making up the Nisshinbo Group's volume of PRTR substances handled were antimony (960 tons) and chromium (461 tons) for brake materials, and methylenebis (4,1-phenylene) = diisocyanate (910 tons) for urethane materials.
* PRTR (Pollutant Release and Transfer Register) substances: Substances subject to the PRTR (Pollutant Release and Transfer Register) system pursuant to the "Act on the Confirmation, etc. of Release Amounts of Specific Chemical Substances in the Environment and Promotion of Improvements to the Management Thereof" and reports of their amounts of release and transfer must be filed.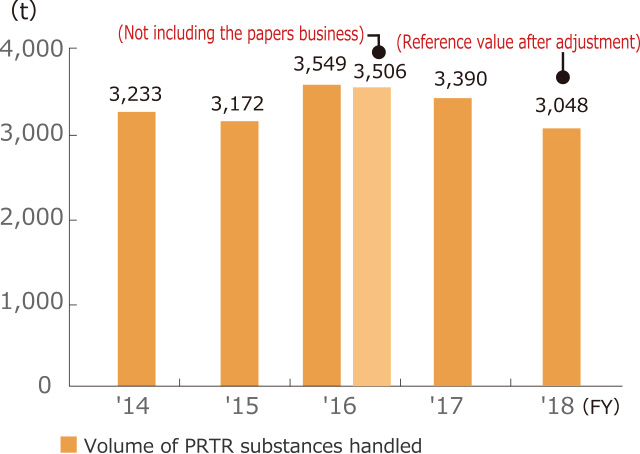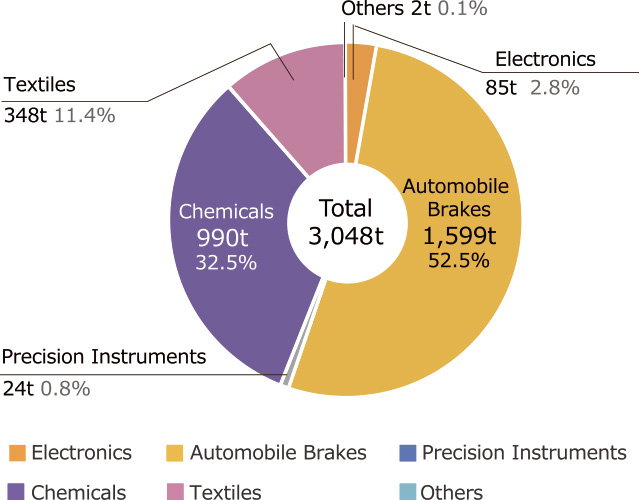 Volume of Chemical Substance Emissions
The Nisshinbo Group's amount of PRTR substances emitted into the environment was 37.2 tons, down 2% from the previous year. Emissions per unit of sales were down 3%.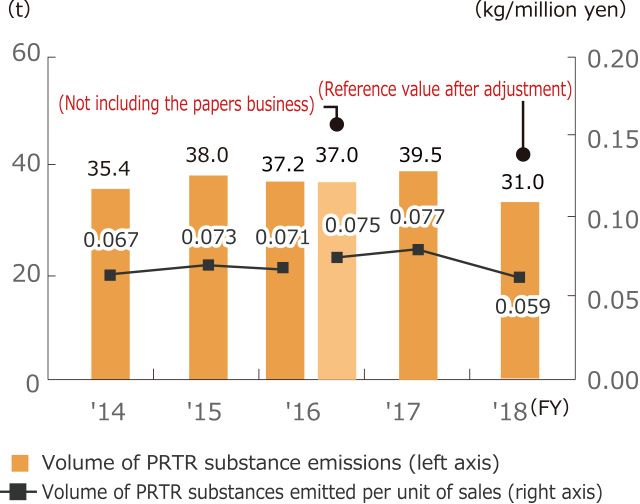 Emission Breakdown by Chemical Substance



| Substance | Discharge Volume (t) | Ratio (%) |
| --- | --- | --- |
| Toluene | 15.5 | 41.6% |
| Ethylbenzene | 7.0 | 18.7% |
| Xylene | 5.6 | 15.1% |
| Dichloromethane | 2.0 | 5.4% |
| Hexamethylenetetramine | 1.7 | 4.7% |
| Phenol | 1.6 | 4.3% |
| Antimony | 1.6 | 4.2% |
| Others | 2.2 | 6.0% |
Toluene accounted for the highest proportion of emitted chemical substances, at 42% of the total.
By business, the Precision Instruments Business (including Nanbu Plastics Co., Ltd.), which emits large quantities of toluene, ethylbenzene and xylene, accounted for 59% of the total. However, the use of dichloromethane alternatives reduced emissions from 16.3 tons to 2.0 tons.
Volume of PRTR Substances Emitted by Business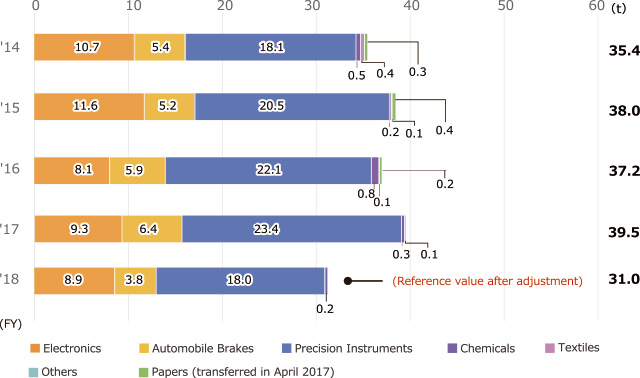 Treating Wastewater
The volume of suspended substances (SSs) in water emitted by the Nisshinbo Group per unit of sales decreased 13% from the previous year. The amount of chemical oxygen demand (COD*) emissions per unit of sales fell by 3%.
* COD (Chemical Oxygen Demand): An index of water contamination expressed as the volume of oxygen chemically required or chemically consumed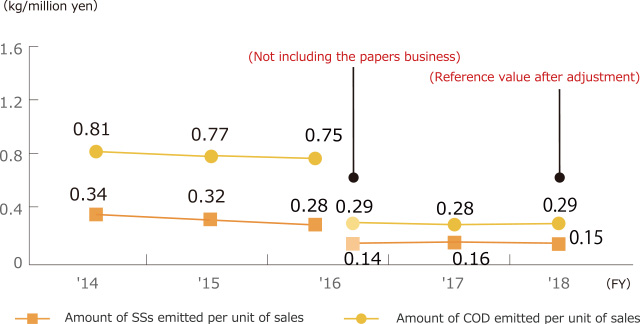 Atmospheric Releases
The Nisshinbo Group's emissions of sulfuric oxides (SOx) per unit of sales was essentially unchanged year on year.
Emissions of nitrogen oxides (NOx) per unit of sales were up 5%, while volatile organic compound (VOC*) emissions fell 6%. Soot and dust emitted per unit of sales increased by 8%.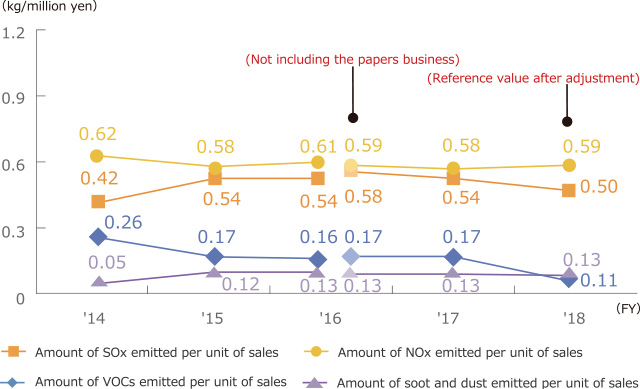 * VOC (Volatile Organic Compounds): Volatile organic compounds such as toluene
Development of Green Pads (Friction Materials)
Nisshinbo Brake Inc. has been working for some time to produce friction materials that have a reduced environmental impact, and the company has launched a number of such products into the market.
In recent years, the finding that friction materials from automobile brakes were one of the principal causes of copper pollution in San Francisco Bay in the United States has led some states to introduce measures limiting the use of copper. Nisshinbo Brake has concentrated on developing friction materials that contain less than 0.5% copper, introducing these products to the Japanese and North American markets in 2016.
Shifting to Paint Powder Coating
The Tatebayashi Plant of Nisshinbo Brake Inc. uses organic solvent-based paints to coat its products. As organic solvents are released into the atmosphere during the drying process, the company has been gradually shifting to the use of powder coatings that do not contain organic solvents. In fiscal 2016, the company reduced the annual use of organic solvent-based paints by 2 tons. Along with this change, 2,000 cubic meters less water was needed to prevent paint from adhering to equipment.
Moving to Solvent-Free Paint
Nisshinbo Chemical Inc. has developed and is manufacturing and selling Carbodilite, a highly functional resin product that features low toxicity, heat resistance, chemical reactivity and adhesiveness. When added to plastics, Carbodilite enhances their material functionality.
Although water-based paints are considered to have poorer coating performance than solvent-based paints, the addition of Carbodilite increases the coating performance of water-based paints, contributing to a shift away from solvent-based paints.