Turning Mistakes into Knowledge at Japan Radio
The marine systems business department at Japan Radio Co., Ltd., searches carefully for the root causes of design-related defects, in a thorough effort to identify lack of awareness issues. Turning these results into knowledge for the company, Japan Radio has turned this information into a searchable database that it shared to prevent mistakes from recurring.
In one example, when the company began using cable protection components with a good track record on existing satellite communications equipment on new models, harness damage malfunction occurred. The underlying reason for the malfunction turned out to be the fixed idea that "surely there can be no problem" with using components, parts, materials and methods that had been used successfully on other equipment in the past on new equipment. From this episode, the company learned that when components, parts and materials used on movable parts of previous models were used in a new model, the performance of those parts on a new model must always be evaluated. Also, the company's designers learned the lesson that the parts previously used on existing models should be regarded as "new parts" when used in other equipment.
Each time a new malfunction occurs, Japan Radio adds data on that mistake to the database as accumulated knowledge that can be broadly shared for new designs and when making design changes. The company has also made it a rule to register information in the database and reference the database during the design process, so that knowledge and lessons will be passed on to new generations of designers.
Quality Control at Nisshinbo Chemical
"Carbodilite" refers to a group of products based on a polycarbodiimide resin developed by Nisshinbo Chemical Inc. These products have unique characteristics, including chemical reactivity, adhesiveness to metals and other materials, low toxicity and high heat resistance. Used as a resin modifier, Carbodilite increases the durability of bioplastics. As a crosslinker, it enhances the coating performance, adhesiveness and durability of water-based paints and inks on automobiles and construction materials.
As language requirements and regulations on product safety and environmental friendliness differ by country, products are being developed accordingly. In terms of manufacturing and sales, safety data sheets (SDSs) are prepared according to individual countries' regulations, and chemical substance are controlled under the quality management system of ISO 9001.
In November 2016, the company introduced a sales support system. With this system, quality information and data on customer requirements is accumulated in a timely manner and shared between departments. Through this system, Nisshinbo Chemical is endeavoring to further enhance customer satisfaction.
Nisshinbo Textile Receives Frontier Award for APOLLOCOT
Nisshinbo Textile Inc. received the Frontier Award 2016 from the Japan Research Association for Textile End-Uses for APOLLOCOT, its form-stabilizing shirt. Newly established in fiscal 2016, this award is presented to researchers and developers of unique textile products that impact the culture of everyday life and play a role in creating new value.
APOLLOCOT is the first 100% cotton shirt that achieves level 4 wash-and-wear characteristics*. In addition to being free of wrinkles after washing, the material provides wrinkle resistance even when the shirt is worn. APOLLOCOT eliminates the time and bother of ironing, and received the award for this contribution to consumer lifestyles.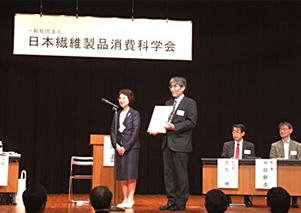 * Wash and wear characteristics: An index of the degree of wrinkling after washing. A level 5 rating means that the material is completely free of wrinkles, just as if freshly ironed. A rating of 4.0 or higher means that wrinkles are reduced by 90% or more.
Major Awards Received in Fiscal 2016
Electronics
Japan Radio Co., Ltd.
Received the Defense Structure Improvement Foundation Award from the Defense Structure Improvement Foundation
New Japan Radio Co., Ltd.
Received the best performance award from the Hirose Plant of Toyota Motor Corporation
Received an excellence award for contribution to technology development from Panasonic Corporation
THAI NJR CO., LTD.
Received the National Occupation Safety and Health Award from Thailand's Ministry of Labour
Brakes
Nisshinbo Brake Inc.
Received the "Excellence in Quality Control Award" from Toyota Motor Corporation
Nisshinbo Automotive Manufacturing Inc.
Received the Nissin Brake Quality & Delivery Award – 2016 from General Motors Company
Nisshinbo Somboon Automotive Co., Ltd.
Received the Quality Performance Award from Hitachi Automotive Systems Asia, Ltd.
Received the Total Service Parts Performance award from TOYOTA MOTOR ASIA PACIFIC ENGINEERING & MANUFACTURING CO., LTD. (now TOYOTA DAIHATSU ENGINEERING & MANUFACTURING CO., LTD.)
Saeron Automotive Corporation
Received the 2016 Supplier of the Year award from Mando corporation
Received the Regional Award from the Korean Industrial Health Association
Saeron Automotive (Beijing) Co., Ltd.
Received the Award for Excellence in the Quality Competitiveness Department from Mando China Holdings Ltd.
Nisshinbo Saeron (Changshu) Automotive Co., Ltd.
Received the Quality Excellence Award from Zhongshan Nissin Industry Co., Ltd.
Precision Instruments
Nisshinbo Mechatronics Inc.
Received an "Excellence in Technology Development Award" from Hino Motors, Ltd.
Nisshinbo Precision Instrument & Machinery Hiroshima Corporation
Received the Excellence in Quality Performance Award from Mazda Motor Corporation
Nisshinbo Mechatronics (Shanghai) Co., Ltd.
Awarded as one of "Ten Outstanding Companies" by the New Town, Pudong New Area, Shanghai Municipal Government
Received the Diamond Supplier Award from Mitsubishi Electric US, Inc.
Nisshinbo-Continental Precision Machining (Yangzhou) Co., Ltd.
Commended as an "advanced company" by Jiangdu District, Yangzhou
Received the Excellence in Sales Award from Jiangdu District, Yangzhou
Commended as an "excellent smart factory" by Jiangsu Province
Toms Manufacturing Corporation
Received the Best Achieved 5 Consecutive Years PPM Award from Yamaha Motor Philippines, Inc.
Received the 2016 Best in Quality Award from Jeco Autoparts Philippines, Inc.
Nanbu Philippines Incorporated
Certified for TIER 1 Hazard-Eco Expansion Training to Local Suppliers by Yazaki-Torres Manufacturing Incorporated
Textiles
| | |
| --- | --- |
| Nisshinbo Textile Inc. | Received the Frontier Award 2016 from the Japan Research Association for Textile End-Uses |