Community Involvement and Development
Local Community Interaction and Contribution Activities
Nisshinbo Brake's Regional Contribution Activities in Romania
TMD Friction Romania S.R.L. is conducting support activities for local residents in collaboration with the local government in its home city, Caransebes.

TMD Friction provides assistance to underprivileged households with children in Caransebes and its suburbs. These activities include economic support, counseling regarding regional living, skill training, and educational support and are conducted to help provide these households with hope for the future.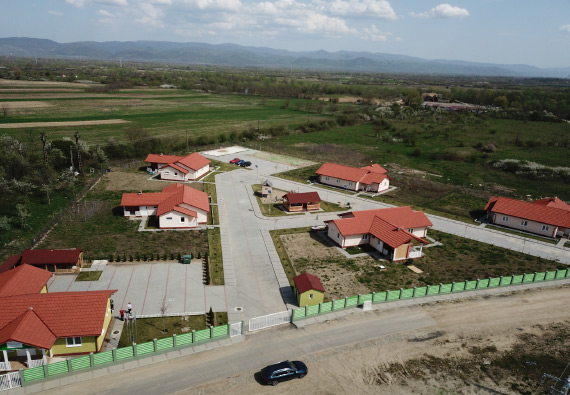 A portion of the taxes paid by TMD Friction is allotted for these activities and the company has played a central role in them since the activity support center opened as a base for support activities in July 2017. By April 2018, five families had moved into the support center and at present, five more families are planning to move in.
Nisshinbo Mechatronics' Regional Contribution Activities in Thailand
Nisshinbo Mechatronics (Thailand) and its employees are actively conducting support activities for local communities such as reconstruction support.
Nisshinbo Chemical's Student Factory Tours
Every year, Nisshinbo Chemical Inc.'s Asahi Plant permits third year students from the neighborhood's Higata Elementary School to enter the plant for learning tours as part of their social studies program "Our Life." About 40 young students and their teachers visit the plant each year to learn about actual work-sites and about working in general.

The young students view the manufacturing floor for carbon products used in the manufacturing processes for semiconductors and urethane foam for heat insulating material. They also view a test course for automobile brakes.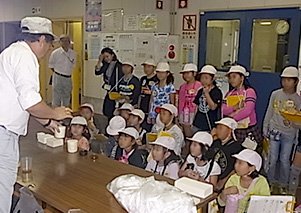 In the urethane foam section of the tour students cheered as they watched the urethane swell into foam right before their eyes. Afterward, they held the foam in their hands and listened intently to explanations regarding its use. After the viewing, the company listened to questions regarding products and their manufacturing facilities as well as what employees enjoy about their work and what they find difficult.

Moving forward, the company will use these plant tours to teach children about the fun and importance of working and making things.